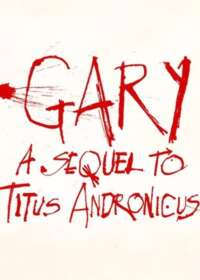 Gary: A Sequel to Titus Andronicus
Discount Tickets and Show Information
Discount Broadway Tickets For Gary: A Sequel to Titus Andronicus
Gary: A Sequel to Titus Andronicus

Summary
Genre: Play

Gary: A Sequel to Titus Andronicus is 2 hours and 15 minutes long, including an intermission of 15 Minutes

8 Shows per week

Previews Began: March 5, 2019

Show Opened: April 11, 2019

Show Closed: June 16, 2019
Gary: A Sequel to Titus Andronicus, is a new comedy by Taylor Mac, who is a Pulitzer Prize finalist and MacArthur Fellow.

Gary: A Sequel to Titus Andronicus

on Broadway Background
The show is directed George C. Wolfe, who is now a five Tony Award winner.

What's
Gary: A Sequel to Titus Andronicus

Like?
Titus Andronicus is William Shakespeare's first tragedy, which is set during the fall of the Roman Empire. This play is the conclusion to that piece and it is set like a loud echo after the terrible battles are over and the civil war has been won, although the victors of the war are madmen and it is they who are now running the Roman empire. There are many casualties of the preceding war and this play focuses on some lowly servants who are charged with cleaning up the blood, gore and many dead bodies that are strewn over the lands, otherwise they will likely forfeit their own lives.
Is
Gary: A Sequel to Titus Andronicus

Good for Kids?
This show is only suitable for children over the age of ten and who have a basic understanding of Shakespeare's plays. The play is not suitable for the squeamish as blood and gore are often evident.

Gary: A Sequel to Titus Andronicus

Ticket Lottery and Rush Schedule

Every day there are discounted Broadway show tickets sold as part of the Broadway ticket lotteries or as Rush Tickets Tonight. Tickets are only valid on-the-same-day of the drawing. The following is the daily schedule of the ticket lottery and RUSH ticket pricing.
General Rush
Tuesday, 10:00am
Wednesday, 10:00am
Thursday, 10:00am
Friday, 10:00am
Saturday, 10:00am
Sunday, 12:00pm
Booth Theatre
222 West 45th Street
New York, NY 10019
Entrance:
45th Street, between 7th and 8th Ave
Theatre Information
Gary: A Sequel to Titus Andronicus Marquee