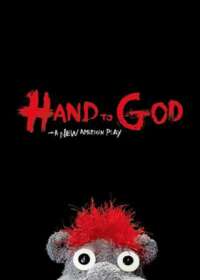 Hand To God
Broadway Show Tickets: Show Closed No Longer Available
Hand To God on Broadway: Show Is Now Closed
Show Status: Closed

Genre: Play

Hand To God is 2 Hours long, including an intermission of 15 Minutes

7 Shows per week

Previews Began: March 14, 2015

Show Opened: April 7, 2015

Show Closed: January 3, 2016
Hand to God takes place in a small conservative rural town in Texas. The protagonist is a young man named Jason and his hand puppet. What started out as a creative escape from the pressures of high school adolescence, soon takes a turn for the worse. Jason's hand puppet, Tyrone (also played by the same actor) is a crude and profane manifestation of Jason that takes on a life of its own. This does not go over well in the quaint town of Cypress, Texas. The impious Tyrone presents a problem for Jason, his parents and the rest of the townsfolk. Jason and his hand-puppet Tyrone, set the platform for this dark Broadway comedy that is as unsettling as it is hysterical.
Hand To God

on Broadway Background
With such an extraordinary journey to Broadway, arriving without the usual safety net of A-list stars, brand name recognition, London raves, or at least Broadway veterans in the writer's or director's seat, the play is relying on nothing but its own brilliance. The show is an edgy black comedy about a young boy (played by 30-something year-old Steven Boyer) whose foul-mouthed sock puppet becomes possessed by the devil. While attending Sunday school, all the students are instructed to make sock puppets, but Jason's becomes a little friskier than most. In a performance of bravura, Boyer plays both a little boy and a Satanic sock puppet, in the most entertaining and versatile performance to hit Broadway since Jefferson Mays in A Gentleman's Guide to Love and Murder.
This remarkable play has an even remarkable story of its journey to Broadway. The playwright, Robert Askins, has never had a play produced on Broadway, and the director, Moritz von Stuelpnagel, has never directed a play on Broadway. The star, Steven Boyer, is making is Broadway debut, as are two of the other four cast members. The play premiered at the very off-the-beaten-path Off-Broadway (arguably Off-Off-Broadway) venue Ensemble Studio Theatre in 2011, where it enjoyed three sold-out runs and continual extensions. This caught the eye of Bernie Telsey, the notable casting director whose Off-Broadway theater company MCC is a significant step up on the production value ladder. Hand to God transferred to MCC for a limited engagement February 19 to March 30, 2014. It was then up to the commercial producer Kevin McCollum to decide boldly to transfer it to Broadway.
Is
Hand To God

Good for Kids?
The show may not be appropriate for children under the age of 18. Children under the age of 4 are not permitted in the theatre.
Booth Theatre
222 West 45th Street
New York, NY 10019
Entrance:
45th Street, between 7th and 8th Ave
Theatre Information
Hand To God Marquee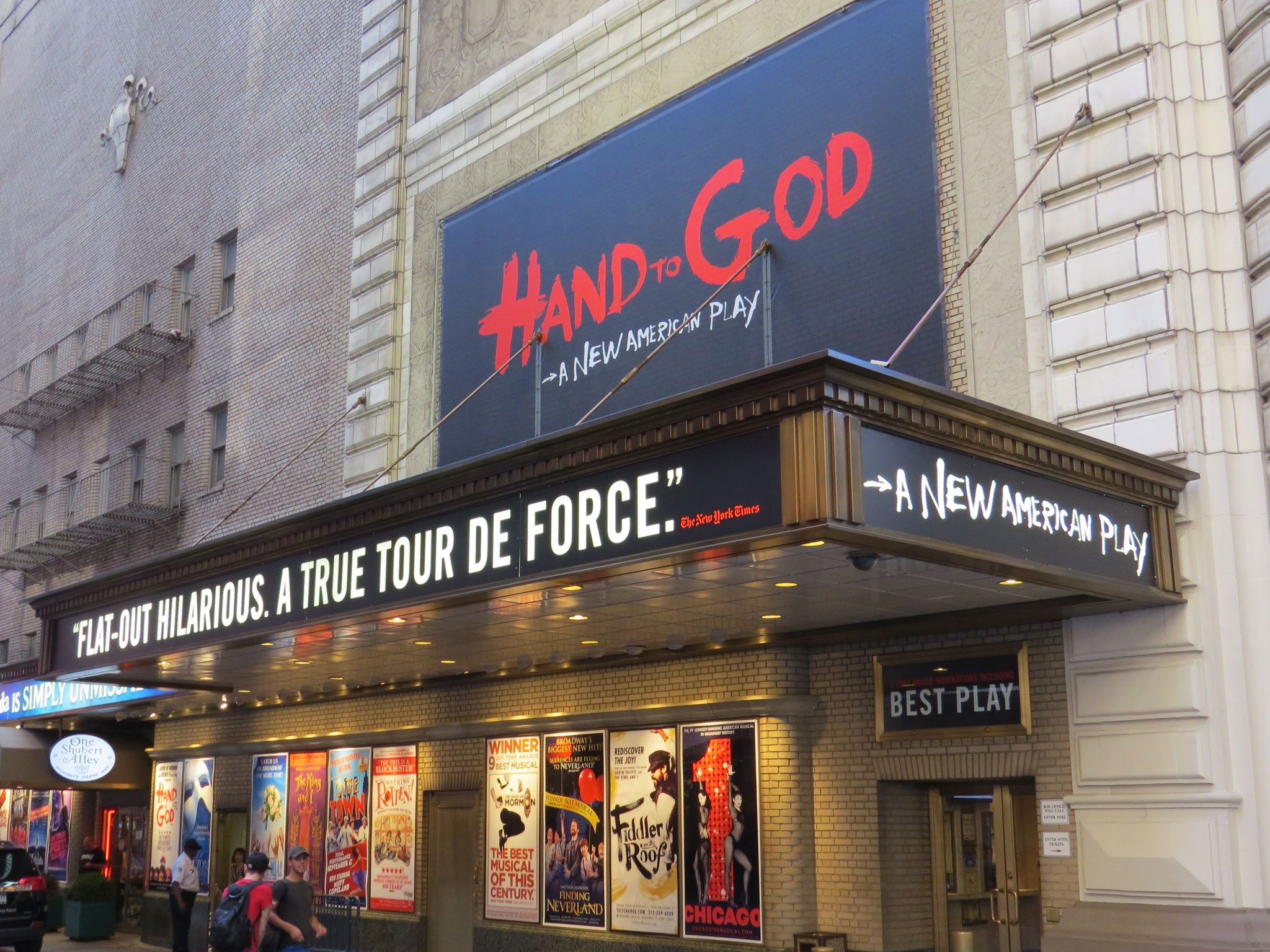 Jason/Tyrone

Steven Boyer
Timothy

Michael Oberholtzer
Director

Moritz von Stuelpnagel
Set Designer

Beowulf Boritt
Costume Designer

Sydney Maresca
Lighting Designer

Jason Lyons
Sound Designer

Jill BC Du Boff
Puppet Designer

Marte Johanne Ekhougen
Production Stage Manager

James Fitzsimmons
General Manager

John Corker at Corker Group LLC
Company Manager

Jeff Klein at Corker Group LLC
Casting Director

Telsey + Company
Advertising Representative

AKA NYC
Technical Supervisor

Brian Lynch