Broadway Show Ticket Sales Analysis Chart w/e 11/17/2019
Broadway Show Ticket Sales Analysis Chart w/e 11/17/2019, Tootsie Announces Closing Date, Christmas Shows Open, American Buffalo Has Star Power, Lighting Thief Shows No Box Office Electricity
---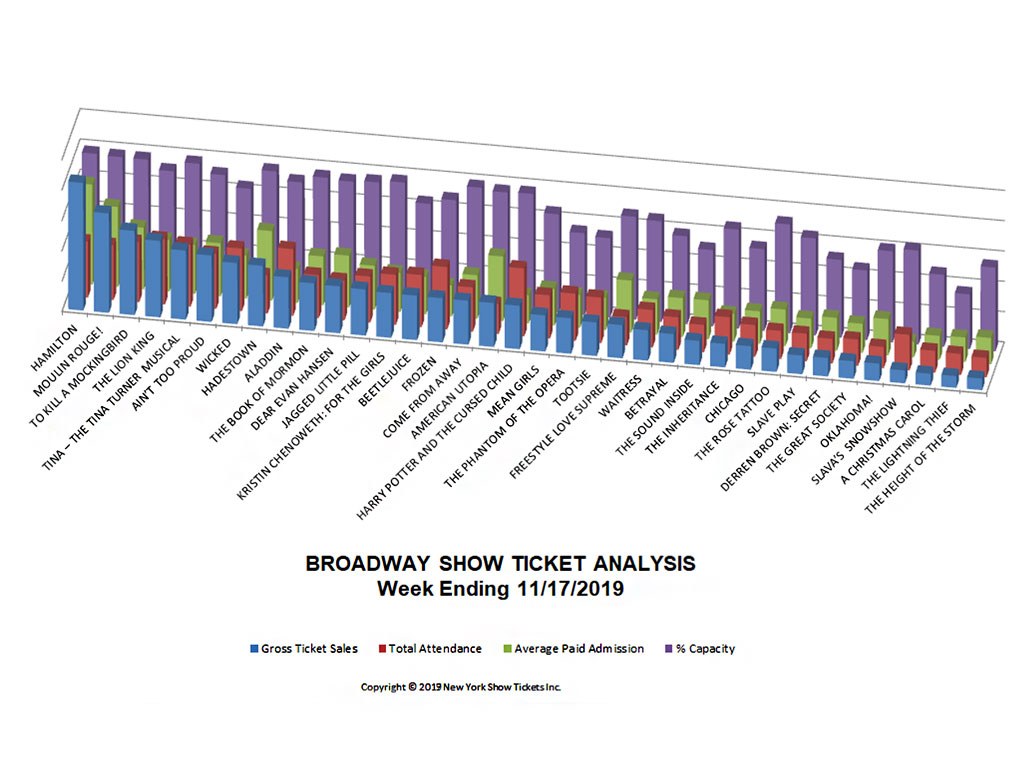 | | | | | | |
| --- | --- | --- | --- | --- | --- |
| # | Show Name | Gross | TotalAttn | %Capacity | AvgPdAdm |
| 34 | A CHRISTMAS CAROL | $257,525 | 4,194 | 61.82% | $61.40 |
| 6 | AIN'T TOO PROUD | $1,440,028 | 10,572 | 92.80% | $136.21 |
| 9 | ALADDIN | $1,114,007 | 12,769 | 92.42% | $87.24 |
| 17 | AMERICAN UTOPIA | $951,411 | 5,726 | 99.31% | $166.16 |
| 14 | BEETLEJUICE | $965,164 | 9,996 | 83.69% | $96.56 |
| 24 | BETRAYAL | $624,575 | 6,243 | 75.33% | $100.04 |
| 27 | CHICAGO | $508,808 | 6,068 | 70.23% | $83.85 |
| 16 | COME FROM AWAY | $952,193 | 8,489 | 101.45% | $112.17 |
| 11 | DEAR EVAN HANSEN | $1,016,920 | 7,628 | 96.90% | $133.31 |
| 30 | DERREN BROWN: SECRET | $401,113 | 4,750 | 66.79% | $84.44 |
| 22 | FREESTYLE LOVE SUPREME | $720,235 | 5,396 | 88.17% | $133.48 |
| 15 | FROZEN | $958,449 | 11,956 | 88.75% | $80.16 |
| 8 | HADESTOWN | $1,313,225 | 7,332 | 99.84% | $179.11 |
| 1 | HAMILTON | $2,765,850 | 10,732 | 101.32% | $257.72 |
| 18 | HARRY POTTER AND THE CURSED CHILD | $941,249 | 12,976 | 100.00% | $72.54 |
| 12 | JAGGED LITTLE PILL | $1,000,046 | 8,839 | 98.21% | $113.14 |
| 13 | KRISTIN CHENOWETH: FOR THE GIRLS | $969,894 | 9,584 | 100.00% | $101.20 |
| 19 | MEAN GIRLS | $782,779 | 8,283 | 84.52% | $94.50 |
| 2 | MOULIN ROUGE! | $2,155,182 | 10,464 | 100.46% | $205.96 |
| 32 | OKLAHOMA! | $379,069 | 4,070 | 78.15% | $93.14 |
| 33 | SLAVA'S SNOWSHOW | $279,547 | 6,810 | 80.69% | $41.05 |
| 29 | SLAVE PLAY | $404,901 | 5,283 | 83.28% | $76.64 |
| 10 | THE BOOK OF MORMON | $1,033,721 | 8,233 | 98.29% | $125.56 |
| 31 | THE GREAT SOCIETY | $380,019 | 5,059 | 59.66% | $75.12 |
| 36 | THE HEIGHT OF THE STORM | $251,376 | 3,700 | 71.93% | $67.94 |
| 26 | THE INHERITANCE | $510,026 | 7,130 | 85.04% | $71.53 |
| 35 | THE LIGHTNING THIEF | $255,064 | 4,038 | 47.04% | $63.17 |
| 4 | THE LION KING | $1,655,921 | 12,511 | 92.21% | $132.36 |
| 20 | THE PHANTOM OF THE OPERA | $768,233 | 9,023 | 70.27% | $85.14 |
| 28 | THE ROSE TATTOO | $507,190 | 5,387 | 93.39% | $94.15 |
| 25 | THE SOUND INSIDE | $524,607 | 5,231 | 65.52% | $100.29 |
| 5 | TINA – THE TINA TURNER MUSICAL | $1,497,521 | 11,901 | 100.65% | $125.83 |
| 3 | TO KILL A MOCKINGBIRD | $1,824,941 | 11,509 | 100.25% | $158.57 |
| 21 | TOOTSIE | $726,702 | 8,705 | 67.92% | $83.48 |
| 23 | WAITRESS | $657,774 | 7,216 | 86.32% | $91.15 |
| 7 | WICKED | $1,324,359 | 11,999 | 83.00% | $110.37 |
| | TOTALS | $32,819,621 Dollars | 289,802 People | | |
This Week on Broadway: Tootsie Closing, Christmas Spectacular Still Crowd Pleaser
Tootsie and Linda Vista
Tootsie announced this week that they will be closing on Jan 5, 2020. Ticket sales for this show should improve in the final weeks - the show failed to find a younger audience despite its critical success and bevy of Tony nominations, including two big wins. Linda Vista ended its short run on Broadway on November 10, but saw a small uptick in sales before it departed.

Slava's Snowshow and Christmas Spectacular
Slava's Snowshow and Christmas Spectacular both opened this week. Slava's Snowshow returns to Broadway after a decade and and it is a chaotic, entertaining theatrical experience for all ages. The Christmas Spectacular continues to recycle rather tired content and is in dire need of an update, but will still draw crowds as a Broadway classic and family holiday tradition.
American Buffalo and The Lightning Thief
Mamet's American Buffalo, starring the acting powerhouse of Laurence Fishbourne, Darren Criss, and Sam Rockwell, started selling pre-sale tickets on November 15, 2019, and will start selling the general tickets on November 18th, 2019. The show opens on March 24, 2020.

The Lightning Thief continues to disappoint at the box office but has still not announced its closing. Sales for this show indicate no real sign of improvement and the show continues to lose more and more money each week, putting investors in a deep financial hole, one that has not been seen since On Your Feet.
The Broadway show ticket analysis raw data has been provided courtesy of The Broadway League and has been collated and analyzed by the New York Show Tickets data team. All data, text, opinion, charts and commentary are copyright © 2019 nytix.com