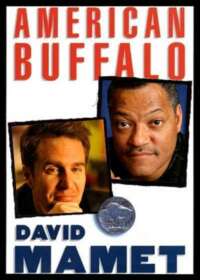 American Buffalo
Broadway Show Tickets: Show Closed No Longer Available
American Buffalo on Broadway: Show Is Now Closed
Show Status: Closed

Genre: Play

American Buffalo is 2 hours and 20 minutes long, including an intermission of 15 minutes

8 Shows per week

Previews Began: March 22, 2022

Show Opened: April 14, 2022

Show Closed: July 10, 2022
Down-on-his-luck junk store owner in 1975's Chicago plans to attempt to steal back a valuable coin he sold, an American Buffalo nickel.
American Buffalo

on Broadway Background
Acclaimed actors, Laurence Fishburne and Sam Rockwell star in the first revival of American Buffalo on Broadway.
Another David Mamet Play Hits Broadway
This play was written by the acclaimed Pulitzer Prize winning playwright, David Mamet. This time around, the show is being directed by the actor/director, Neil Pepe. Mamet and Pepe have previously worked together on two other Broadway show revivals namely, Speed-the-Plow in 2008 and A Life in the Theatre in 2010.
Lawrence Fishburne
Lawrence Fishburne who is a Tony Award winning actor, returns to Broadway after 11 years away, and he plays the main character Donny in this show revival. The last time Fishburne performed on Broadway, he played the lead role of Thurgood Marshall in the Broadway production of Thurgood, which performed at the Booth Theatre in 2008 to both critical and box office success.Since then, Fishburne has been acting as Earl Johnson "Pops" the father of the main character in the ABC hit modern TV sitcom, Black-ish. Fishburne also won the "Lifetime Achievement Award" from the San Diego International Film Festival in 2019, for his life's work and his long-time commitment to the film industry.
Sam Rockwell
Rockwell, who is an Oscar and Golden Globe Award winning actor, plays the supporting role, Teach in this shows production. He is most commonly known for his roles in The Green Mile (1999), The Hitchhiker's Guide to the Galaxy (2005), Seven Psychopaths (2012) and his role in Iron Man 2 as the evil-genius, villain character, Justin Hammer.
Darren Everett Criss
Darren Criss is an American actor who rose to fame starring on the television series Glee from 2010–2015. He also appeared in The Assassination of Gianni Versace: American Crime Story in 2018 as well as a host of other lesser appearances on Broadway and in film and TV.
American Buffalo Requires Face Masks During Final Two Weeks of Production
Entering the final two weeks of its limited engagement, the show continues to require patrons to wear masks, despite the requitement being dropped at all other Broadway shows. The production cites the small theater size and close proximity of actors to audience members as reasons for maintaining the mask mandate.
What's
American Buffalo

Like?
American Buffalo takes place in 1975 in a distressed downtown suburb of Chicago. The play centers around the main character, Donny Dubrow, who is attempting to steal something of value back from one of his customers who had legitimately bought the item from him.
Donny owns a junk store called "Dunk Junk", which is where many scenes in the show take place. He runs the shop with his younger brother Bob, who acts like his apprentice, and occasionally has one of his poker buddies "Teach" help him out in the store.
In the show, Donny sells a rare 1937 American Buffalo nickel to a coin-collecting customer for a price that he later suspects is well below what the rare coin should be worth. He based his initial pricing on the more common 1928 American Buffalo nickel that is significantly more common.
The play follows Donny, Teach and Bob as they devise and act out a bizarre plan to steal the valuable coin and split the small fortune. With stealthy attack strategies, improvised weapons and a loaded gun, the trio end up in a convoluted story that goes disastrously wrong for all three of them in so many different ways.
Is
American Buffalo

Good for Kids?
Not appropriate for children under the age of 14 due to the shows portrayal of violence and excessive profanity.
Circle In The Square Theatre
1633 Broadway
New York, NY 10019
Entrance:
Broadway, between 50th and 51st Streets
Theatre Information
American Buffalo Marquee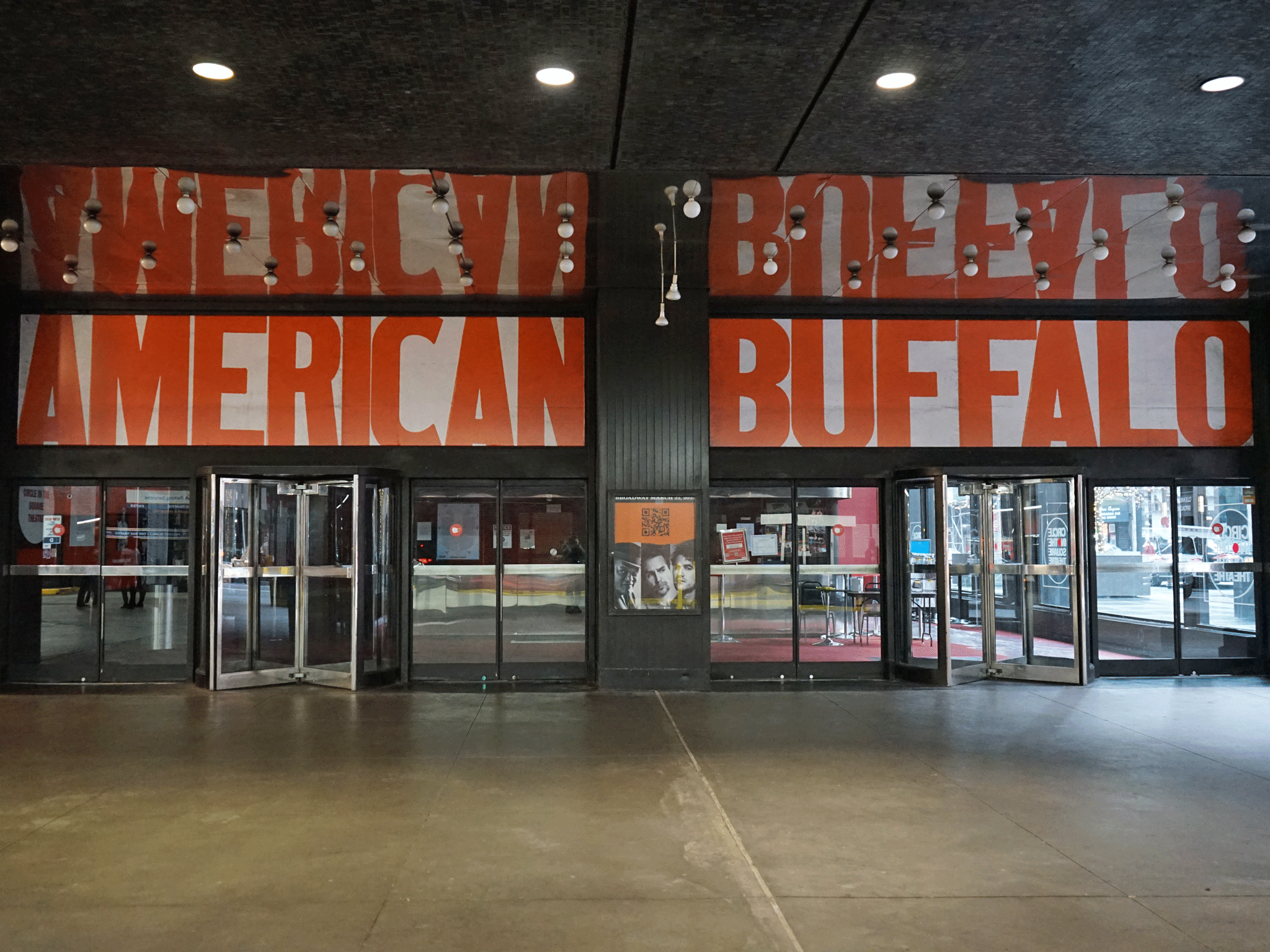 Walter "Teach" Cole

Sam Rockwell
Donny Dubrow

Laurence Fishburne
General Manager

RCI Theatricals
Company Manager

Brian Tucker
Technical Supervisor

Hudson Theatrical Associates
Casting Director

William Cantler
Production Stage Manager

Samantha Watson