Broadway Show Ticket Sales Analysis Chart w/e 02/02/2020
Broadway Show Ticket Sales Analysis Chart w/e 02/02/2020: 'Broadway Week' Continues Into Second Week, Top 5 Shows Bring In A Whopping One Third of Broadway's Overall Revenue For The Week
---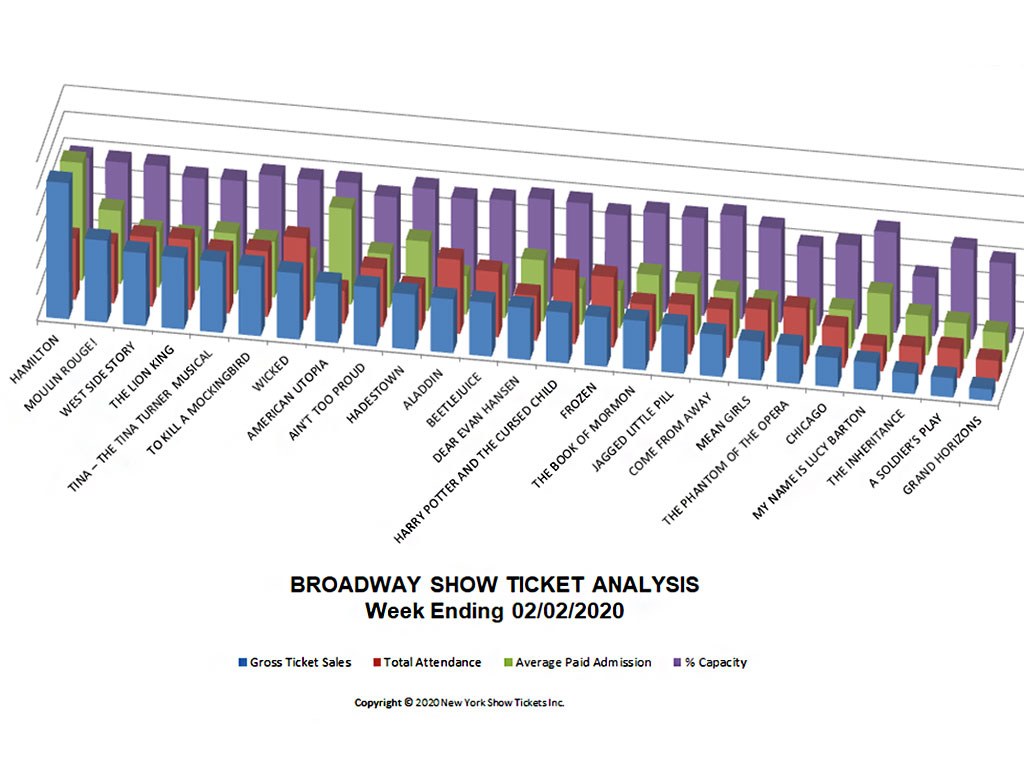 | | | | | | |
| --- | --- | --- | --- | --- | --- |
| # | Show Name | Gross | TotalAttn | %Capacity | AvgPdAdm |
| 24 | A SOLDIER'S PLAY | $379,764 | 5,104 | 88.49% | $74.41 |
| 9 | AIN'T TOO PROUD | $1,153,957 | 10,195 | 89.49% | $113.19 |
| 11 | ALADDIN | $1,059,807 | 13,018 | 94.22% | $81.41 |
| 8 | AMERICAN UTOPIA | $1,163,218 | 5,766 | 100.00% | $201.74 |
| 12 | BEETLEJUICE | $1,053,960 | 11,492 | 96.22% | $91.71 |
| 21 | CHICAGO | $575,484 | 7,093 | 82.09% | $81.13 |
| 18 | COME FROM AWAY | $826,740 | 8,451 | 100.99% | $97.83 |
| 13 | DEAR EVAN HANSEN | $1,018,671 | 7,911 | 100.50% | $128.77 |
| 15 | FROZEN | $972,671 | 12,354 | 91.70% | $78.73 |
| 25 | GRAND HORIZONS | $225,365 | 3,645 | 77.88% | $61.83 |
| 10 | HADESTOWN | $1,086,980 | 7,395 | 100.69% | $146.99 |
| 1 | HAMILTON | $2,676,538 | 10,754 | 101.53% | $248.89 |
| 14 | HARRY POTTER AND THE CURSED CHILD | $993,272 | 12,976 | 100.00% | $76.55 |
| 17 | JAGGED LITTLE PILL | $937,821 | 8,625 | 95.83% | $108.73 |
| 19 | MEAN GIRLS | $758,668 | 9,013 | 91.97% | $84.17 |
| 2 | MOULIN ROUGE! | $1,610,319 | 10,426 | 100.10% | $154.45 |
| 22 | MY NAME IS LUCY BARTON | $543,548 | 4,445 | 98.30% | $122.28 |
| 16 | THE BOOK OF MORMON | $964,398 | 8,110 | 96.82% | $118.91 |
| 23 | THE INHERITANCE | $401,831 | 4,812 | 57.40% | $83.51 |
| 4 | THE LION KING | $1,405,233 | 12,363 | 91.12% | $113.66 |
| 20 | THE PHANTOM OF THE OPERA | $741,229 | 9,907 | 77.16% | $74.82 |
| 5 | TINA – THE TINA TURNER MUSICAL | $1,391,542 | 10,880 | 92.02% | $127.90 |
| 6 | TO KILL A MOCKINGBIRD | $1,361,257 | 11,511 | 100.27% | $118.26 |
| 3 | WEST SIDE STORY | $1,431,975 | 12,180 | 100.00% | $117.57 |
| 7 | WICKED | $1,301,830 | 14,397 | 99.59% | $90.42 |
| | TOTALS | $26,036,075 Dollars | 232,823 People | | |
Sunday February 2nd, 2020: This Week on Broadway
This week marked the second week of the bi-annual, almost month long, event known as 'NYC Broadway Week'. During this promotional period, Broadway tickets are selling "2 for the price of 1" and gross Broadway ticket sales slumped again because of this. Total Broadway ticket sales were $26,036,075, which is down a bearish 5.7% from the previous week and a notable 1.8% from the same week last season.

This may be because there are only 25 Broadway shows, performing right now, when the same week last year had 29 Broadway shows performing. Total attendance was also down this week with 232,823 total Broadway tickets sold, a small 2.2% difference from the previous week. The drop in gross Broadway ticket sales this week can also be attributed to the 3.5% difference in the average ticket price from $115.93 per Broadway ticket last week to $111.83 per Broadway ticket this week.
Top Broadway Shows Secure One Third of All Ticket Sales
To no one's surprise, Hamilton, Moulin Rouge, West Side Story, The Lion King and Tina: The Musical secured the top 5 spots of the Broadway gross ticket sales chart this week. Together, their ticket sales were a sturdy $8,515,606 which was almost one third of all of the Broadway ticket sales for the week at 32.7%. Attendance for these top five shows were 56,603 seats, which was a respectable 24.3% of the total Broadway attendance for the week.

This is the first time that this newest revival of West Side Story makes it on the top five list and, it is expected to stay here because of the shows extensive history on Broadway and the fact that this show has not been below the 100% capacity mark since its opening in December 2019. It should also be noted that, West Side Story is still performing in-previews and is currently eyeing February 20th, 2020 for its official opening date
Broadway's Lowest Grossing Shows This Week
The five lowest grossing Broadway shows this week were: Grand Horizons, A Soldier's Play, The Inheritance, My Name Is Lucy Barton and Chicago. Together, these shows grossed $2,125,990 which is only a measly 8.2% of the week's total gross Broadway ticket sales figure.

No new Broadway shows opened this week and no Broadway shows closed this week either.
The Broadway show ticket analysis raw data has been provided courtesy of The Broadway League and has been collated and analyzed by the New York Show Tickets data team. All data, text, opinion, charts and commentary are copyright © 2020 nytix.com