Broadway Show Ticket Sales Analysis Chart w/e 11/10/2019
Broadway Show Ticket Sales Analysis Chart w/e 11/10/2019: Ed Harris Replaces Jeff Daniels, Alanis Morrisette Gets The Woke Treatment, Chenoweth Returns To Broadway
---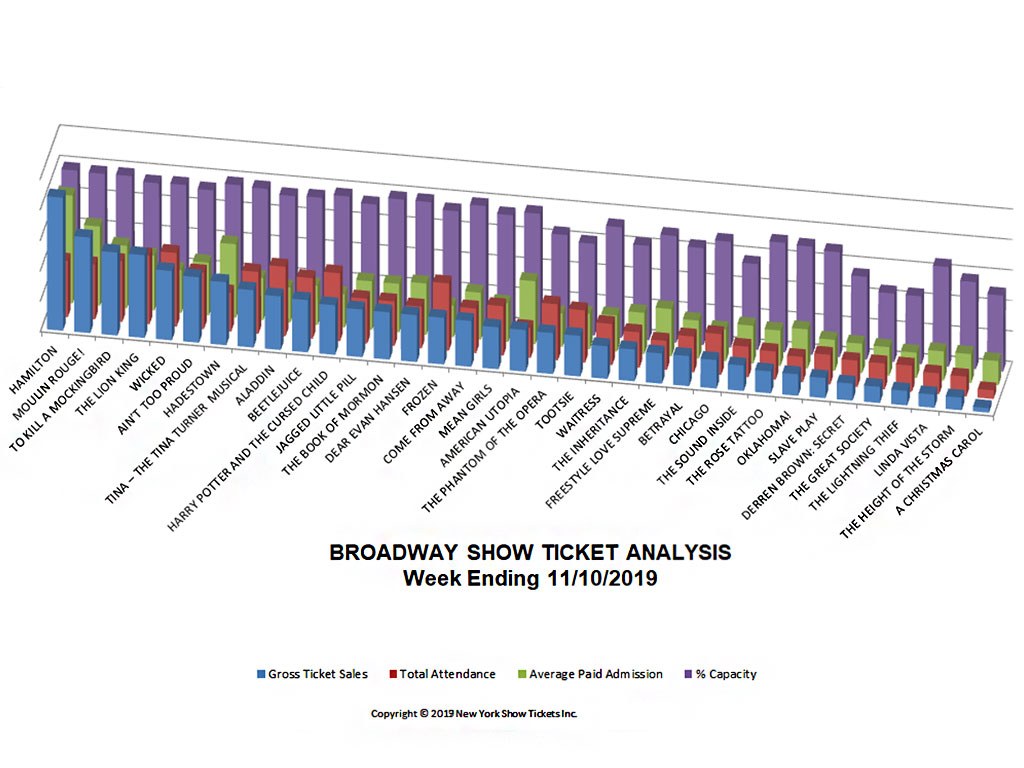 | | | | | | |
| --- | --- | --- | --- | --- | --- |
| # | Show Name | Gross | TotalAttn | %Capacity | AvgPdAdm |
| 35 | A CHRISTMAS CAROL | $106,450 | 1,651 | 64.90% | $64.48 |
| 6 | AIN'T TOO PROUD | $1,519,668 | 10,822 | 95.00% | $140.42 |
| 9 | ALADDIN | $1,245,180 | 13,297 | 96.24% | $93.64 |
| 18 | AMERICAN UTOPIA | $965,418 | 5,745 | 99.64% | $168.04 |
| 10 | BEETLEJUICE | $1,212,735 | 11,569 | 96.86% | $104.83 |
| 24 | BETRAYAL | $697,429 | 6,857 | 82.73% | $101.71 |
| 25 | CHICAGO | $661,266 | 7,786 | 90.12% | $84.93 |
| 16 | COME FROM AWAY | $1,065,019 | 8,545 | 102.12% | $124.64 |
| 14 | DEAR EVAN HANSEN | $1,088,987 | 7,982 | 101.40% | $136.43 |
| 30 | DERREN BROWN: SECRET | $394,295 | 5,018 | 70.56% | $78.58 |
| 23 | FREESTYLE LOVE SUPREME | $701,602 | 5,569 | 91.00% | $125.98 |
| 15 | FROZEN | $1,082,645 | 12,875 | 95.57% | $84.09 |
| 7 | HADESTOWN | $1,461,216 | 7,448 | 101.42% | $196.19 |
| 1 | HAMILTON | $3,088,806 | 10,760 | 101.59% | $287.06 |
| 11 | HARRY POTTER AND THE CURSED CHILD | $1,149,131 | 12,976 | 100.00% | $88.56 |
| 12 | JAGGED LITTLE PILL | $1,107,845 | 8,570 | 95.22% | $129.27 |
| 33 | LINDA VISTA | $308,368 | 3,981 | 85.06% | $77.46 |
| 17 | MEAN GIRLS | $974,092 | 9,441 | 96.34% | $103.18 |
| 2 | MOULIN ROUGE! | $2,218,314 | 10,501 | 100.82% | $211.25 |
| 28 | OKLAHOMA! | $498,466 | 4,797 | 92.11% | $103.91 |
| 29 | SLAVE PLAY | $467,721 | 5,676 | 89.47% | $82.40 |
| 13 | THE BOOK OF MORMON | $1,097,546 | 8,499 | 101.47% | $129.14 |
| 31 | THE GREAT SOCIETY | $375,184 | 4,948 | 58.35% | $75.83 |
| 34 | THE HEIGHT OF THE STORM | $292,977 | 3,817 | 74.20% | $76.76 |
| 22 | THE INHERITANCE | $738,918 | 6,743 | 80.43% | $109.58 |
| 32 | THE LIGHTNING THIEF | $336,181 | 4,979 | 58.00% | $67.52 |
| 4 | THE LION KING | $1,921,309 | 13,151 | 96.93% | $146.10 |
| 19 | THE PHANTOM OF THE OPERA | $952,524 | 10,731 | 83.57% | $88.76 |
| 27 | THE ROSE TATTOO | $509,255 | 5,384 | 93.34% | $94.59 |
| 26 | THE SOUND INSIDE | $589,439 | 5,840 | 73.15% | $100.93 |
| 8 | TINA – THE TINA TURNER MUSICAL | $1,332,425 | 11,860 | 100.30% | $112.35 |
| 3 | TO KILL A MOCKINGBIRD | $1,926,476 | 11,600 | 101.05% | $166.08 |
| 20 | TOOTSIE | $943,765 | 10,022 | 78.20% | $94.17 |
| 21 | WAITRESS | $756,699 | 7,884 | 94.31% | $95.98 |
| 5 | WICKED | $1,612,020 | 14,095 | 97.50% | $114.37 |
| | TOTALS | $35,399,366 Dollars | 291,419 People | | |
This Week on Broadway: Mockingbird, Pill, Tina, Horizons
Ed Harris As Atticus Finch
There's a new Atticus Finch in town. Pulitzer Prize-winning author Harper Lee's To Kill a Mockingbird replaced the lead actor, Jeff Daniels, with Ed Harris this week, so sales are brisk at this stunning, monumental adaptation that opened on Broadway last year.

Jagged Little After-School Special

Diane Paulus's Jagged Little Pill opened in previews this week, but there are early reports that it is a bit "dark and preachy". Early preview audiences also felt that the whole thing was like a "Woke After-School Special", but the show was somewhat saved by Alanis's soundtrack, so this may affect ticket sales going forward. At least Elizabeth Stanley finally gets to shine, even though the show has more consecutive non-linear plot lines than Pulp Fiction.
Tina Hits The Red Carpet
Tina, the jukebox musical of the story of Tina Turner and her rise to stardom while facing the odds, had its red carpet opening on November 7, 2019, with mixed/positive reviews and strong sales to boot.
Grand Horizons and For The Girls
Grand Horizons began selling tickets during this week. The limited show runs at the Helen Hayes Theatre and will be in previews beginning December 20, 2020, the show opens on January 23, 2020 and closes March 1, 2020. Kristin Chenoweth opens in "For The Girls" for eight Broadway Performances beginning November 8th, 2019. Other changes for the week included tickets for The Minutes and Caroline, or Change which went on sale.

The Broadway show ticket analysis raw data has been provided courtesy of The Broadway League and has been collated and analyzed by the New York Show Tickets data team. All data, text, opinion, charts and commentary are copyright © 2019 nytix.com