Broadway Show Ticket Sales Analysis Chart w/e 11/24/2019
Broadway Show Ticket Sales Analysis Chart w/e 11/24/2019, The Inheritance, A Christmas Carol and The Nutcracker Open, Book Of Mormon Tickets Pop Up At TKTS Offering 20% Discount
---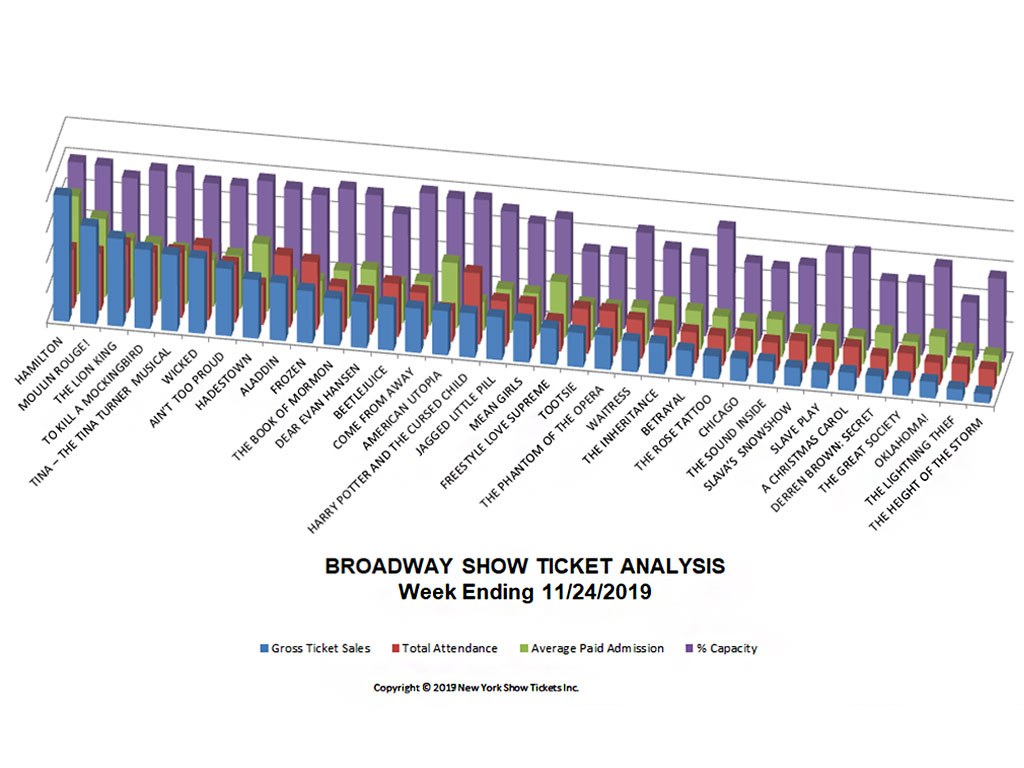 | | | | | | |
| --- | --- | --- | --- | --- | --- |
| # | Show Name | Gross | TotalAttn | %Capacity | AvgPdAdm |
| 30 | A CHRISTMAS CAROL | $384,493 | 5,590 | 82.40% | $68.78 |
| 7 | AIN'T TOO PROUD | $1,416,921 | 10,642 | 93.42% | $133.14 |
| 9 | ALADDIN | $1,215,542 | 13,087 | 94.72% | $92.88 |
| 15 | AMERICAN UTOPIA | $932,781 | 5,703 | 98.91% | $163.56 |
| 13 | BEETLEJUICE | $965,560 | 9,753 | 81.66% | $99.00 |
| 24 | BETRAYAL | $549,436 | 5,663 | 68.33% | $97.02 |
| 26 | CHICAGO | $477,167 | 5,748 | 66.53% | $83.01 |
| 14 | COME FROM AWAY | $932,943 | 8,481 | 101.35% | $110.00 |
| 12 | DEAR EVAN HANSEN | $969,297 | 7,541 | 95.80% | $128.54 |
| 31 | DERREN BROWN: SECRET | $363,600 | 4,340 | 61.02% | $83.78 |
| 19 | FREESTYLE LOVE SUPREME | $765,589 | 5,487 | 89.66% | $139.53 |
| 10 | FROZEN | $1,099,887 | 12,370 | 91.82% | $88.92 |
| 8 | HADESTOWN | $1,236,164 | 7,309 | 99.52% | $169.13 |
| 1 | HAMILTON | $2,654,389 | 10,737 | 101.37% | $247.22 |
| 16 | HARRY POTTER AND THE CURSED CHILD | $930,990 | 12,976 | 100.00% | $71.75 |
| 17 | JAGGED LITTLE PILL | $902,144 | 8,276 | 91.96% | $109.01 |
| 18 | MEAN GIRLS | $863,465 | 8,201 | 83.68% | $105.29 |
| 2 | MOULIN ROUGE! | $2,058,469 | 10,465 | 100.47% | $196.70 |
| 33 | OKLAHOMA! | $346,426 | 4,024 | 77.27% | $86.09 |
| 28 | SLAVA'S SNOWSHOW | $388,814 | 5,771 | 68.38% | $67.37 |
| 29 | SLAVE PLAY | $388,710 | 5,144 | 81.08% | $75.57 |
| 11 | THE BOOK OF MORMON | $988,888 | 8,282 | 98.88% | $119.40 |
| 32 | THE GREAT SOCIETY | $355,449 | 5,263 | 62.06% | $67.54 |
| 35 | THE HEIGHT OF THE STORM | $191,162 | 3,682 | 71.58% | $51.92 |
| 23 | THE INHERITANCE | $649,237 | 6,038 | 72.02% | $107.53 |
| 34 | THE LIGHTNING THIEF | $241,164 | 4,210 | 49.04% | $57.28 |
| 3 | THE LION KING | $1,846,819 | 12,477 | 91.96% | $148.02 |
| 21 | THE PHANTOM OF THE OPERA | $716,753 | 8,171 | 63.64% | $87.72 |
| 25 | THE ROSE TATTOO | $481,549 | 5,407 | 93.74% | $89.06 |
| 27 | THE SOUND INSIDE | $472,833 | 5,062 | 63.40% | $93.41 |
| 5 | TINA – THE TINA TURNER MUSICAL | $1,607,079 | 11,911 | 100.74% | $134.92 |
| 4 | TO KILL A MOCKINGBIRD | $1,666,008 | 11,497 | 100.15% | $144.91 |
| 20 | TOOTSIE | $720,715 | 8,168 | 63.73% | $88.24 |
| 22 | WAITRESS | $650,074 | 7,030 | 84.09% | $92.47 |
| 6 | WICKED | $1,585,415 | 13,550 | 93.73% | $117.00 |
| | TOTALS | $32,015,929 Dollars | 278,056 People | | |
This Week on Broadway: The Inheritance, A Christmas Carol, The Nutcracker, Mormon TKTS Discount
The Inheritance
The Inheritance, the two-part play based on E.M. Forster's novel Howards End, had its opening night on November 17, 2019. Stars like Jimmy Fallon, Glenn Close, Antoni Porowski, and countless other Hollywood and Broadway celebrities showed up on the red carpet. Critics have commended The Inheritance as a thoughtful and emotionally profound plunge into the lives of gay men in a post-AIDS Manhattan, and many are calling it the "gay theatre event of the year".
A Christmas Carol
A Christmas Carol had its red carpet opening on Wednesday, November 20, 2019. Campbell Scott stars as Ebeneezer Scrooge in this Broadway reimagining of Charles Dickens' classic Christmas tale. While some critics have deemed the show too gloomy and grim, others have lauded the show's cinematic staging and refreshed script which has breathed new life into a holiday classic.
The Nutcracker
The Nutcracker opened for its 65th annual performance on Saturday, November 23, 2019. The holiday show is performed by the New York City Ballet and features almost 90 dancers and over 60 musicians. Ticket prices for this beautiful show remain amongst the highest in town with the show failing to offer discounts, lottery, student rush or any other process that would allow less-than-rich fans to attend. The somewhat snobby NYCB is trying to keep out the riff-raff and they have succeeded. With the death this year of the theatre's patron David H Koch, the future for NYCB is now in flux and they will be looking for a new benefactor.
Book Of Mormon
Book of Mormon tickets appeared at the TKTS stand Times Square for the first time and the tickets were sold at a 20% discount on the face value - this is the first time this show has discounted their tickets since the show opened in February 24, 2011. This move comes as Book of Mormon ticket sales experience a significant drop and the show relevance now seems pretty dated when compared with the new set of shows on the Great White Way.


The Broadway show ticket analysis raw data has been provided courtesy of The Broadway League and has been collated and analyzed by the New York Show Tickets data team. All data, text, opinion, charts and commentary are copyright © 2019 nytix.com
Discount Broadway Tickets
---
---