Broadway Show Ticket Sales Analysis Chart w/e 12/01/2019
Broadway Show Ticket Sales Analysis Chart w/e 12/01/2019: Thanksgiving's Impact on Ticket Sales, Height Of The Storm Closes, Connick's Porter and Illusionists Open, Mormon Takes A Dip


---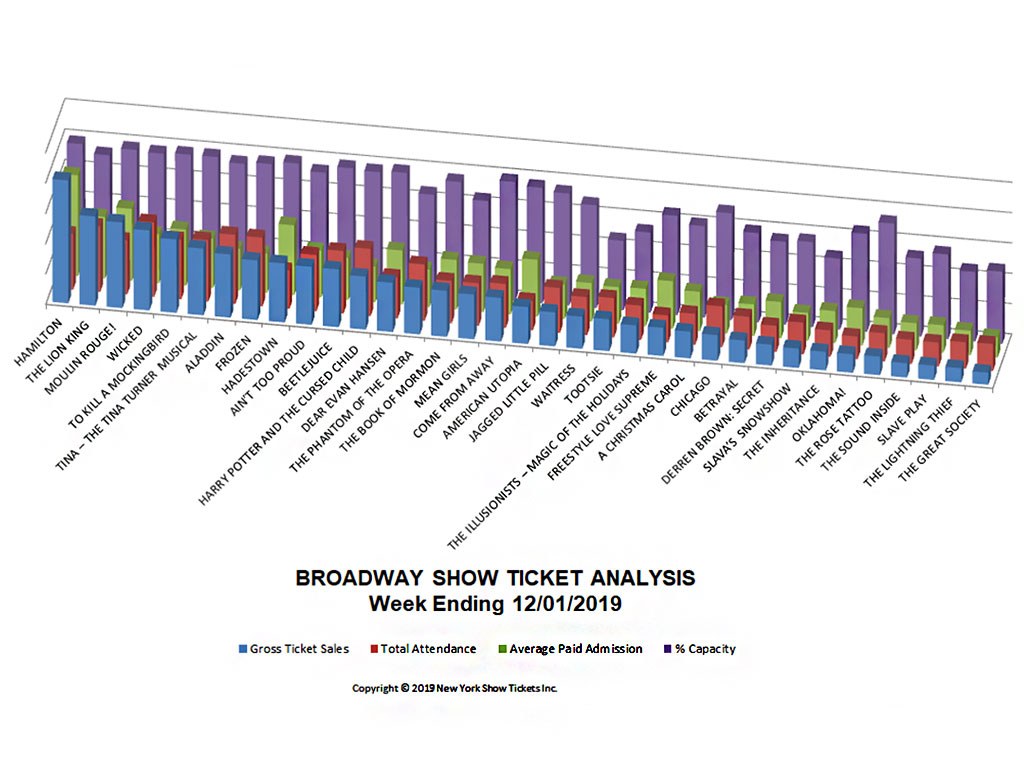 | | | | | | |
| --- | --- | --- | --- | --- | --- |
| # | Show Name | Gross | TotalAttn | %Capacity | AvgPdAdm |
| 24 | A CHRISTMAS CAROL | $734,745 | 5,988 | 78.46% | $122.70 |
| 10 | AIN'T TOO PROUD | $1,596,418 | 10,870 | 95.42% | $146.86 |
| 7 | ALADDIN | $1,737,232 | 13,389 | 96.91% | $129.75 |
| 18 | AMERICAN UTOPIA | $1,013,988 | 5,705 | 98.94% | $177.74 |
| 11 | BEETLEJUICE | $1,589,839 | 12,102 | 101.32% | $131.37 |
| 26 | BETRAYAL | $623,431 | 6,339 | 76.48% | $98.35 |
| 25 | CHICAGO | $707,573 | 7,904 | 91.48% | $89.52 |
| 17 | COME FROM AWAY | $1,202,520 | 8,521 | 101.83% | $141.12 |
| 13 | DEAR EVAN HANSEN | $1,352,409 | 7,990 | 101.50% | $169.26 |
| 27 | DERREN BROWN: SECRET | $573,811 | 5,060 | 71.15% | $113.40 |
| 23 | FREESTYLE LOVE SUPREME | $772,945 | 5,211 | 85.15% | $148.33 |
| 8 | FROZEN | $1,638,530 | 13,306 | 98.77% | $123.14 |
| 9 | HADESTOWN | $1,623,020 | 7,438 | 101.28% | $218.21 |
| 1 | HAMILTON | $3,379,716 | 10,756 | 101.55% | $314.22 |
| 12 | HARRY POTTER AND THE CURSED CHILD | $1,457,095 | 12,976 | 100.00% | $112.29 |
| 19 | JAGGED LITTLE PILL | $935,865 | 8,652 | 96.13% | $108.17 |
| 16 | MEAN GIRLS | $1,228,895 | 8,178 | 83.45% | $150.27 |
| 3 | MOULIN ROUGE! | $2,354,190 | 10,487 | 100.68% | $224.49 |
| 30 | OKLAHOMA! | $509,840 | 4,382 | 84.14% | $116.35 |
| 28 | SLAVA'S SNOWSHOW | $532,718 | 6,152 | 72.89% | $86.59 |
| 33 | SLAVE PLAY | $395,365 | 4,606 | 72.60% | $85.84 |
| 15 | THE BOOK OF MORMON | $1,266,043 | 8,186 | 97.73% | $154.66 |
| 35 | THE GREAT SOCIETY | $330,993 | 5,252 | 61.93% | $63.02 |
| 22 | THE ILLUSIONISTS – MAGIC OF THE HOLIDAYS | $775,796 | 6,624 | 68.77% | $117.12 |
| 29 | THE INHERITANCE | $510,836 | 5,099 | 60.82% | $100.18 |
| 34 | THE LIGHTNING THIEF | $390,329 | 5,125 | 59.70% | $76.16 |
| 2 | THE LION KING | $2,451,315 | 12,759 | 94.04% | $192.12 |
| 14 | THE PHANTOM OF THE OPERA | $1,281,179 | 10,885 | 84.77% | $117.70 |
| 31 | THE ROSE TATTOO | $508,849 | 5,478 | 94.97% | $92.89 |
| 32 | THE SOUND INSIDE | $395,881 | 4,678 | 66.96% | $84.63 |
| 6 | TINA – THE TINA TURNER MUSICAL | $1,834,636 | 11,909 | 100.72% | $154.05 |
| 5 | TO KILL A MOCKINGBIRD | $2,018,899 | 11,553 | 100.64% | $174.75 |
| 21 | TOOTSIE | $877,008 | 7,636 | 59.58% | $114.85 |
| 20 | WAITRESS | $884,650 | 7,361 | 88.05% | $120.18 |
| 4 | WICKED | $2,200,777 | 14,383 | 99.50% | $153.01 |
| | TOTALS | $41,687,333 Dollars | 292,940 People | | |
Thanksgiving's Effect: Storm Closes, Connick and Illusionists Open, Mormon Dips
In the annual week of turkey, thanks and family traveling, the NYC foot traffic sent Broadway ticket sales up 25% from the previous week. This year Thanksgiving fell on November 28, 2019 and marks the beginning of the American holiday season. The Thanksgiving day fell on the closest possible day to December due to the first day of November hitting on a Friday. If it havd fallen on November 22, Broadway ticket sales for this period would have looked very different.

In previous years, when Thanksgiving has been on dates further from December, E.G. November 22 or 24, Broadway ticket sales were actually higher as there was more time between the holidays and people did not have to think as much about saving up for Christmas. Last year, Thanksgiving fell on November 22nd and there was gross ticket sales of $43,043,266, while this past Thanksgiving week saw gross ticket sales of $41,687,333, down more than 3%.
The Height Of The Storm Closes
The Height of the Storm hosted its final performance on Sunday November 24, 2019. The show starred the Tony Award winning actor, Jonathan Pryce and Emmy Award winner, Eileen Atkins who, together brought this 50 year old love story to life. The show was translated by Tony Award winner, Christopher Hampton from French to English and was directed by the English theatre director, Jonathan Kent.

In its final performance week, the production grossed a mere $191,162 which put the show at #35 on the weekly sales chart and was the worst selling show on Broadway during its closing week, a feat rarely seen on Broadway as people often rush to see a show before it closes.
Connick's Cole Porter Tribute Opens
Harry Connick, Jr. - A Celebration of Cole Porter opened last week on Sunday November 24, 2019 and performed its first full week in-previews, but producers have elected to keep their sales numbers private for the time being as this show is privately run and does not have to disclose its numbers. Looking at the line of people going into the show, it appeared that only half of the theatre seats were occupied in the preview shows.
The Illusionists Opens
The Illusionists: Magic of the Holidays also opened on Broadway, performing at the Neil Simon Theatre. This is their 6th annual show and features an all-new cast of magicians. Sycophant critics described the show as "Smoothly integrating performance and trickery. They exhibit a childish appeal and an enthusiasm that quickly wins over the crowd". Gross ticket sales were $775,796 and they sold 6,624 tickets for an average of $117.12 and sold only 69% of their tickets.
Book of Mormon Drops
The Book of Mormon dropped further from the top ten of all Broadway shows this week. The show is now in position #15, they sold 8,186 tickets for a total of $1,266,043 in gross ticket sales this week. The shows producers have decided to continue to sell their tickets at the TKTS ticket booths for 20% off.

The Broadway show ticket analysis raw data has been provided courtesy of The Broadway League and has been collated and analyzed by the New York Show Tickets data team. All data, text, opinion, charts and commentary are copyright © 2019 nytix.com