Best Broadway Shows of 2019: Hamilton, Moulin Rouge and Others
A list of the Best Broadway shows from the 2019 Broadway show season, including all the shows theatregoers should go and see.
---
List of the Best Broadway Shows From The 2019 Broadway Show Season
The 2019 Broadway show season has become one to remember. Many great Broadway shows opened this year and many of them continue to perform on the Great White Way.
Below is a list of the "Best Broadway Shows" that are still playing in the 2019 season. The list is based on popularity, quality of the storyline/musical numbers and how good the current performing cast is.

1. Hamilton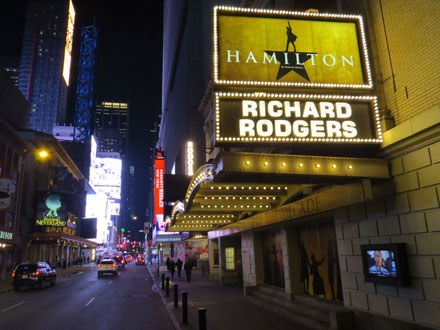 Hamilton does it again. This is the fourth year in a row Hamilton has been number one on the Broadway charts for the highest grossing Broadway show. Hamilton made its Broadway debut in mid-2015 and the show is still hard to get tickets to, even months in advance.
The storyline and music from the show are now quite well known and are still listened to by fans on a regular basis, making the show timeless. Hamilton still averages about $3 Million Dollars per week in gross box-office ticket sales. Lin-Manuel Miranda, who created and starred in the show, continues to rack in the big bucks from his old work.
This show continues to be the best show on Broadway in 2019, despite Miranda not being in the show and fierce competition from The Lion King and the newcomer Moulin Rouge.
2. Moulin Rouge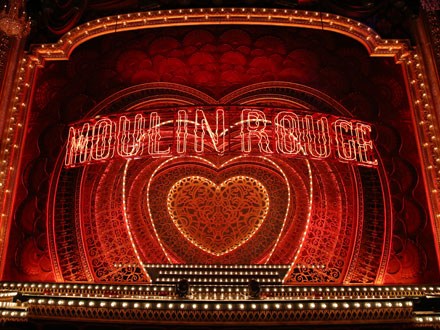 Moulin Rouge opened in the middle of the 2019 Broadway show season. Since the opening, this show has been one of the most highly-regarded Broadway shows and has a ticket sales history that actually beats Hamilton, when compared to the same time period. The show is now the fastest growing show in Broadway history and is poised to take the no.1 slot in 2020. The show is based off of Baz Luhrmann's revolutionary 2001 movie about a young English poet who falls in love with a cabaret dancer in Paris, France in the early 1900's.
The show features some of Broadway's best actors including; Aaron Tveit, Karen Olivo and Danny Burstein, who have each performed in lead roles in other top Broadway shows, like Wicked. The show also has one of the most spectacular set designs Broadway has ever seen, with multiple 25+ foot tall hearts that scrape the theatre's ceiling, a full-sized windmill, a magnificent elephant sculpture and many ornate chandeliers. Since the show opened it has been bouncing between the number two and number three spot of the most popular Broadway shows week over week.
3. The Lion King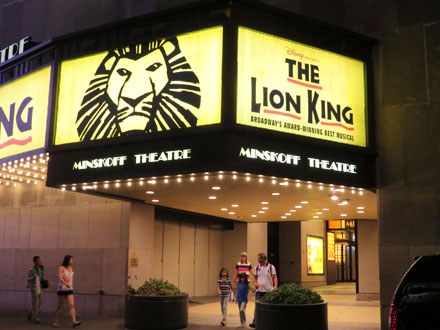 The Lion King is the second oldest show that is still performing on Broadway (Phantom of the Opera is currently the oldest show still performing) and it continues to be at the top of the charts. It is the number one show when it comes to actual tickets sold (over 13,000 per week) and is consistently in the top three Broadway shows who have the most box-office ticket sales week to week. It is one of the most beloved shows on the Great White Way and fans continue to see it night after night.
The live-action movie of the same name has contributed to a resurgence in popularity of this show on Broadway. Lion King show is proudly produced and owned by the Disney company and it very closely mirrors the storyline of their own 1994 cartoon film of the same name. With great acting, fun songs and extravagant costumes this show definitely deserves this spot at #3 on the best Broadway shows of 2019.
4. Hadestown
Even though Hadestown just came out this year, it is one of those instant-classic Broadway musicals that theatregoers just cannot get enough of. The show is a mix of exceptional singing and a relatable story. The story follows the main character who must choose between a life of fame, fortune and sin or a simpler way of life filled with love, happiness and song.
The show opened in early 2019 and it won the most Tony Awards this season, with 8 total Tony Awards. Including; the award for "Best Musical" and "Best Original Score". Fans continue to see this show in droves and the show appears to have "legs" for at least five more years, before it will begin a tour.
5. Come From Away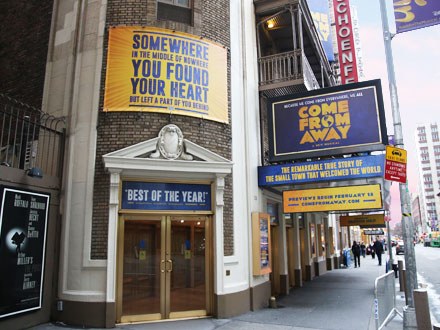 Come From Away is a very relevant play for the 2019 show year and it has been consistently in the top 50% of the most popular Broadway shows week over week. It is specifically relevant to this year, because of the growing political divides in this country and recent social segregation facing people who come from different racial backgrounds.
The show follows an uplifting tale of one small Canadian town, whose residents rose up and provided friendship, food and shelter to people in a time of need, despite their many cultural differences. This musical is a must see for the socially aware crowd and has some strong 9/11 sensibilities.
6. Dear Evan Hanson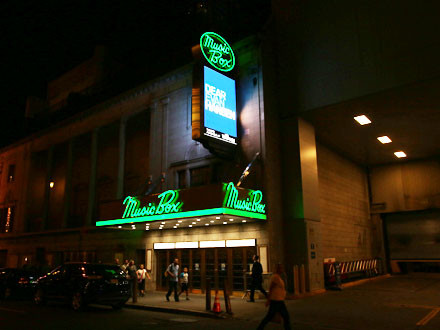 Dear Evan Hanson became an instant classic when it made its original Broadway debut in late 2016. Since then, This show has won more than a handful of major American entertainment awards. Including; the Grammy Award for "Best Musical Theatre Album", an Emmy Award for an "Outstanding Musical Performance on Daytime Television" and six total Tony Awards which included, "Best Musical", "Best Performance of an Actor" and "Best Performance of an Actress" in 2017.
With all of these critical accolades, it should be no surprise to anyone that this show is usually in the top 10 most popular shows on Broadway, and it made it to our #6 in our list.
7. Frozen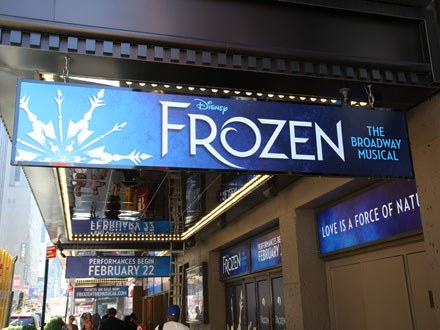 Frozen - The Broadway Musical is based off the ubiquitous animated Disney film that was once the highest grossing animated film of all time. The show follows two sisters who separate after an accidental injury inflicted by the older sister Elsa on the younger Anna. After many years apart, the two manage to find their way back to each other. They do this through determination and bravery, as well as some helpful and silly characters who they meet along their journeys.
The show features all of the wonderful and catchy songs from the movie which makes it a favorite for families with young kids to go and see together. With the advent of the new movie Frozen 2, interest in this show may wane, as the movie separates in its narrative.
8. To Kill a Mockingbird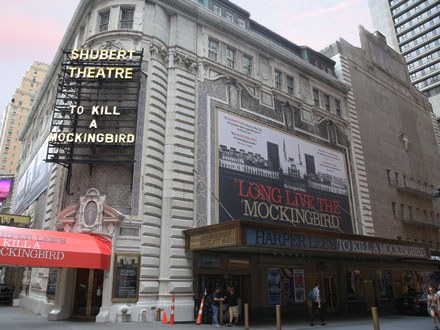 To Kill a Mockingbird is the only play on this "Best Broadway Shows of 2019" list. This show is a perfect choice for all people who can not stand typical musical-theatre shows. The play has been critically acclaimed since it opened at the end of 2018 in the well established, Shubert Theatre in lower Midtown Manhattan. It is consistently in the top five of the most popular Broadway shows week over week.
The show is based off of the classic Harper Lee novel, of the same name, a book that most young Americans are assigned to read in high school. The play follows a lawyer and his daughter in the 1930's, who is appointed a "losing case" to defend a Black American man who is accused of a crime that he did not commit. The show is surprisingly still relevant in 2019 as social and racial segregation continues to get more and more extreme.
9. Wicked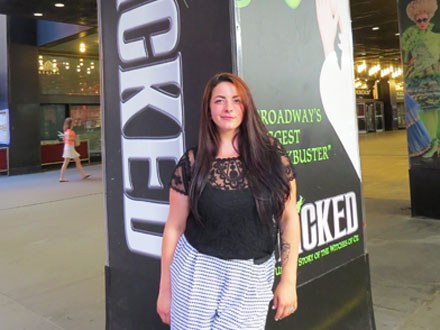 Wicked is a musical that all regular Broadway theatregoers have probably already seen before, but for those who have not experienced this show yet, now might be the time to go see it. This show has been performing in Broadway's biggest theatre, The Gershwin Theatre, for over 15 years now and it routinely sells out of show tickets, even months in advance.
This is no surprise to those who have already seen the production before. Wicked features one of a kind special effects as well as a top-of-the-line musical score that is performed by only the finest and best of the best top Broadway talent. This show is a must see for all who have not seen it yet.
10. Derren Brown: Secret
While Derren Brown: Secret is not the typical Broadway show and it is not nearly as popular as any of the other Broadway shows on this list, everyone who has gone to see it, has loved it. For that reason alone, this show deserves to be on this list of the best Broadway shows of 2019.
The show is a magic/entertainment show all performed by Derren Brown himself. It is perfect for kids, families, dates and for those who just want to switch it up a bit from the usual Broadway type of show. As Brown's first trick of the show, he comes out of the... closet as a gay man. He then proceeds to effortlessly blow the minds of the entire audience by performing a plethora of tricks, like; reading their minds and figuring out where they have hidden various props in the theatre before the show.
He does this by reading people's body language, with what he calls a person's "tells". He relies heavily on audience participation and includes everybody through fun and innovative ways throughout the performance. Again, this show is not as popular as other Broadway shows but it is still a great one, the show is kind of like the 2019 Broadway season's "secret".
Discount Broadway Tickets
---
---