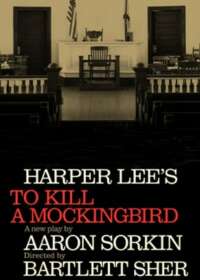 To Kill a Mockingbird
Discount Tickets and Show Information
To Kill a Mockingbird

Summary
Show Status: Currently playing at the Shubert Theatre

Genre: Play

To Kill a Mockingbird is 2 hours and 35 minutes long, including an intermission of none

8 Shows per week

Previews Began: November 1, 2018

Show Opened: December 13, 2018

Show Closes: Open ended
Based on Harper Lee's novel, the TKAM story focuses on a young girl and her lawyer father who is appointed to defend a black man during the Great Depression.
To Kill a Mockingbird

on Broadway Background
Academy Award winner Aaron Sorkin (The Social Network, "The West Wing") adapts Harper Lee's iconic novel for the Broadway stage for the first time. There have been stage adaptations of Mockingbird in the past, but none made it as far as Broadway. As Harper's debut novel, To Kill a Mockingbird received unprecedented acclaim when it was released in 1960. Lee won the Pulitzer Prize and the American classic has sold more than 40 million copies worldwide. To Kill a Mockingbird was found to be the second most influential book in people's lives by the Library of Congress, second only to the Bible. The Academy Award winning film of the same name was released in 1962 and went on to significant critical acclaim, despite a lack of awards. The movie has subsequently been referred to as "culturally, historically, or aesthetically significant".

Jeff Daniels who starred in Sorkin's "The Newsroom" plays Atticus Finch. This production is directed by Tony Award winner Bartlett Sher (South Pacific, The King and I). Despite a lawsuit from Ms. Lee's estate over the portrayal of a less-than-admirable Atticus Finch in the stage adaption, the show proceeded as scheduled.
What's
To Kill a Mockingbird

Like?
To Kill a Mockingbird (TKAM) was inspired by Harper Lee's childhood in Alabama. Her father was a lawyer who represented two black men accused of murder and when she was ten years old a white women accused a black man of raping her in a nearby town. As in the play, the trial was controversial and unjust. The play explores issues of racial injustice, historical prejudice and class. As Scout watches the trial and learns of the racial intolerance deeply rooted in the South at this time, the audience watches Scout gradually lose her innocence. This story is beloved not only for its themes, but its characters. Atticus is an impartial model for lawyers and has served as a moral compass for generations. Scout resonates with audiences for her universal childhood innocence and curiosity.
Is
To Kill a Mockingbird

Good for Kids?
The show is most appropriate for those aged 12 and older. Children under the age of 4 will not be permitted in the theatre.

To Kill a Mockingbird

Ticket Lottery and Rush Schedule

Every day there are discounted Broadway show tickets sold as part of the Broadway ticket lotteries or as Rush Tickets Tonight. Tickets are only valid on-the-same-day of the drawing. The following is the daily schedule of the ticket lottery and RUSH ticket pricing.
General Rush
Tuesday, 10:00am
Wednesday, 10:00am
Thursday, 10:00am
Friday, 10:00am
Saturday, 10:00am
Sunday, 12:00pm
Shubert Theatre
225 West 44th Street
New York, NY 10019
Entrance:
44th Street, between 7th and 8th Ave.
Theatre Information
To Kill a Mockingbird Marquee
Scout Finch

Nina Grollman
Tom Robinson

Kyle Scatliffe
Dill Finch

Taylor Trensch
Horace Gilmer

Manoel Feliciano
Judge Taylor

M Emmet Walsh
Mayella Ewell

Eliza Scanlen
Calpurnia

LisaGay Hamilton
Arthur "Boo" Radley

Russell Harvard
Sheriff Heck Tate

Danny McCarthy
Mrs Henry Dubose

Phyllis Somerville
Miss Stephanie/Dill's Mother

Liv Rooth
Bailiff

Thomas Michael Hammond
Mr Roscoe/Dr Reynolds

Jeff Still
Mr Cunningham/Boo Radley

Danny Wolohan
Atticus Finch

Jeff Daniels
Scout Finch

Celia Keenan-Bolger
Bob Ewell

Frederick Weller
Tom Robinson

Gbenga Akinnagbe
Horace Gilmer

Stark Sands
Judge Taylor

Dakin Matthews
Mayella Ewell

Erin Wilhelmi
Calpurnia

LaTanya Richardson Jackson
General Manager

Wagner Johnson Productions
Company Manager

Susan Keappock
Production Manager

Aurora Productions
Casting Director

Daniel Swee
Advertising Representative

SPOTCo
Production Stage Manager

Charles Means
Based on a Story by

Harper Lee
Original Music

Adam Guettel