Shubert Theatre
225 West 44th Street, New York, NY 10019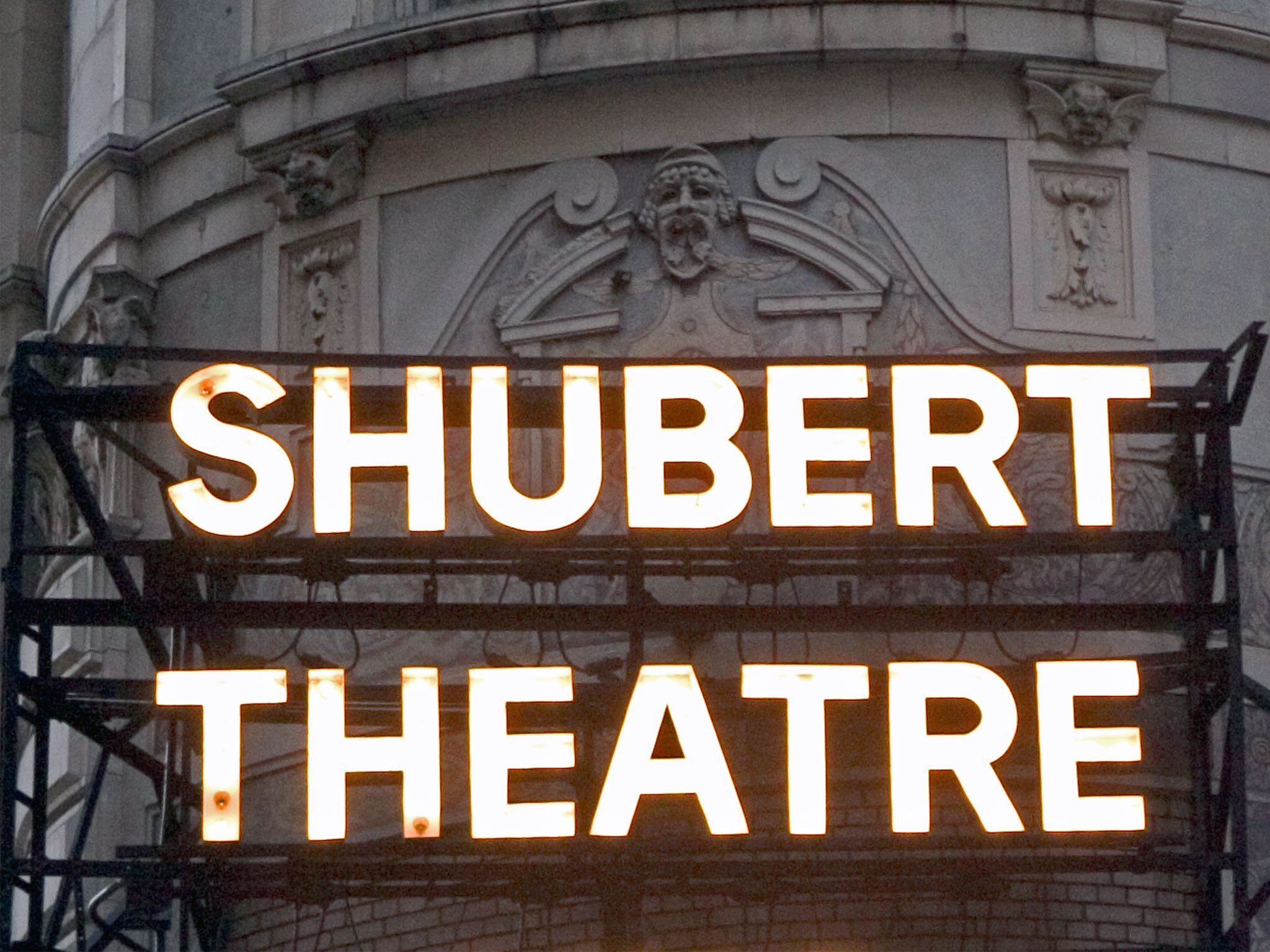 Directions:

By Subway, take the A/C/E to 42nd Street, walk north on Eight Avenue and then turn right onto 44th Street. Or take the 1/2/3 to 42nd Street, walk north on Seventh Avenue and then make a left onto 44th Street.

Entrance:

44th Street, between 7th and 8th Ave.

The Shubert Theatre is located on the north side of 44th Street, between Seventh Avenue and Eighth Avenue.

Box Office Hours:

Monday - Saturday:

10am - 8pm

Sunday:

Noon - 6pm
The rear mezzanine and the extreme right and left sides of the front orchestra have a partial view. The rear orchestra offers a good view, but if you are in the very back rows you may occasionally need to duck down a bit to see above the overhang. The best seats are in the front mezzanine and center orchestra. Be aware that the balcony is on a steep incline, and is not recommended for those with a fear of heights.
Shubert Theatre Seating Chart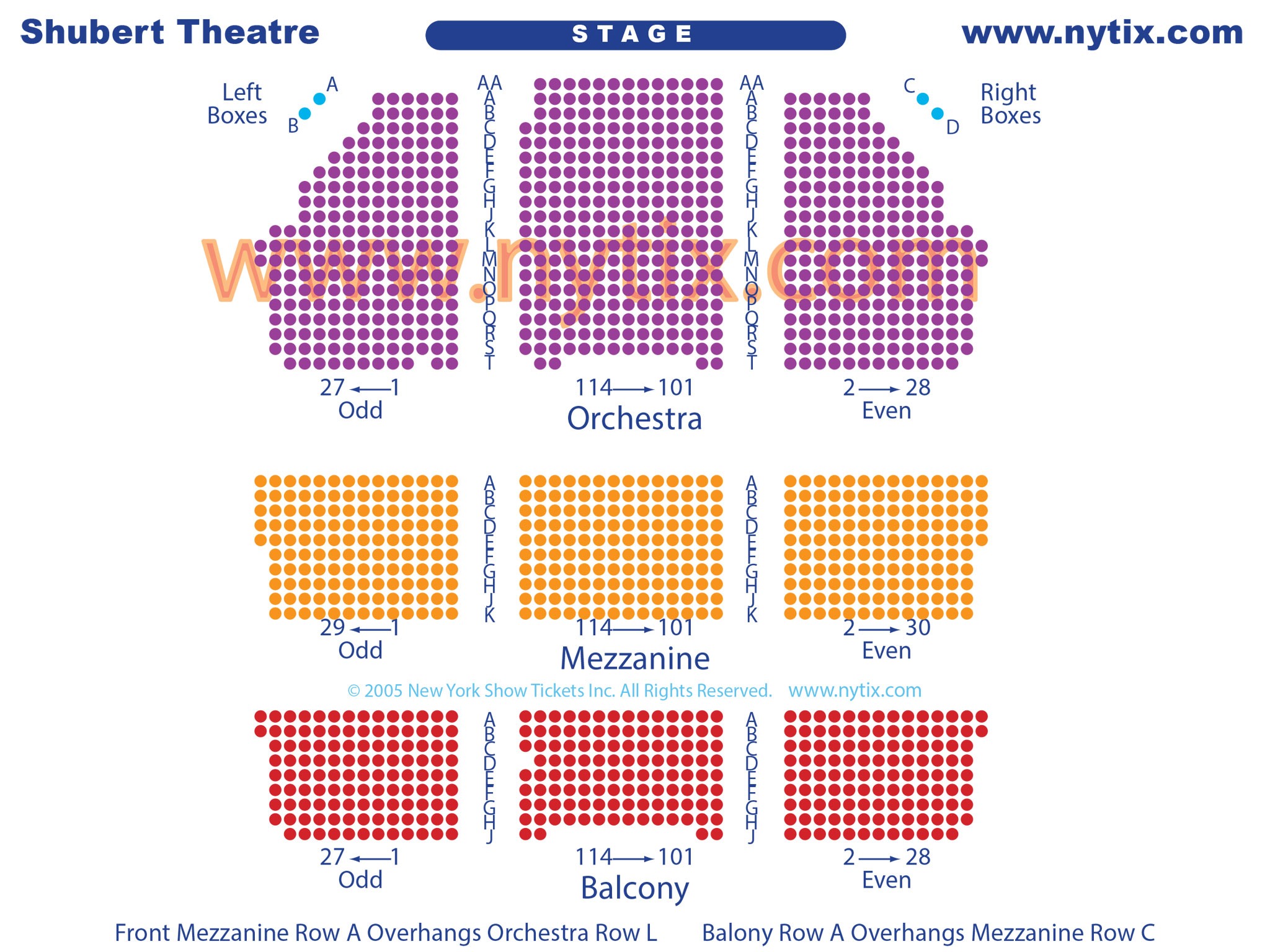 Parking for Shubert Theatre
The closest parking garages for Shubert Theatre are located at:
Champion Parking On West 45

251 West 45th Street
New York, NY 10036
212-819-1866
Icon Parking Systems

1515 Broadway
New York, NY 10036
212-869-3543
The closest parking is not always the best as it often takes longer to park and retrieve your vehicle as fellow theatre goers have the same idea. A better choice of parking may be the second choice or further away by a couple of Avenues.
Additional Notes
Landlord: Shubert Organization
Official Ticketer: Telecharge
Notes: The Shubert's own many Broadway theaters, but this is the only one that bears the name.
Elevator: No
Escalator: No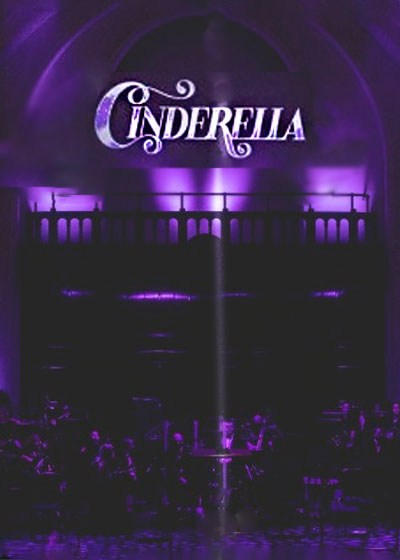 Cinderella
Previews Begin: October 27, 2020

Opens: November 24, 2020

Show Closes: Open ended
Get Discounted Tickets
The Sam S. Shubert Theatre is one of the great Broadway landmarks. It holds a prime location on 44th Street, and the old-fashioned lit-up marquee above the corner entrance makes it unmissable. Opened in 1913, the theater was named for the man who began the Shubert empire by his brothers Lee and J.J. The notorious Shubert brothers went on to erect performance spaces all over New York City and across the country -- currently, The Shubert Organization owns and/or operates 16 theaters on Broadway alone. The Sam S. Shubert Theatre was for 15 years the home of A Chorus Line, which transferred there from the Public Theater in 1975 and in 1990 became the longest-running Broadway musical of all time (until Cats beat its record). For several years, the smash hit revival of Chicago was synonymous with the Shubert, before the show transferred to the Ambassador in 2003. As well-known as the Shubert Theatre is Shubert Alley, which runs alongside it and the Booth Theatre, providing a convenient route to 45th Street.
The Shubert Theatre was designed in the Venetian Renaissance style and the interior, which underwent restoration in 1996, features several murals by J. Mortimer Lichtenauer. The lobby is long but narrow, so before the show and during intermission the audience tends to spill out into the perfectly accommodating Shubert Alley. There they can peruse the Broadway show posters that decorate the alley and read the plaque which, put there on the occasion of the Sam S. Shubert Theatre's 50th anniversary, reads: "Dedicated to all those who glorify the theatre and use this short thoroughfare."