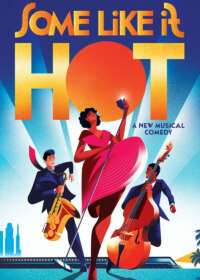 Some Like It Hot
Discount Broadway Tickets
Discount Broadway Tickets For Some Like It Hot
Show Status: Currently playing at the Shubert Theatre

Genre: Musical

Some Like It Hot is 2 Hours 20 Minutes long, including an intermission of 15 Minutes

8 Shows per week

Previews Began: November 1, 2022

Show Opened: December 11, 2022

Show Closes: December 30, 2023
Two hack musicians witness a mafia murder and then get away from their pursuers by dressing up as women and joining an all-female travelling band.
Some Like It Hot

on Broadway Background
The Broadway show version of the classic cross-dressing movie caper released in 1959. The movie was famous for being the vehicle for the acting talents of Marilyn Monroe, Jack Lemmon and Tony Curtis.
Original Broadway Adaptation
An adaptation of the original 1959 movie opened on Broadway in 1972 under the show name "Sugar". The traveling version of this show then toured across America in 2002, but with little critical and box office success.
2022 Version of the Show
This new version of the show is a whole different animal with new songs, story, dialog and of course a new set of actors. The production had previously announced a 2021 Broadway opening but was delayed due to the COVID-19 pandemic.

The brand-new musical comedy that is loosely based on the MGM film is also written by Tony Award-winner Matthew López. Amber Ruffin from the Amber Ruffin TV Show is also a co-writer on the new show.
What's
Some Like It Hot

Like?
Set in 1929 Chicago, it is tough times on the street when two Chicago hack musicians witness a mafia massacre and then face their own mortality.
The duo want to get out of town as quickly as possible, so they cannot be permanently silenced by their mob for their first-hand witness of the terrible crime. They take the first gig out of town which is for a saxophone and bass player in an all-girl band heading to Florida on the train.
This new job means that the duo will have to impersonate women for the trip, so their cover will not be blown. Love, romance and high jinx abound on the trip and a unfortunate coincidence means that the pair are caught in some hilarious circumstances.
Is
Some Like It Hot

Good for Kids?
This show is good for children over the age of 12
Some Like It Hot

Ticket Lottery and Rush Schedule

Every day there are discounted Broadway show tickets sold as part of the Broadway ticket lotteries or as Rush Tickets Tonight. Tickets are only valid on-the-same-day of the drawing. The following is the daily schedule of the ticket lottery and RUSH ticket pricing.
Online Lottery
Monday, 9:00am
Tuesday, 9:00am
Wednesday, 9:00am
Thursday, 9:00am
Friday, 9:00am
Saturday, 9:00am
General Rush
Tuesday, 10:00am
Wednesday, 10:00am
Thursday, 10:00am
Friday, 10:00am
Saturday, 10:00am
Sunday, 10:00am
Shubert Theatre
225 West 44th Street
New York, NY 10019
Entrance:
44th Street, between 7th and 8th Ave.
Theatre Information
Some Like It Hot Marquee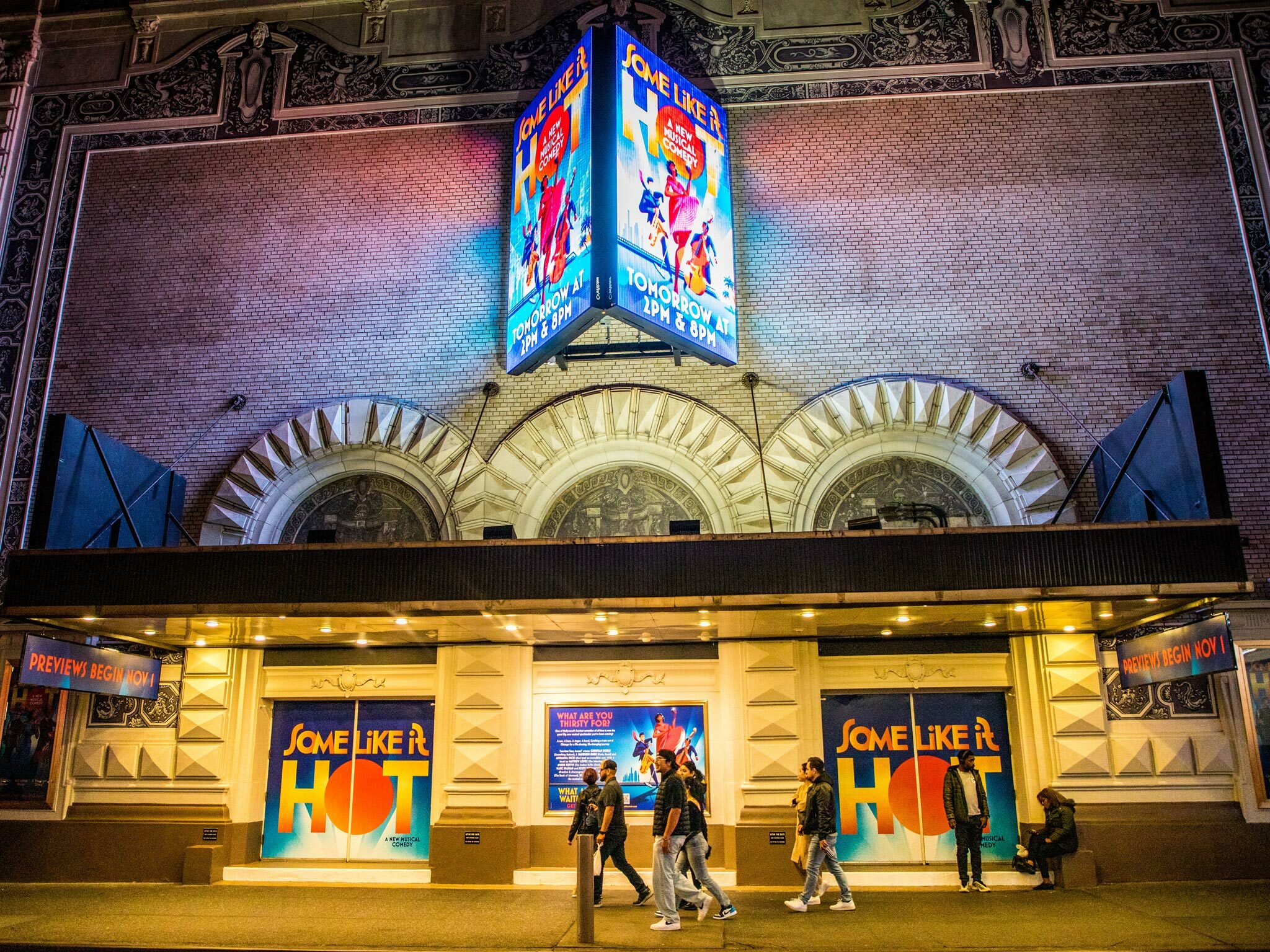 Joe/Josephine

Christian Borle
Jerry/Daphne

J. Harrison Ghee
Sweet Sue

NaTasha Yvette Williams
The Nederlander Organization
General Manager

101 Productions
Casting Director

Bethany Knox
Advertising Representative

Serino Coyne
Book Writer

Matthew Lopez
Music & Lyrics

Marc Shaiman
Director & Choreographer

Casey Nicholaw