Broadway Show Ticket Sales Analysis Chart w/e 11/03/2019
Broadway Show Ticket Sales Analysis Chart w/e 11/03/2019 Plus Waitress Casting News And Strong Box Office Showing For Tina, Jagged and Beetlejuice
---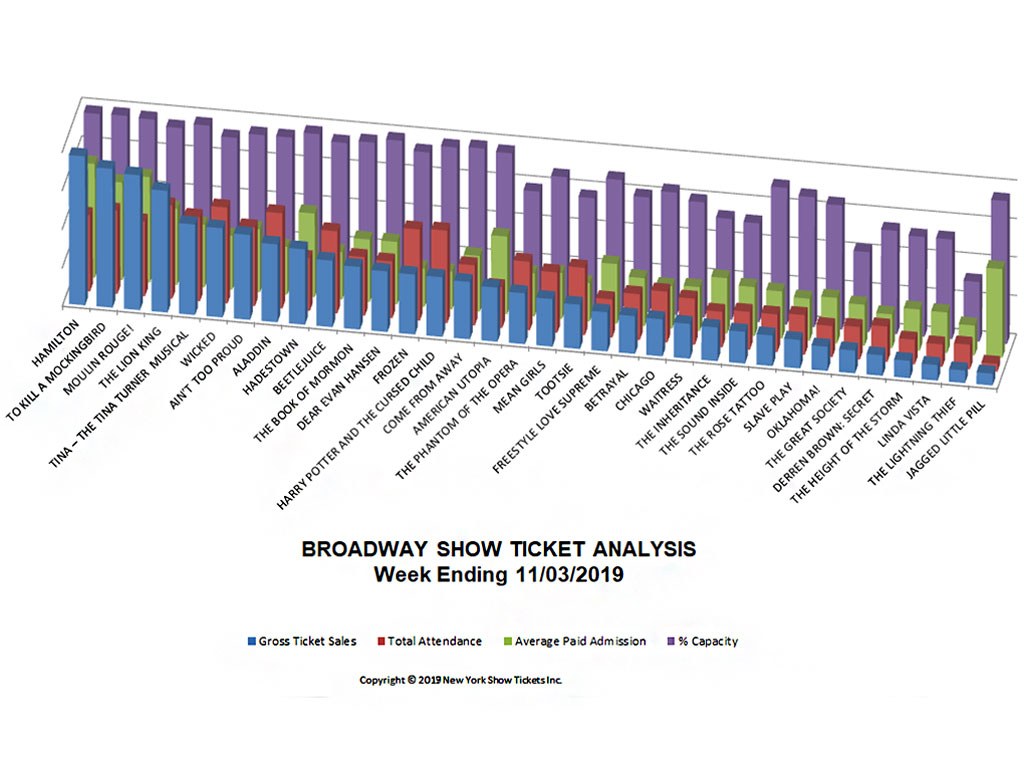 | | | | | | |
| --- | --- | --- | --- | --- | --- |
| # | Show Name | Gross | TotalAttn | %Capacity | AvgPdAdm |
| 7 | AIN'T TOO PROUD | $1,372,643 | 11,036 | 96.88% | $124.38 |
| 8 | ALADDIN | $1,260,084 | 13,380 | 96.84% | $94.18 |
| 16 | AMERICAN UTOPIA | $875,078 | 5,728 | 99.34% | $152.77 |
| 10 | BEETLEJUICE | $1,075,707 | 11,516 | 96.42% | $93.41 |
| 21 | BETRAYAL | $610,796 | 6,438 | 77.68% | $94.87 |
| 22 | CHICAGO | $599,099 | 7,143 | 82.67% | $83.87 |
| 15 | COME FROM AWAY | $928,715 | 8,447 | 100.94% | $109.95 |
| 12 | DEAR EVAN HANSEN | $980,097 | 7,967 | 101.21% | $123.02 |
| 30 | DERREN BROWN: SECRET | $331,729 | 4,973 | 69.92% | $66.71 |
| 20 | FREESTYLE LOVE SUPREME | $633,351 | 5,379 | 87.89% | $117.75 |
| 13 | FROZEN | $969,890 | 12,797 | 94.99% | $75.79 |
| 9 | HADESTOWN | $1,219,210 | 7,403 | 100.80% | $164.69 |
| 1 | HAMILTON | $2,408,121 | 10,734 | 101.34% | $224.35 |
| 14 | HARRY POTTER AND THE CURSED CHILD | $964,910 | 12,976 | 100.00% | $74.36 |
| 34 | JAGGED LITTLE PILL | $191,787 | 1,097 | 96.57% | $174.83 |
| 32 | LINDA VISTA | $252,234 | 3,152 | 67.41% | $80.02 |
| 18 | MEAN GIRLS | $768,890 | 8,476 | 86.49% | $90.71 |
| 3 | MOULIN ROUGE! | $2,180,900 | 10,498 | 100.79% | $207.74 |
| 28 | OKLAHOMA! | $390,655 | 4,366 | 83.83% | $89.48 |
| 27 | SLAVE PLAY | $461,674 | 5,564 | 87.70% | $82.98 |
| 11 | THE BOOK OF MORMON | $1,013,747 | 8,241 | 98.39% | $123.01 |
| 29 | THE GREAT SOCIETY | $369,651 | 4,572 | 53.92% | $80.85 |
| 31 | THE HEIGHT OF THE STORM | $281,028 | 3,468 | 67.42% | $81.03 |
| 24 | THE INHERITANCE | $545,910 | 4,997 | 68.12% | $109.25 |
| 33 | THE LIGHTNING THIEF | $203,842 | 3,460 | 40.31% | $58.91 |
| 4 | THE LION KING | $1,968,299 | 13,113 | 96.65% | $150.10 |
| 17 | THE PHANTOM OF THE OPERA | $822,374 | 9,639 | 75.07% | $85.32 |
| 26 | THE ROSE TATTOO | $494,501 | 5,329 | 92.39% | $92.79 |
| 25 | THE SOUND INSIDE | $514,429 | 5,332 | 66.78% | $96.48 |
| 5 | TINA – THE TINA TURNER MUSICAL | $1,463,622 | 11,824 | 100.00% | $123.78 |
| 2 | TO KILL A MOCKINGBIRD | $2,245,898 | 11,674 | 101.69% | $192.38 |
| 19 | TOOTSIE | $717,536 | 9,469 | 73.88% | $75.78 |
| 23 | WAITRESS | $564,575 | 6,495 | 77.69% | $86.92 |
| 6 | WICKED | $1,441,624 | 13,490 | 93.32% | $106.87 |
| | TOTALS | $31,122,601 Dollars | 270,173 People | | |
Sunset Ticket Sales, Waitress Casting News, Tina, Pill And Beetlejuice Fare Well
Tickets for Flying Over Sunset went on sale. Waitress has made some cast changes that should make a difference to ticket sales with Katharine McPhee returning to the show for its final weeks on Broadway. McPhee's stint will run Nov. 25 through the show closing on Jan. 5, 2020.
Roker On Broadway

Waitress also added NBC's Al Roker in the role of Old Joe beginning Nov 1, 2019, but this stunt casting may backfire. The positive press from the 'Today Show' for stunt casting Roker is tainted by his terrible acting that damages the overall product and is seen as desperate attempt to get free publicity at any artistic cost.
Strong Ticket Sales For New Musicals
Tina-The Tina Turner Musical, Jagged Little Pill and Beetlejuice had a strong week in overall attendance and average ticket sales, even though the rest of Broadway saw a drop in overall sales, mostly due to Halloween Week, where people were more inclined to celebrate the Pagan holiday than see a Broadway show. Broadway's total grosses this week hit a little over $31 Million.
The Broadway show ticket analysis raw data has been provided courtesy of The Broadway League and has been collated and analyzed by the New York Show Tickets data team. All data, text, opinion, charts and commentary are copyright © 2019 nytix.com