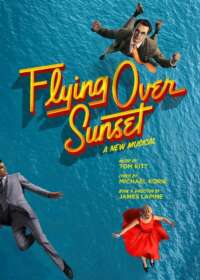 Flying Over Sunset
Discount Tickets and Show Information
Flying Over Sunset

Summary
Genre: Musical

Flying Over Sunset is 2 hours and 20 minurtes long, including an intermission of 15 minutes

8 Shows per week

Previews Begin: March 12, 2020

Show Opens: April 16, 2020

Show Closes: June 28, 2020
Three iconic people of the 1950's take a mind altering substance, LSD, which changes their perspective of the world and the course of their lives.
Flying Over Sunset

on Broadway Background
Flying Over Sunset is a revolutionary new musical that makes its debut on Broadway. The musical was written by James Lapine, who is an acclaimed American theatre director, playwright, Tony Award winner and Pulitzer Prize winner. He is most well known for writing Into the Woods and Sunday in the Park with George. This new show was inspired by the LSD (Lysergic Acid Diethylamide) parties of the 1950's and three of Lapine's heros namely, Aldous Huxley, the famous writer and philosopher, Clare Boothe Luce, a radical Conversative politician and American actor Cary Grant. The three are all depicted in the show as taking the drug to enhance their thinking. The actors Harry Hadden-Paton, Carmen Cusack, and Tony Yazbeck (each Tony nominated actors) play the roles of Aldous, Clare, and Cary respectively.
What's
Flying Over Sunset

Like?
Flying Over Sunset is a two act musical that follows three of the most influential people of the 1950's era, while they each experience the powerful mind altering effects of the (then legal) drug commonly known as LSD. The play is set in different parts of the world and takes place in the post war, but still innocent, world of the 1950's. The show is loosely based on real life stories and shows the use of LSD by Aldous Huxley, who was an english born world-famous philosopher. Clare Boothe Luce, was an American born author, U.S. politician and the first woman to become an internationally based U.S. Ambassador. Cary Grant, was a great American actor, who is now known as one of "Hollywood's definitive leading men". The first act shows each one of them taking the drug at the same time, but separate from one another and unaware of each other. The second act shows them all taking the drug together at a NYC dinner party. The audience watch as each of them are in their hallucinogenic state and can draw on the different, yet similar, enlightening experiences that they each are having. The play depicts the use of the substance, LSD, as potentially a good thing for humanity and attempts to educate people in order to legalize the drug. The show in many ways is an infomercial for all drug legalization in our time when even marijuana remains a schedule 1 felony and users are still subject to arrest.
Is
Flying Over Sunset

Good for Kids?
This show is not for kids under the age of 17, because of the show's content matter and its promotion and use of illegal substances.
Vivian Beaumont Theatre
150 West 65th Street
New York, NY 10020
Entrance:
65th Street, between 10th and Broadway
Theatre Information
Clare Booth Luce

Carmen Cusack
Aldous Huxley

Harry Hadden-Paton
General Manager

Lincoln Center Theater
Production Manager

Lincoln Center Theater
Casting Director

Telsey and Company
Advertising Representative

SPOTCo
Choreographer

Michelle Dorrance
Musical Director

Kimberly Grigsby