Broadway Show Ticket Sales Analysis Chart w/e 03/08/2020
Broadway Show Ticket Sales Analysis Chart w/e 03/08/2020: Average Ticket Price Low and Opening Shows Not Hitting Expected Revenue Targets Due To Coronavirus Risks
---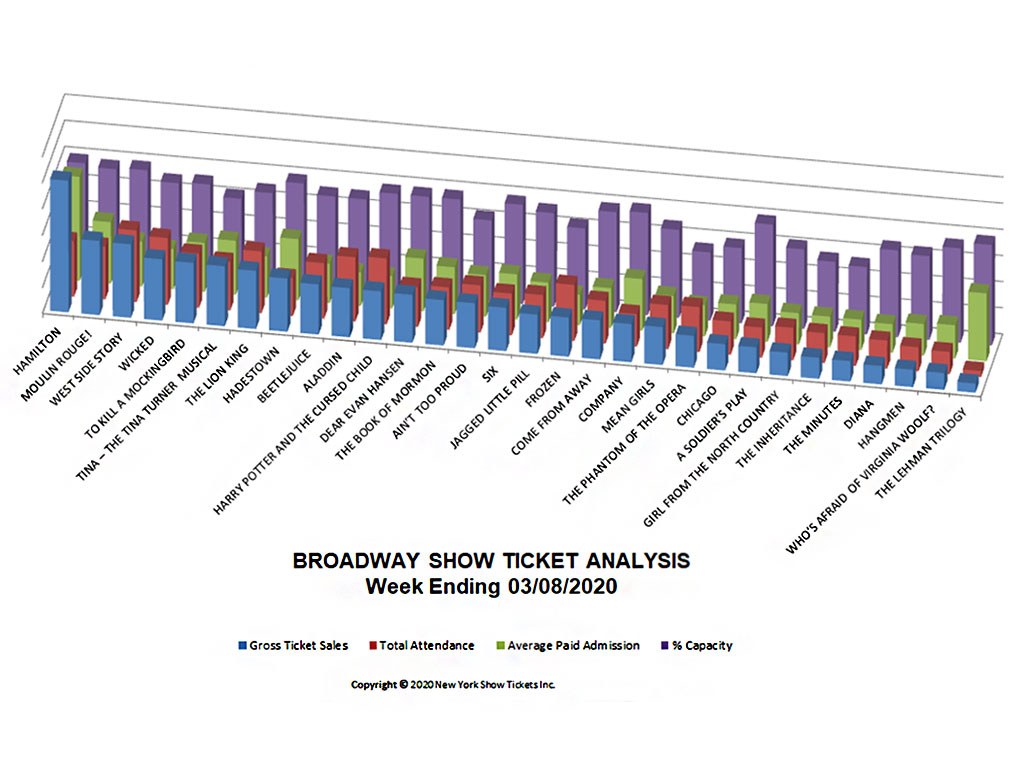 #
Show Name
Gross
TotalAttn
%Capacity
AvgPdAdm
23
A SOLDIER'S PLAY
$529,469
5,828
101.04%
$90.85
14
AIN'T TOO PROUD
$920,904
9,160
80.41%
$100.54
10
ALADDIN
$1,002,597
12,471
90.26%
$80.39
9
BEETLEJUICE
$1,023,780
10,802
90.44%
$94.78
22
CHICAGO
$536,991
6,464
74.81%
$83.07
18
COME FROM AWAY
$797,781
8,328
99.52%
$95.79
19
COMPANY
$779,588
6,279
101.60%
$124.16
12
DEAR EVAN HANSEN
$981,271
7,750
98.45%
$126.62
27
DIANA
$376,471
5,448
86.31%
$69.10
17
FROZEN
$798,610
10,869
80.68%
$73.48
24
GIRL FROM THE NORTH COUNTRY
$477,388
6,317
79.12%
$75.57
8
HADESTOWN
$1,086,478
7,386
100.57%
$147.10
1
HAMILTON
$2,688,721
10,752
101.51%
$250.07
28
HANGMEN
$357,100
4,682
83.40%
$76.27
11
HARRY POTTER AND THE CURSED CHILD
$994,703
12,785
98.53%
$77.80
16
JAGGED LITTLE PILL
$801,671
8,381
93.12%
$95.65
20
MEAN GIRLS
$775,193
8,582
87.57%
$90.33
2
MOULIN ROUGE!
$1,514,717
10,240
98.31%
$147.92
15
SIX
$884,878
8,134
98.62%
$108.79
13
THE BOOK OF MORMON
$929,168
8,247
98.46%
$112.67
25
THE INHERITANCE
$430,157
5,828
69.51%
$73.81
30
THE LEHMAN TRILOGY
$188,126
1,154
100.00%
$163.02
7
THE LION KING
$1,186,505
11,979
88.29%
$99.05
26
THE MINUTES
$419,765
5,729
66.99%
$73.27
21
THE PHANTOM OF THE OPERA
$652,565
8,707
67.81%
$74.95
6
TINA – THE TINA TURNER MUSICAL
$1,225,999
9,454
79.96%
$129.68
5
TO KILL A MOCKINGBIRD
$1,237,497
10,482
91.31%
$118.06
3
WEST SIDE STORY
$1,503,738
13,920
100.00%
$108.03
29
WHO'S AFRAID OF VIRGINIA WOOLF?
$344,818
4,314
93.86%
$79.93
4
WICKED
$1,254,306
12,981
89.80%
$96.63
TOTALS
$26,700,956
Dollars
253,453
People
Tuesday March 10th, 2020: This Week on Broadway
Broadway is in a bit of a quandary this week with four new Broadway shows that opened in-previews this week, but the dreaded Coronavirus is keeping people away from the crowded spaces that Broadway theatre is commonly known for. The four new show openings were not enough to counter the drop in ticket sales during this worrisome time. The situation has impacted weekly Broadway sales figures and with the rising fears of the deadly Coronavirus spreading further around New York City and its neighboring suburbs, specifically Westchester, New York, audiences are staying away.
Broadway ticket sales are not the same as actual attendance and unfortunately the Broadway industry only reports how many actual tickets were sold. It does not report on how many people did not turn up due to contagion concerns. Normally there would be very little disparity between the two metrics, but during this testing time, there are clearly a lot of people that just do not turn up to a show despite having purchased tickets. Also ticket sales really reflect the market from a few weeks ago as only 30% of Broadway attendees buy their tickets closer to the performance date.
Average Price of Broadway Tickets Low

Broadway gross ticket sales for this week were an underwhelming $26,700,956. This is fairly consistent with the week before and was actually up 2.2% despite there being more shows to see. The actual number of tickets sold for the week was almost unchanged when compared to the previous week at 253,453 tickets, up nearly 3.6% from the week before. So far all of the standard Broadway sales figures have been up this week and the average ticket price is the only figure that was down when compared to the previous week's sales figures. T
he average ticket price this week was $105.35 which is beginning to sound disappointing, being that the lowest average ticket price during the 2-for-1 discounts from 'NYC Broadway Week' (the cheapest time of the year) was $111.83. NYC Broadway Week's cheapest average ticket price was more than this week's average by an embarrassing 5.8%.
Opening Broadway Shows This Week
The four shows that opened in-previews this week were, Company which opened in the Bernard B Jacobs Theatre with six performances and grossed a pleasing $779,588. Diana which opened in the Longacre Theatre with a decent $376,471 for its six show performances. Who's Afraid of Virginia Woolf? which opened in the Booth Theatre with six performances and grossed a dissatisfying $344,817. The Lehman Trilogy which opened at the Nederlander Theatre and only had one performance this week, but grossed a jaw-dropping $188,126 for its single performance.
Girl From the North Country had its red-carpet opening this week on Thursday March 5th, in the Belasco Theatre, where it grossed $477,388. It had 6,317 in theatre attendance and an average ticket price of $75.57 per ticket. The show's gross ticket sales this week were down from its best week in-previews by a whopping 23%.
Risk of Coronavirus Hindering Sales
There were four new Broadway shows that opened in-previews this week which would usually increase overall sales, but they had little impact. Typically when a new show begins its performances on Broadway, each show is expected to raise weekly revenues between $500,000 to $1,000,000 in their opening week, however this was clearly not the case this time.

The Broadway League has released multiple statements regarding the new cleaning procedures that are mandated for all Broadway theatres to perform between showings, but evidently the edict has not been enough to reduce the fears of the Coronavirus spreading in the crowded theatre spaces of the Broadway landscape. The Broadway show ticket analysis raw data has been provided courtesy of The Broadway League and has been collated and analyzed by the New York Show Tickets data team. All data, text, opinion, charts and commentary are copyright © 2020 nytix.com