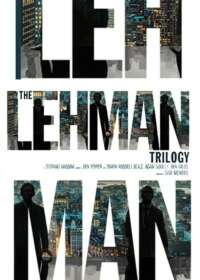 The Lehman Trilogy
Broadway Show Tickets: Show Closed No Longer Available
The Lehman Trilogy on Broadway: Show Is Now Closed
The Lehman Trilogy

Summary
Show Status: Closed

Genre: Play

The Lehman Trilogy is 2 Hours and 20 Minutes long, including an intermission of 15 Minutes

8 Shows per week

Previews Began: September 25, 2021

Show Opened: October 14, 2021

Show Closed: January 2, 2022
Musical covering the rise and fall of the Lehman Brothers Investment Bank and questions the American financial system, capitalism, wealth and materialism
The Lehman Trilogy

on Broadway Background
Following the 2018 sold out premiere in London's National theatre, The Lehman Trilogy made its Broadway debut in New York City's Nederlander theatre in 2020. Stefano Massini the Italian author, originally wrote this story as a short, 93 page book in 2010 which he later turned into a three-act Itallian radio show in 2012. In 2016, the script was translated and adapted into an English screenplay/musical by the young British playwright, Ben Power who wanted to share this take on the story.
This show has since performed in many theatres around the United Kingdom, including London's West End Theatre (where it sold out) and at the London National theatre. The actors Adam Godley, Ben Miles, and Simon Russell-Beale reprise their roles in this Broadway production after their much-lauded appearances in the West end version of the show.This time around, The Lehman Trilogy is directed by the two time Tony Award winning English play and film director Sam Mendes, who was also the director of the London production.
Mendes is also a nine-time Academy Award winner and five-time Golden Globe Award winning director. The Lehman Trilogy is about the rise and fall of the Lehman Brothers Investment Bank in New York City and focuses on three of its familial generations, with the actors playing all three of those generations.
What's
The Lehman Trilogy

Like?
The Lehman Trilogy tells the 163-year story of The Lehman Brothers financial firm from its rise through the 20th Century to its fall in 2008. Starting in Bavaria Germany in the 1890's, the show follows the Lehman family who are a middle-class Jewish family with a young father, Abraham Lehman who, dreams of escaping the antisemitic attacks in Europe and starts a new life in the U.S.
The audience sees Mr. Lehman grow old and start a small clothing store where he employs his 7 children. He makes it clear to his children that he started it to help them learn hard work and to set them up for financial success in their future. When their Father passes, the three oldest Brothers take over the store and begin to ramp up business using lessons that their father instilled in them.
The audience see the lives of the family change for better and then for the worse as the family become too rich. The show dances around topics of American greediness, the scary parts of capitalism and the addiction known as materialism. The show concludes with the stock market crashing due to the failing of subprime mortgages. The associated market panic that ensued saw investors attempting to exit the market as quickly as possible, causing market chaos. This left many companies holding the worthless loans with the most losses being seen at Lehman Brothers and AIG.
Is
The Lehman Trilogy

Good for Kids?
This show is appropriate for people of all ages but, due to the family and financial subject matter the show is not recommended for kids under the age of 15
Nederlander Theatre
208 West 41st Street
New York, NY 10019
Entrance:
41st Street between 7th and 8th avenues
Theatre Information
The Lehman Trilogy Marquee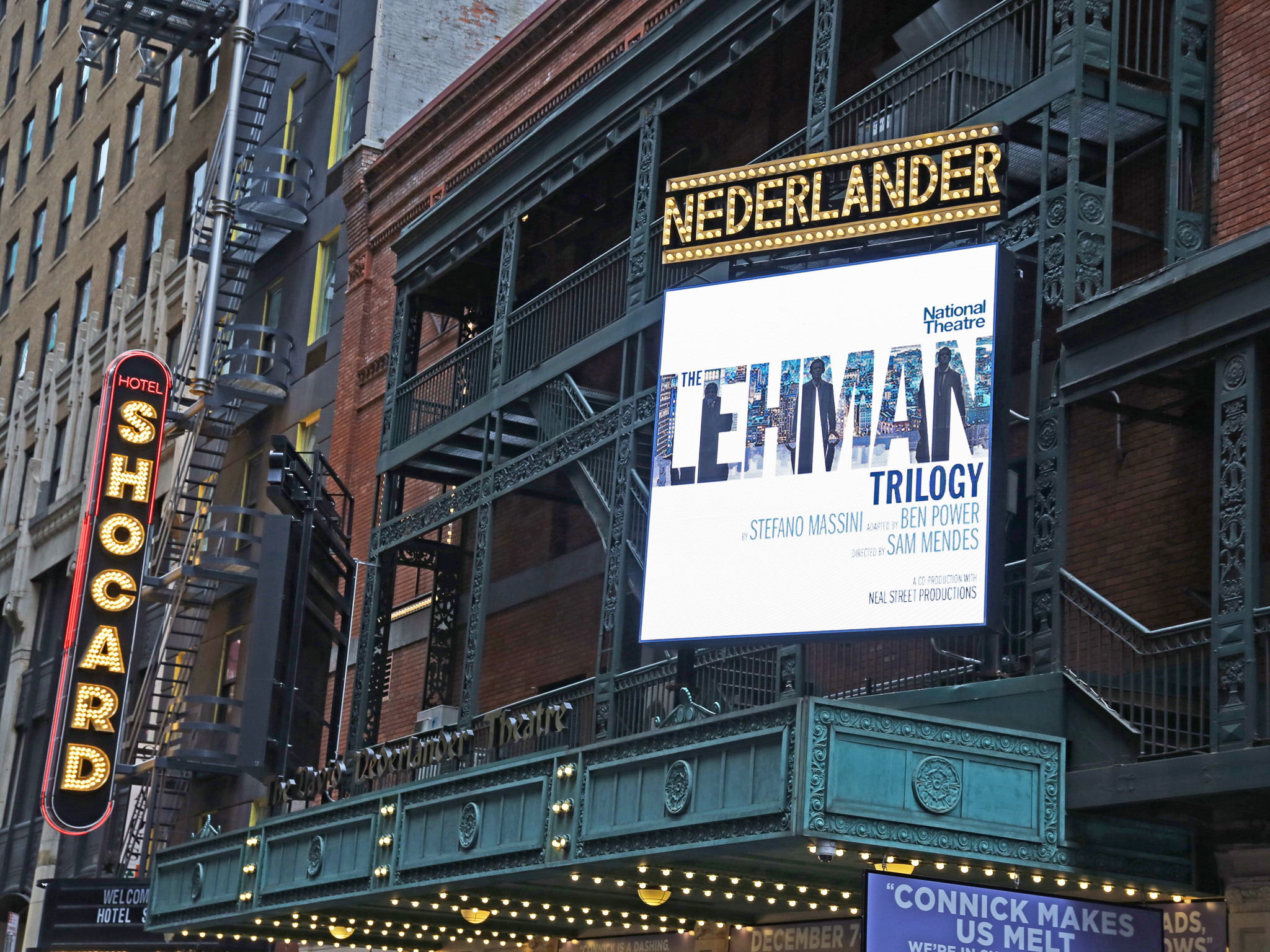 Lehman Brother 1

Adrian Lester
Lehman Brother 2

Adam Godley
Lehman Brother 3

Simon Russell Beale
The National Theatre of Great Britain
General Manager

Wagner Johnson Productions
Company Manager

Wagner Johnson Productions
Production Manager

Aurora Productions
Advertising Representative

SPOTCo
Sound & Original Music

Nick Powell
Musical Director

Candida Caldicot