Who's Afraid of Virginia Woolf?
Discount Tickets and Show Information
Discount Broadway Tickets For Who's Afraid of Virginia Woolf?
Who's Afraid of Virginia Woolf?

Summary
Show Status: In Previews

Genre: Play

Who's Afraid of Virginia Woolf? is 3 hours and 10 minutes long, including an intermission of 20 minutes

8 Shows per week

Previews Began: March 3, 2020

Show Opens: April 14, 2020

Show Closes: August 2, 2020
An alcohol-fueled deep dive into a bitter middle-aged couples' marriage problems that have been tucked under the rug for many years.
Who's Afraid of Virginia Woolf?

on Broadway Background
Who's Afraid of Virginia Woolf? is Edward Albee's Tony Award winning play that won "Best Play" in 1963. This time around esteemed actors Rupert Everett and Laurie Metcalf take on the lead roles playing George and Martha respectively. Everett is a handsome British born actor who is most known for his leading role in the Oscar Wilde film An Ideal Husband. Where he was nominated for the Golden Globe Award for "Best Actor in a Motion Picture" and played the rich, ladies man and casanova, Lord Goring. Everett also played the voice of Prince Charming in the popular DreamWorks movies, Shrek 2 and Shrek The Third. Everett has performed on Broadway once before as the lead character Charles Condomine in Blithe Spirit the Broadway Revival in 2009. Metcalf is also very accomplished herself, having won two Tony's and three Primetime Emmy Awards for her supporting role in TV's sitcom Roseanne where she played Jackie Harris Rosanne's younger sister. Who's Afraid of Virginia Woolf? has been performed numerous times around the world in many cities including London, Toronto, Guadalajara, and of course New York. This is the fourth Broadway revival of the show since its inception in 1963, which demonstrates how relevant the themes are and how well liked this show is. Critics agree that the best depiction of the characters was achieved by Richard Burton and Elizabeth Taylor in both the movie that was released in 1996.
What's
Who's Afraid of Virginia Woolf?

Like?
This three act play takes place in the living room of an unhealthy and scornful middle aged couple, George and Martha. The show follows the unhappy couple and their vindictive games and arguments as they return home from a faculty party at George's University. Joined by another couple, Nick and Honey we immerse ourselves into their crazy alcohol-infused night uncovering secrets of marital issues and failures that have been haunting the troublesome couple for years.
Is
Who's Afraid of Virginia Woolf?

Good for Kids?
This show is not suitable for kids under the age of 16 due to the sexual topics and adult nature of the show. Alcohol abuse and violence is rife in this show.
Who's Afraid of Virginia Woolf?

Ticket Lottery and Rush Schedule

Every day there are discounted Broadway show tickets sold as part of the Broadway ticket lotteries or as Rush Tickets Tonight. Tickets are only valid on-the-same-day of the drawing. The following is the daily schedule of the ticket lottery and RUSH ticket pricing.
Online Lottery
Monday, 12:00am
Tuesday, 12:00am
Wednesday, 12:00am
Thursday, 12:00am
Friday, 12:00am
Saturday, 12:00am 12:00am
Booth Theatre
222 West 45th Street
New York, NY 10019
Entrance:
45th Street, between 7th and 8th Ave
Theatre Information
Who's Afraid of Virginia Woolf? Marquee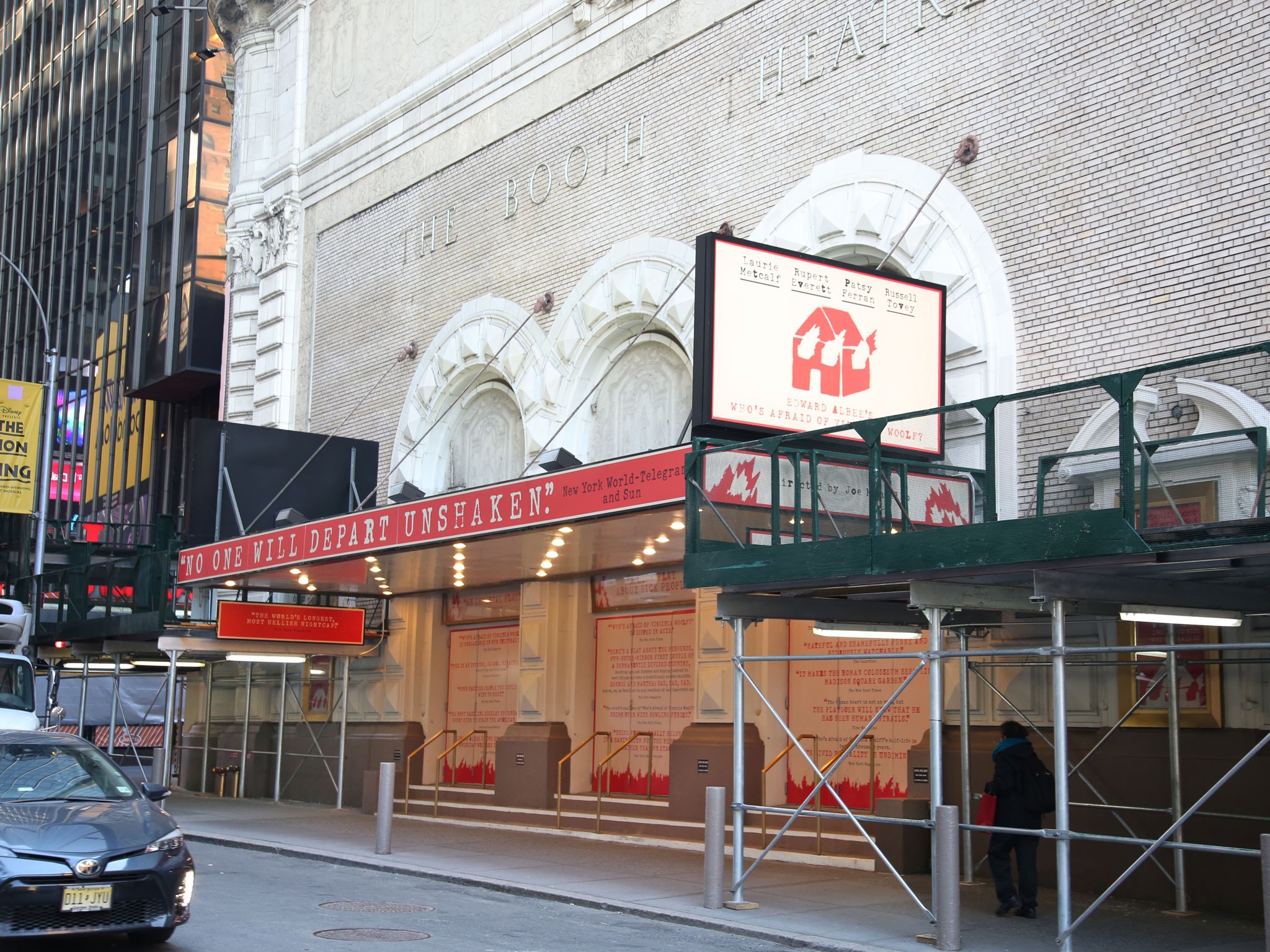 General Manager

Wagner Johnson Productions
Company Manager

Kimberly Shaw
Production Manager

Juniper Street Productions
Casting Director

Caparelliotis Casting
Production Stage Manager

William Joseph Barnes
Lighting

Peggy Eisenhauer