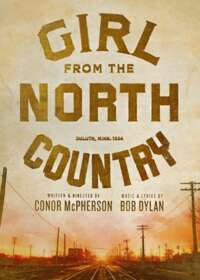 Girl From the North Country 2020
Broadway Show Tickets: Show Closed No Longer Available
Girl From the North Country 2020 on Broadway: Show Is Now Closed
Girl From the North Country 2020

Summary
Show Status: Closed

Genre: Musical

Girl From the North Country 2020 is 2 hours and 30 minutes long, including an intermission of 15 minutes

8 Shows per week

Previews Began: February 7, 2020

Show Opened: March 5, 2020

Show Closed: January 23, 2022
A family down on their luck attempts to survive the Great Depression, all set to the tune of Bob Dylan's somber yet emotional folk songs.
Girl From the North Country 2020

on Broadway Background
Girl From the North Country is a musical written and directed by Conor McPherson, an Irish playwright who broke into the industry with his 1997 play, The Weir, which would go on to win him the 1999 Laurence Olivier award for "Best Play". McPherson's new musical originally debuted in 2017 at The Old Vic theatre in London but was soon transferred to the West End following the show's success.

In anticipation for its Broadway debut, the show had several North American tryouts, first at the Public Theatre in New York, followed by another at the Royal Alexandra Theatre in Toronto.
Bob Dylan's Greatest Hits Feature Prominently
The show is jam-packed with many of Bob Dylan's greatest and most memorable songs, yet does not act as a traditional jukebox musical. Despite the fact that it incorporates nearly 20 of the songwriters hits, the songs are used as emotional backing to emphasize the struggles and heartbreak of the characters involved, rather than being the show's main focus.
Post Pandemic Reopening Dates:
Rehearsal: September 23, 2021
Open: October 13, 2021
What's
Girl From the North Country 2020

Like?
Set in the town of Duluth, Minnesota in the winter of 1934, the story follows the Laine family and their journey through the Great Depression.
Nick Laine owns a rundown guesthouse that his family stays in but becomes desperate for money once the bank threatens to foreclose his property and failing business. His wife Elizabeth suffers from dementia and is prone to sudden and difficult outbursts. Their son Gene is an alcoholic who can't seem to get his life together and their adopted daughter Marianne is pregnant and refuses to disclose the father's identity.
The family is slowly falling apart but everything changes one day as a bible salesman and a boxer show up at their door looking for shelter.
Is
Girl From the North Country 2020

Good for Kids?
This show is not suitable for children under the age of 14 as it delves into dark subject matter such as tragic death, mental illness, and addiction.
Belasco Theatre
111 West 44th Street
New York, NY 10019
Entrance:
44th Street between Broadway and 6th Avenues
Theatre Information
Girl From the North Country 2020 Marquee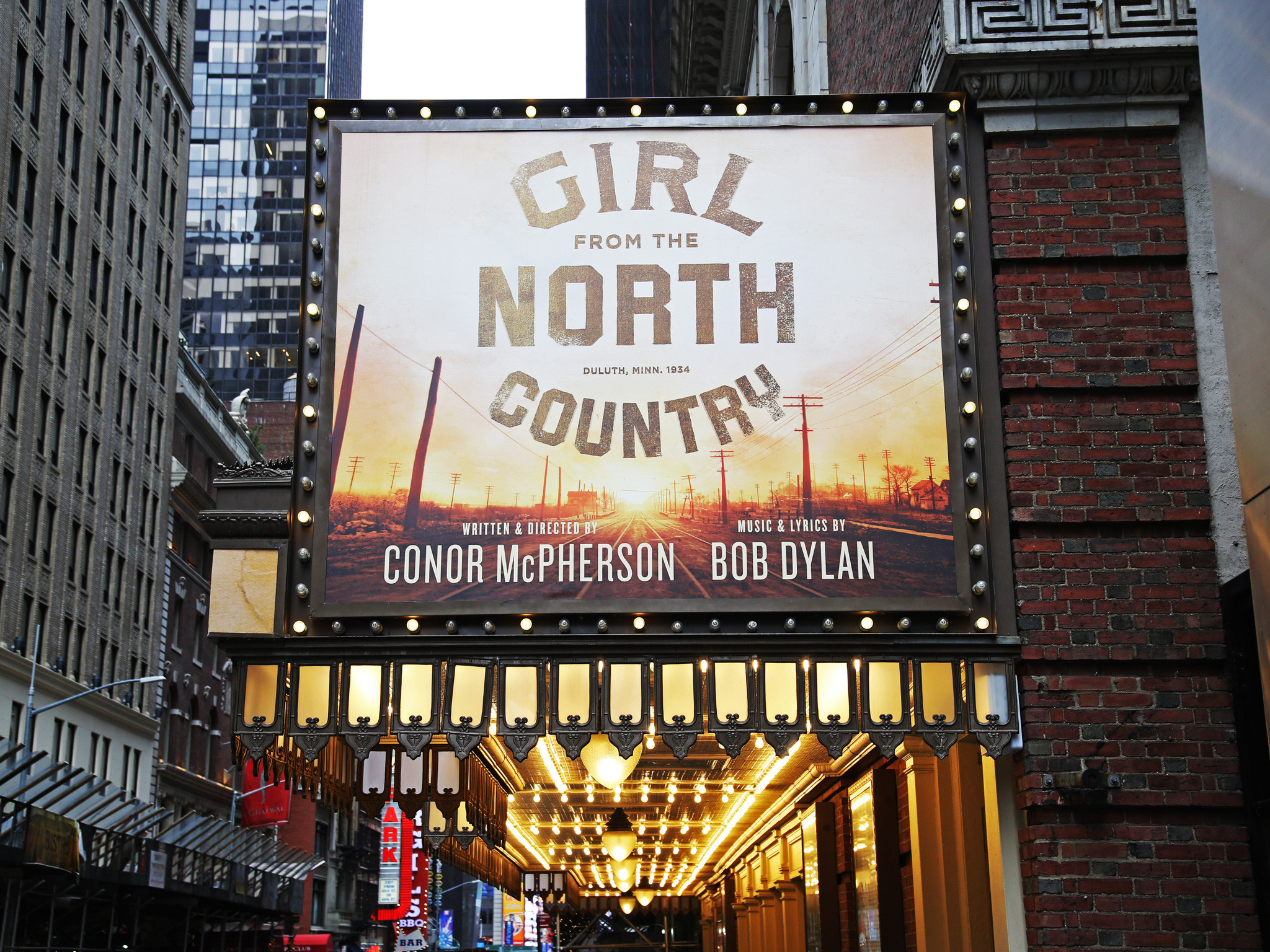 Aaron Lustbader (Executive Producer)
Tristan Baker at Runaway Entertainment Ltd
Charlie Parsons at Runaway Entertainment Ltd
General Manager

Foresight Theatrical LLC
Company Manager

Ashley Berman
Technical Supervisor

Hudson Theatrical Associates
Advertising Representative

AKA NYC
Press Agent

Rubenstein Communications
Production Stage Manager

Jeff Brancato
Book Writer

Conor McPherson
Music and Lyrics

Bob Dylan
Settings and Costumes

Rae Smith
Musical Supervisor

Simon Hale
Additional Arrangements

Simon Hale
Additional Arrangements

Conor McPherson