Broadway Show Ticket Sales Analysis Chart w/e 02/09/2020
Broadway Show Ticket Sales Analysis Chart w/e 02/09/2020
---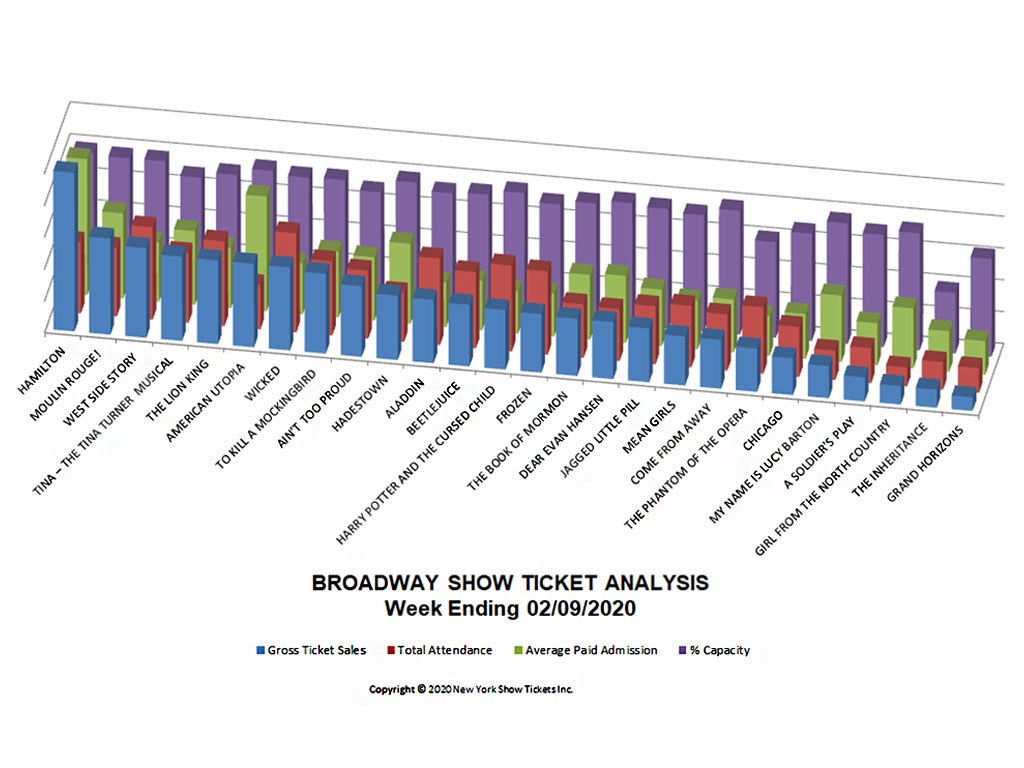 | | | | | | |
| --- | --- | --- | --- | --- | --- |
| # | Show Name | Gross | TotalAttn | %Capacity | AvgPdAdm |
| 23 | A SOLDIER'S PLAY | $409,337 | 5,299 | 91.87% | $77.25 |
| 9 | AIN'T TOO PROUD | $1,199,875 | 10,279 | 90.23% | $116.73 |
| 11 | ALADDIN | $1,076,315 | 13,075 | 94.64% | $82.32 |
| 6 | AMERICAN UTOPIA | $1,416,344 | 6,727 | 100.00% | $210.55 |
| 12 | BEETLEJUICE | $1,044,068 | 11,492 | 96.22% | $90.85 |
| 21 | CHICAGO | $624,465 | 7,565 | 87.56% | $82.55 |
| 19 | COME FROM AWAY | $826,621 | 8,471 | 101.23% | $97.58 |
| 16 | DEAR EVAN HANSEN | $966,481 | 7,833 | 99.50% | $123.39 |
| 14 | FROZEN | $994,862 | 12,575 | 93.34% | $79.11 |
| 24 | GIRL FROM THE NORTH COUNTRY | $316,215 | 2,867 | 95.76% | $110.29 |
| 26 | GRAND HORIZONS | $231,783 | 3,736 | 79.83% | $62.04 |
| 10 | HADESTOWN | $1,092,031 | 7,409 | 100.89% | $147.39 |
| 1 | HAMILTON | $2,692,357 | 10,755 | 101.54% | $250.34 |
| 13 | HARRY POTTER AND THE CURSED CHILD | $1,012,207 | 12,976 | 100.00% | $78.01 |
| 17 | JAGGED LITTLE PILL | $912,401 | 8,765 | 97.39% | $104.10 |
| 18 | MEAN GIRLS | $833,704 | 9,297 | 94.87% | $89.67 |
| 2 | MOULIN ROUGE! | $1,630,284 | 10,416 | 100.00% | $156.52 |
| 22 | MY NAME IS LUCY BARTON | $544,475 | 4,459 | 98.61% | $122.11 |
| 15 | THE BOOK OF MORMON | $967,598 | 8,096 | 96.66% | $119.52 |
| 25 | THE INHERITANCE | $308,715 | 4,164 | 49.67% | $74.14 |
| 5 | THE LION KING | $1,419,206 | 12,769 | 94.11% | $111.14 |
| 20 | THE PHANTOM OF THE OPERA | $734,139 | 10,035 | 78.15% | $73.16 |
| 4 | TINA – THE TINA TURNER MUSICAL | $1,429,465 | 10,556 | 89.28% | $135.42 |
| 8 | TO KILL A MOCKINGBIRD | $1,356,854 | 11,213 | 97.67% | $121.01 |
| 3 | WEST SIDE STORY | $1,521,431 | 13,920 | 100.00% | $109.30 |
| 7 | WICKED | $1,410,132 | 14,964 | 97.12% | $94.23 |
| | TOTALS | $26,971,364 Dollars | 239,713 People | | |
This Week on Broadway:
This week on Broadway marked the final week of 'NYC Broadway Week' (or 'NYC Broadway Fortnight', as it is often known) which is the twice-annual NYC promotional event put together by NYC and Company (formerly known as the NYCVB). Broadway gross ticket sales were finally up by an auspicious 3.6% compared to the previous week. The Broadway gross ticket sales total was $26,971,364. Total performance attendance was 239,713 and the average ticket went for $112.52. Every significant Broadway sales statistic was up at least 0.5% when compared to the previous week, which adds momentum to the lackluster new 2020 season plagued by threats of Coronavirus. This week's uptick in gross Broadway ticket sales revenue is the first time ticket sales have gone up in the last six weeks. This is partly due to the new show Girl From the North Country which opened in-previews on Broadway and warmer weather.
Previews began on February 7th, 2020 for Girl From the North Country, which is performing in the Belasco Theatre located less than half a block from the Times Square epicenter in NYC's Midtown, where Coronavirus is most likely to cause havoc. While there have not been any reviews of the show published yet, it seems from early reports that it was well liked because the total attendance for the show was a staggering 2,867, which is nearly 96% of the Belasco theatre's total capacity. The gross ticket sales for this show were $316,215.40, which only includes the show's three performances. The average ticket price was $110.29, which is only 1.9% below the industry's average ticket price for the week, which means they were giving a lot of free tickets away.
American Utopia is one Broadway show that has been flying under the radar for quite a while now. The show has been pulling in a very high average gross potential, which is well over the 125% mark, with this past week's numbers being an extraordinary 153.5% of the show's gross potential. The show is able to go over the 100% gross potential mark by selling tickets at a premium price point and also by selling 100% of the Hudson Theatre seats, for every show. This week the American Utopia average ticket sold for an outstanding $210.55, which is an astounding 87.1% higher than the industry's average for the week. Their most expensive ticket sold for a whopping $649.00, which is nearly double the price from the week before, which was still high at $329.00. The only show that has higher ticket prices is Hamilton, which sells their average ticket for $250.34 and their most premium ticket for $847.00. It should also be noted that most Broadway shows who go over their gross potential sales mark, also sell standing room only tickets that help them to go over the theatre's max capacity. American Utopia is set to close this upcoming week, February 16th 2020 and will likely go down in history as one of the most financially successful juke-box musicals ever performed on Broadway, despite a lack of critical accolades.
The Broadway show ticket analysis raw data has been provided courtesy of The Broadway League and has been collated and analyzed by the New York Show Tickets data team. All data, text, opinion, charts and commentary are copyright © 2020 nytix.com