Broadway Show Ticket Sales Analysis Chart w/e 01/26/2020
Broadway Show Ticket Sales Analysis Chart w/e 01/26/2020: Grand Horizons and A Soldiers Play Open This Week, And Broadway Ticket Sales Reflect Annual Dip In Sales
---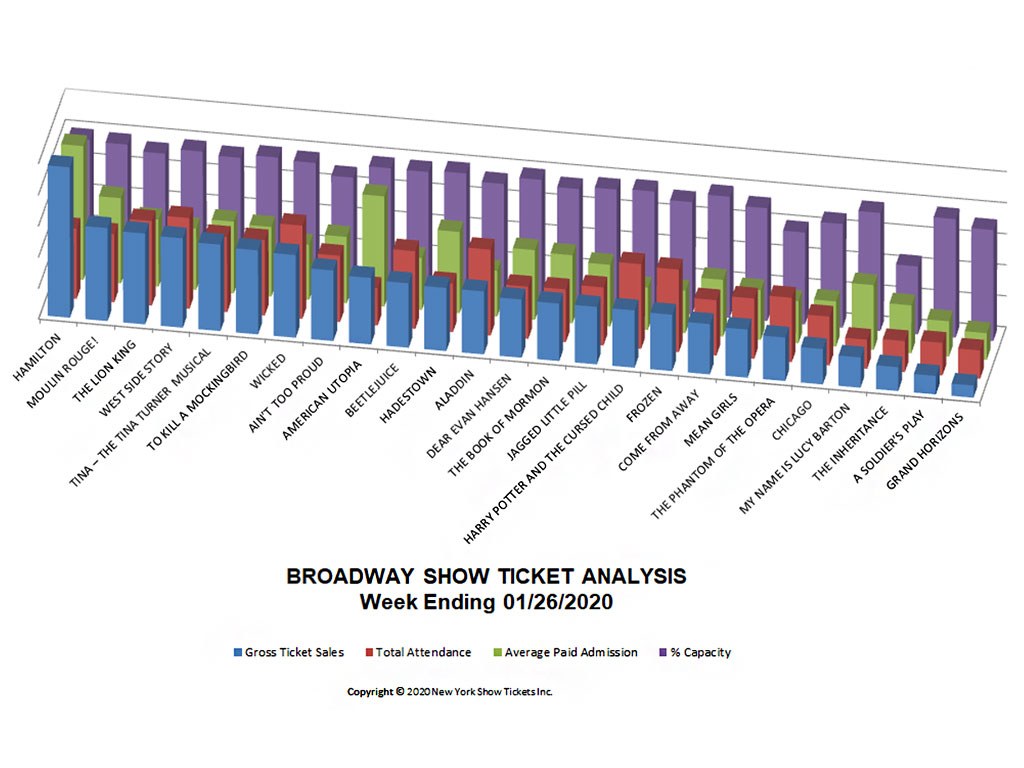 | | | | | | |
| --- | --- | --- | --- | --- | --- |
| # | Show Name | Gross | TotalAttn | %Capacity | AvgPdAdm |
| 24 | A SOLDIER'S PLAY | $328,111 | 5,009 | 99.25% | $65.50 |
| 8 | AIN'T TOO PROUD | $1,254,912 | 10,180 | 89.36% | $123.27 |
| 12 | ALADDIN | $1,118,995 | 13,157 | 95.23% | $85.05 |
| 9 | AMERICAN UTOPIA | $1,180,829 | 5,766 | 100.00% | $204.79 |
| 10 | BEETLEJUICE | $1,145,688 | 11,900 | 99.63% | $96.28 |
| 21 | CHICAGO | $628,048 | 7,494 | 86.74% | $83.81 |
| 18 | COME FROM AWAY | $894,080 | 8,478 | 101.31% | $105.46 |
| 13 | DEAR EVAN HANSEN | $1,035,421 | 7,986 | 101.45% | $129.65 |
| 17 | FROZEN | $1,001,849 | 12,659 | 93.97% | $79.14 |
| 25 | GRAND HORIZONS | $216,238 | 4,346 | 92.86% | $49.76 |
| 11 | HADESTOWN | $1,122,009 | 7,432 | 101.20% | $150.97 |
| 1 | HAMILTON | $2,674,005 | 10,752 | 101.51% | $248.70 |
| 16 | HARRY POTTER AND THE CURSED CHILD | $1,018,786 | 12,976 | 100.00% | $78.51 |
| 15 | JAGGED LITTLE PILL | $1,021,505 | 8,901 | 98.90% | $114.76 |
| 19 | MEAN GIRLS | $856,636 | 9,249 | 94.38% | $92.62 |
| 2 | MOULIN ROUGE! | $1,652,702 | 10,449 | 100.32% | $158.17 |
| 22 | MY NAME IS LUCY BARTON | $537,802 | 4,470 | 98.85% | $120.31 |
| 14 | THE BOOK OF MORMON | $1,021,701 | 8,083 | 96.50% | $126.40 |
| 23 | THE INHERITANCE | $424,250 | 4,764 | 56.82% | $89.05 |
| 3 | THE LION KING | $1,615,226 | 12,955 | 95.48% | $124.68 |
| 20 | THE PHANTOM OF THE OPERA | $773,134 | 9,868 | 76.85% | $78.35 |
| 5 | TINA – THE TINA TURNER MUSICAL | $1,536,310 | 11,541 | 97.61% | $133.12 |
| 6 | TO KILL A MOCKINGBIRD | $1,494,087 | 11,548 | 100.59% | $129.38 |
| 4 | WEST SIDE STORY | $1,590,211 | 13,920 | 100.00% | $114.24 |
| 7 | WICKED | $1,469,431 | 14,296 | 98.89% | $102.79 |
| | TOTALS | $27,611,966 Dollars | 238,179 People | | |
Sunday January 28th, 2020: This Week on Broadway
During the first week of 'Broadway Week', which is an annual NYC event where Broadway tickets are discounted during the January slump, ticket sales were brisk. This was despite there being very few shows actually running on Broadway after the mass of closures that often take place during this month.

Broadway Week Begins
'Broadway Week' started this year on Tuesday, January 21st and is scheduled to continue until Sunday, February 9th, 2020, which is in fact two weeks, so it will soon be known as 'Broadway Fortnight', not to be confused with the hit computer game often played by pimply teenagers. This annual event was able to get 21 of the top Broadway shows including: The Lion King, West Side Story and Wicked to offer highly discounted tickets. Even though 'Broadway Fortnight' was in full swing, the gross ticket sales numbers were not nearly as effected as they were expected to be.
January Broadway Sales Dip As Per Usual
The annual January Broadway sales dip continued last week. Gross ticket sales were $27,611,966 which is down a whopping 10.1% from the previous week. When compared to the same week last year, which saw gross Broadway ticket sales of $29,982,380, this week was down a hefty 7.7%. The latest revival of West Side Story and My Name is Lucy Barton were the only two shows seeing an uptick in sales when compared to the previous week.

The downtrend that Broadway is experiencing now is standard for this time of the year and Broadway production teams know how to handle it. Because of 'Broadway Week' and 'Broadway Fortnight' and the number of New York City tourists being on the rise right now, Broadway shows went ahead and raised their ticket prices to meet the higher demand for less inventory and are raking in the money because of it. In the first week of January, Broadway was only pulling in 70.5% of their total gross potential sales and this week they hit 83.9% of their gross potential, a 13.4% increase when comparing the potential sales to gross sales ratios.
Grand Horizons Has Grand Opening

Grand Horizons had its red-carpet opening at the Helen Hayes Theatre on Thursday, January 23rd this week. The show opened to lackluster reviews from its critics. The New York Times' Broadway writer, Jessie Green called Grand Horizons "a boulevard comedy for the cul-de-sac age". The show had an average of 544 butts-in-seats per performance, which is 92.9% of the theatre's total capacity. The show grossed $216,238 although the average ticket price was a paltry $49.76, which is $66.17 below the average Broadway ticket price from the week.
A Soldiers Play Opens and Receives Raving Reviews

A Soldiers Play also opened this week on Tuesday, January 21st. The show is performing at the American Airlines Theatre and was able to average a 99.25% of theatre capacity. The show only performed seven times this week, but was able to see gross ticket sales of $328,111 with an average ticket selling for a less-than-stellar $65.50 per ticket.

Critics were big fans of the show, Charles Isherwood of BroadwayNews (formerly of the NYTimes) said the show "never struggled to hold our attention. It's both an absorbing story and an emotionally and intellectually stimulating one." That being said, Isherwood may have lost some of his objectivity since his tumultuous NYTimes departure.
The Broadway show ticket analysis raw data has been provided courtesy of The Broadway League and has been collated and analyzed by the New York Show Tickets data team. All data, text, opinion, charts and commentary are copyright © 2020 nytix.com