Gerald Schoenfeld Theatre
236 West 45th Street, New York, NY 10036
Gerald Schoenfeld Theatre Information, Shows and Tickets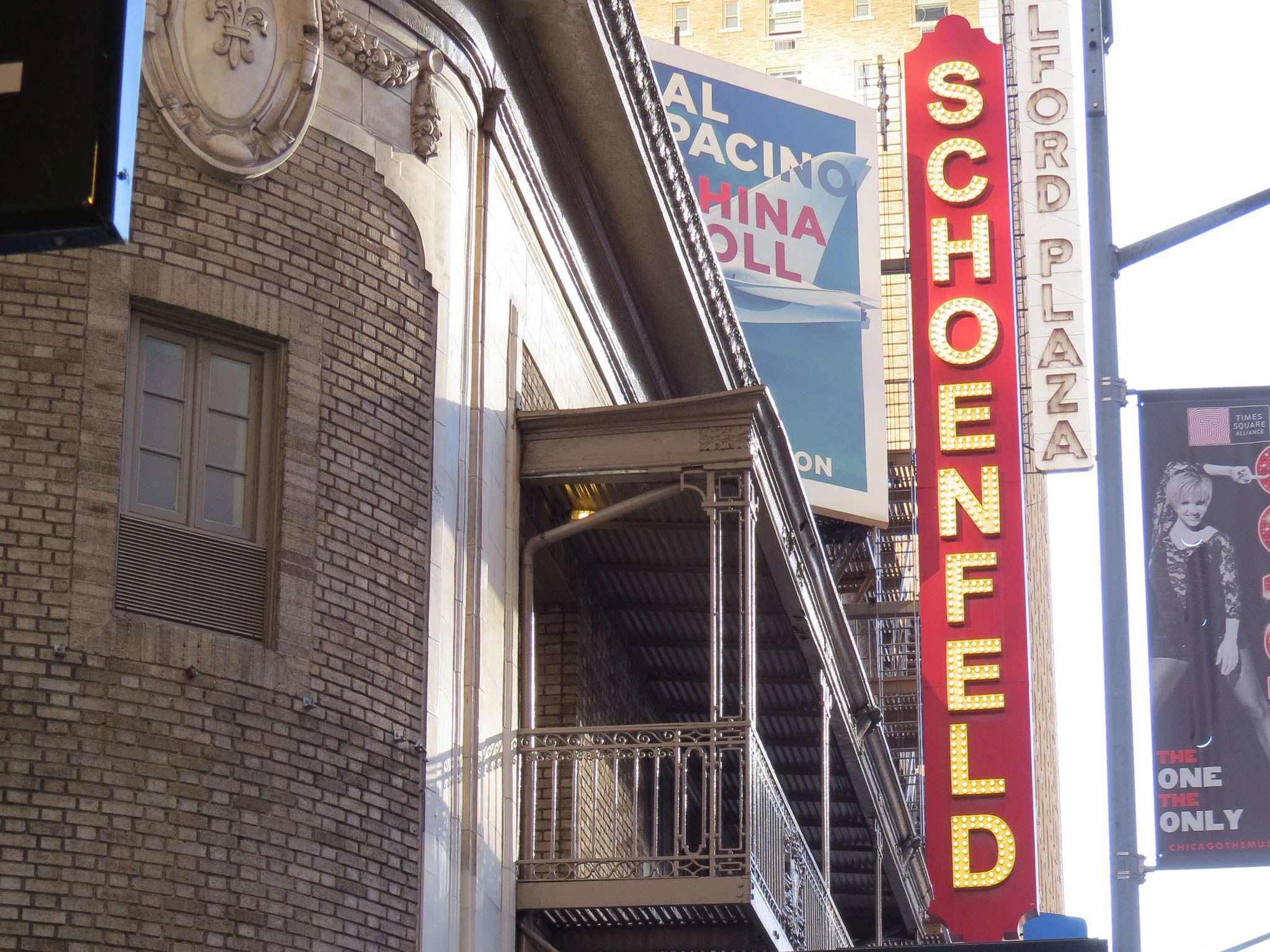 Directions:

By subway, take the A/C/E trains to 42nd Street or the 1/2/3 trains to 42nd St Times Square and then walk north to 45th Street.

Entrance:

South Side of 45th Street between Broadway and 8th Avenue

The Gerald Schoenfeld Theatre is located on the south side of 45th Street, between Broadway and 8th Avenue.

Box Office Hours:

Monday - Saturday:

10:00am - 8:00pm

Sunday:

12:00pm - 6:00pm
When first erected in 1917, the Schoenfeld Theatre had approximately 1000 seats. After subsequent building additions, the theater now holds 1,079 seats. Some of the more desirable seats in the house tend to be front mezzanine and center orchestra (rows C-I leaning towards being the most favorable). The seats on the sides of the theater tend to have poor acoustics.
Gerald Schoenfeld Theatre Seating Chart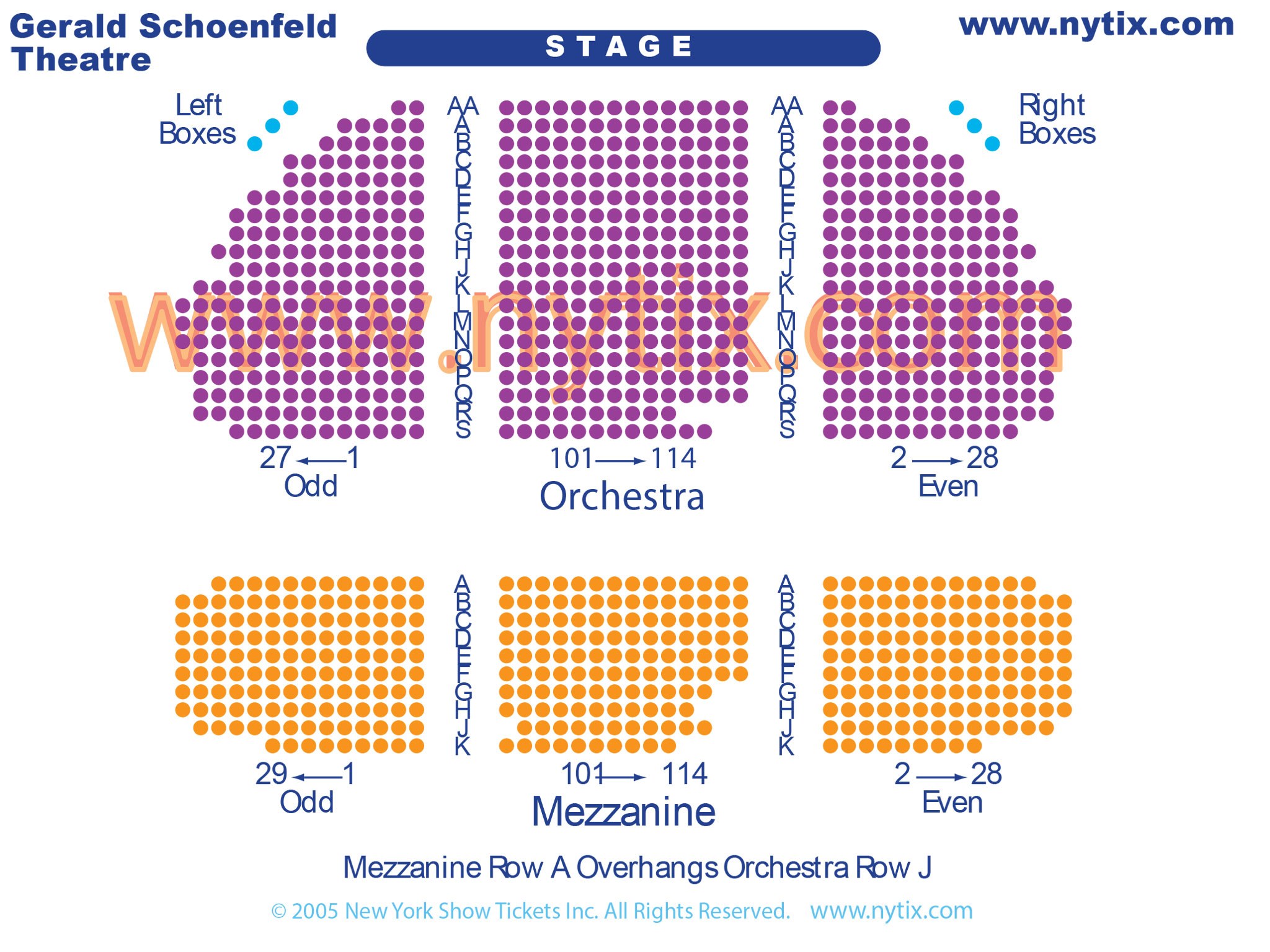 Parking for Gerald Schoenfeld Theatre
The closest parking garages for Gerald Schoenfeld Theatre are located at:
Quik Park Garage

303 West 46th Street
New York, NY 10036
212-586-8634
ICON Resource Parking

164 W 46th Street
New York, NY 10036
212-997-9115
The closest parking is not always the best as it often takes longer to park and retrieve your vehicle as fellow theatre goers have the same idea. A better choice of parking may be the second choice or further away by a couple of Avenues.
Additional Notes
Landlord: Shubert Organization
Official Ticketer: Telecharge
Notes:
Formerly the Plymouth Theatre.
Elevator: No
Escalator: No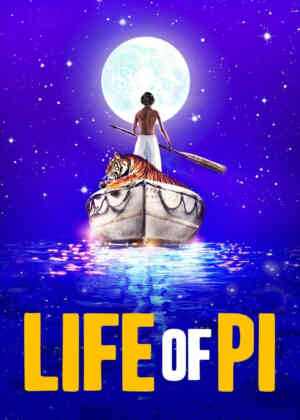 Previews Began: March 9, 2023

Opens: March 30, 2023

Show Closes: September 3, 2023
After a cargo ship sinks in the middle of the Pacific Ocean, a sixteen-year-old boy named Pi is left stranded on a lifeboat with the most unlikely of companions: a
…more
Get Tickets
Gerald Schoenfeld Theatre History
The Gerald Schoenfeld Theatre, originally called the Plymouth Theatre, was built in 1917 thanks to the Shubert Family and producer/director Arthur Hopkins. By the time the Plymouth Theatre went up, the Shuberts had succeeded in having a full block of theaters to their credit, with the Plymouth and the Booth on 45th Street and the Broadhurst and the Shubert theaters on 44th Street. The shows that were frequently featured there (particularly in the early years) were considered mainly academic in nature, examples of this being Tolstoy's Redemption in 1918 and What Price Glory? by Maxwell Anderson and Laurence Stallings in 1924. Nowadays it houses a pretty healthy mix of straight plays and more modest-sized musicals. On May 9, 2005, the Plymouth Theatre was renamed for Shubert Organization chairman Gerald Schoenfeld.
Gerald Schoenfeld Theatre Design
One of the simplest theaters designed by Herbert Krapp, the Gerald Schoenfeld Theatre's exterior is brown, blue, and gold and much like its neighboring theaters was built using less costly materials such as terra cotta and brick. Wheelchair seating and restrooms are available in the Schoenfeld Theatre, with additional restrooms located in the lower lobby.