Tootsie's Broadway Closing Highlights Fickleness of Audiences
Despite Winning Multiple Awards At 2019 Tony's, Tootsie Unexpectedly Announced Its Closing Date As Jan 5, 2020, Outdated Concept And Poor Word Of Mouth Likely To Blame
---
The Troubling Reasons Why Tootsie is Closing
Tootsie By The Numbers
Tootsie, the Broadway musical adaptation of the 1982 movie of the same name, will now close in January 2020. The production unexpectedly announced on Monday, November 11th, 2019 that the show will be closing even though it has received positive critical response and decent box office returns. The show was capitalized for up to $19.975 million, according to filings with the Securities and Exchange Commission, but has yet to drop into the black.
At the 2019 Tony Awards the show was nominated for 11 Tonys and won two of the prestigious awards including Best Leading Actor in a Musical for Santino Fontana and Best Book for Robert Horn. The show was the third most successful at the 2019 Tony Awards following Hadestown and The Ferryman. Tootsie's final performance will be on January 5, 2020, at which point the show will have played 293 performances and 25 previews since its opening on March 29, 2019.

Tootsie And The Film's Outdated Concept

While the 1982 film was a box-office hit, the modern Broadway adaptation of Tootsie has failed to find the same level of success. Many fans blame this on Tootsie's outdated concept - a struggling and pedantic NYC actor, Michael Dorsey, dresses up as a woman to find an acting gig. The show's comedy relies on the inherently transphobic trope of the "man in a dress", and some fans argue that the show fails to willingly address its own misogyny and transphobia.

However, other fans argue that the show is meant to show audiences that Dorsey's actions are wrong and that the show addresses its own issues in meaningful ways and improves on the film's sexism and homophobia. These issues, stemming from the show's outdated source material, have divided fans and may have contributed to the show's box-office decline.

Impact on Forthcoming Mrs. Doubtfire
Tootsie's demise is a foreboding sign for Mrs. Doubtfire, which opens on Broadway on April 5, 2020. Mrs. Doubtfire is based on a 1990's film with a similar concept as Tootsie- after Daniel Hillard separates from his wife, he dresses up as a woman to become her housekeeper, the only difference being that he wants to see his own children, whereas Dorsey wanted a job.

Other Basic Reasons For The Show's Closing
The Tootsie musical was adapted from the original movie plot in a few key ways. The movie had the protagonist Micheal Dorsey achieve fame and fortune by pretending to be Dororthy Micheals and starring in the lead role on a daytime TV soap opera. The Broadway adaptation changed this to Dorsey being initially cast as a supporting actor in Juliet's Curse and then as the lead in the final show Juliet's Nurse.

The new plot made the show fall into the trap of being "a show within a show", which any good playwright knows can be creative quicksand and often removes any spontaneity or humor from the show. Early reports indicated that the adaptation was going to place Dorothy Michaels in the cast of Dancing With The Stars, Big Brother or even The Bachelorette, so for it to land as a Broadway show seems dated.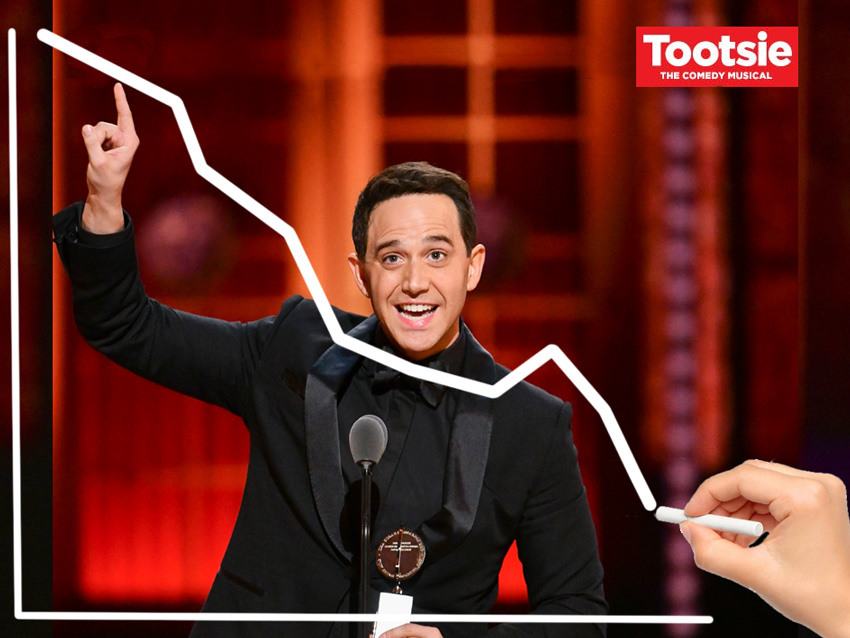 Do Tony Award Wins Improve Long Term Ticket Sales Numbers?
Tony nominations and deserved wins inevitably boost ticket sales during that awards season, but Tootsie's closing now shows that this effect may be limited and that Broadway shows must rely on more than award wins to be able to stay the distance. While out-of-towners read news and media reviews to pick Broadway shows, local theatre-goers predominantly rely on word-of-mouth to determine what shows are worth seeing for their hard earned dollars.

Two cases in point: The Ferryman, which won four Tony awards on Broadway this year, closed after only nine months and The Band's Visit, with music by Tootsie's David Yazbek, won 10 Tony Awards in 2018, but closed after only eighteen months on Broadway. These prove that Broadway shows need to rely on more than just accolades to create sustainable box-office success.
Broadway Show Comparison: Tootsie and Beetlejuice
Beetlejuice, like Tootsie, is a new Broadway show based on a original film from the 1980's, but unlike Tootsie, Beetlejuice continues to be quite successful at the box office. After its 1982 film, Tootsie quickly faded from public memory until its recent return to Broadway. Beetlejuice, however, has managed to keep its brand alive with an animated TV series and multiple video games which have kept fans engaged with the franchise.

Millennials have also cultivated an online fandom surrounding Beetlejuice on Twitter and on TikTok, a popular lip-syncing video app. A quick search on the app shows thousands of videos from fans lip-syncing to the Beetlejuice show's songs, and some of Beetlejuice's cast members have made their own videos for TikTok and are interacting directly with the show's fans. Online audiences haven't shown the same enthusiasm for Tootsie, resulting in little online presence.
Loyalty to Source Material
Additionally, Broadway fans have argued that Tootsie remains too loyal to its source material and fails to bring anything new with its stage iteration. Beetlejuice, on the other hand, uses the same characters from the beloved film but follows a different story arc and refreshes the source material. In both its marketing and staging, Tootsie has failed to meaningfully connect with modern audiences.
Broadway audiences may need to look beyond the sequins and jokes, see the deeper problems hiding underneath, and accept that in 2019, Tootsie cannot be saved this time around, but it sets itself for a future revival that may be more woke. A North American tour of the show will begin at Shea's Buffalo Theater in Buffalo, N.Y., in October 2020, with additional cities to be announced.