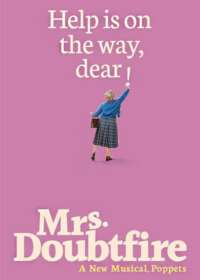 Mrs. Doubtfire
Broadway Show Tickets: Show Closed No Longer Available
Mrs. Doubtfire on Broadway: Show Is Now Closed
Show Status: Closed

Genre: Musical

Mrs. Doubtfire is 2 hours and 20 minutes long, including an intermission of 15 minutes

8 Shows per week

Previews Began: October 21, 2021

Show Opened: December 5, 2021

Show Closed: May 29, 2022
Musical adaptation of the 1993 film of the same name, about a divorced actor who dresses up as a female housekeeper in order to spend time with his kids.
Mrs. Doubtfire

on Broadway Background
Mrs. Doubtfire is a Broadway musical adapted from the Robin Williams film of the same name. The movie has gone on to become a fan favorite amongst critics and children worldwide despite initially receiving lackluster critical reviews upon its original release in 1993.
The movie version won numerous awards at the 1994 Oscars including "Best Makeup" at the Academy Awards and the Golden Globes for "Best Motion Picture - Comedy or Musical" and "Best Actor. The film holds the record for the second highest grossing film of 1993 with a staggering $441 million and was featured at number 67 on the American Film Institute's list of the top 100 American comedy movies of all time.
Converting a Movie Success into Broadway Success
The task of converting the movie screenplay to a Broadway stage musical, fell on the shoulders of book writers Karey Kirkpatrick and John O'Farrell. This writing duo is best known for their Tony nominated work on the 2015 Broadway show, Something Rotten. The Broadway show Mrs. Doubtfire The Musical also features the directing talent of Broadway veteran Jerry Zaks, a four-time Tony Award winner for "Best Direction" on shows such as The House of Blue Leaves and Six Degrees of Separation.
The show suffered from not having a long out-of-town tryout, but featured a memorable score that sticks with audiences. At the show opening, respect was given to the late Robin Williams who brought the character to life on screen and was sorely missed at the premiere.
2022 Cancelled Performances
This musical has cancelled performances from January 10 2022 through April 13 2022. The show has a scheduled reopening date of April 14, 2022.
The hiatus is intended to set up the production for a longer term run, rather than have to close prematurely due to COVID-19 Infections in the cast and crew.
Terrible Broadway Economics Lead to Show Closure
Ultimately the show never recovered from COVID and even though New York City was getting stronger every day and ticket sales for this show were slowly improving, theatre-going tourists are not coming back to Broadway. This could have a lot to do with the shootings, stabbings, muggings and the constant subway deaths that are plaguing NYC during this time. Family audiences have not just not returned as soon as anticipated. The Show closed May 29, 2022.

What's
Mrs. Doubtfire

Like?
Mrs. Doubtfire follows protagonist Daniel Hillard, who is a freelance actor and father of three children. His wife, Miranda, sees him as unreliable, and files for a divorce after Daniel quits his job due to creative differences. In their custody hearings, the court grants Miranda sole custody of their three children. As Daniel attempts to get his life back on track, he finds that Miranda has put out a job listing for a housekeeper and applies under a fake name, Euphegenia Doubtfire.
Through the combination of his voice acting talent and his brothers makeup skills, Daniel disguises himself as a female nanny and successfully gets the position. As the housekeeper, Daniel is able to spend some long-awaited time with his children and slowly improves himself as a person through the charade. Now Daniel must balance his real life with Mrs Doubtfire's so Miranda does not uncover his true identity.

Is
Mrs. Doubtfire

Good for Kids?
This show is suitable for children of all ages as its source material is heartwarming and has entertained children for decades.
Stephen Sondheim Theatre
124 West 43rd Street
New York, NY 10019
Entrance:
43rd Street, between 6th and Broadway
Theatre Information
Mrs. Doubtfire Marquee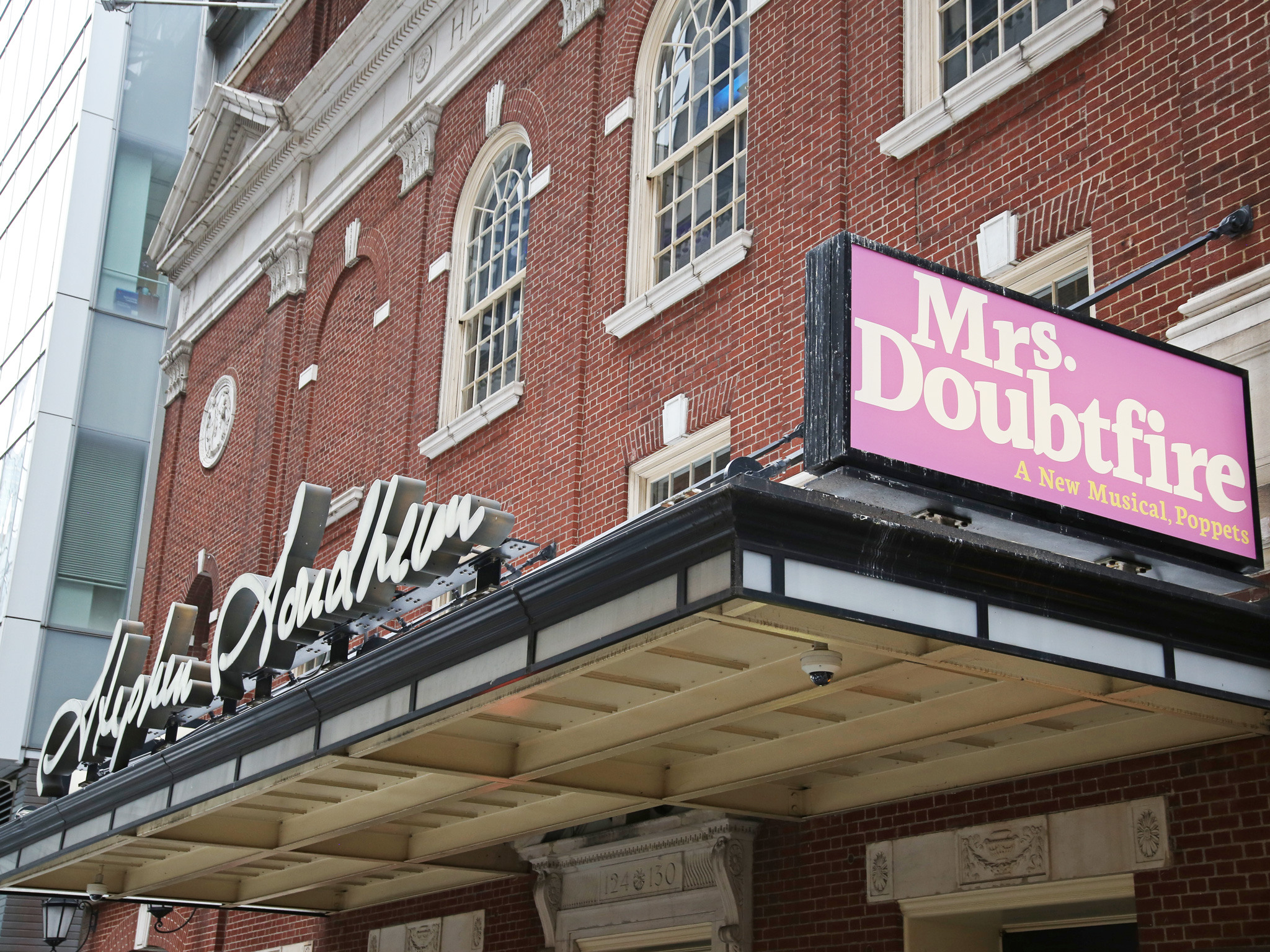 Mrs. Doubfire / Daniel Hillard

Rob McClure
Miranda Hillard

Jenn Gambatese
Christopher Hillard

Tyler Wladis
Christopher Hillard

Titus Landegger
Natalie Hillard

Austin Elle Fisher
Natalie Hillard

Ava Gail Prince
Lydia Hillard

Analise Scarpaci
Wanda Sellner

Charity Angél Dawson
Stuart Dunmeyer

Mark Evans
Christopher Hillard

Jake Ryan Flynn
Natalie Hillard

Avery Sell
Press Agent

Boneau/Bryan-Brown
Book Writer

Karey Kirkpatrick
Book Writer

John O'Farrell
Choreographer

Lorin Latarro
Music & Lyrics

Karey Kirkpatrick
Music & Lyrics

Wayne Kirkpatrick
Music Supervisor

Ethan Popp