Tony Nominated "Eclipsed" Concludes Run
Eclipsed Concluded Performances At The John Golden Theatre In A Production Written By Danai Gurira, Directed By Liesl Tommy.
---
Lupita Nyong'o Made Her Broadway Debut In Danai Gurira Play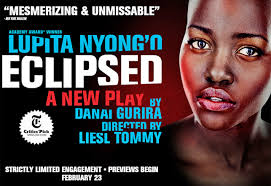 On June 19, 2016, Eclipsed will conclude its Broadway run. This play, written by Danai Gurira and directed by Liesl Tommy, began performances at the John Golden Theatre on February 23, 2016 and officially opened on March 6, 2016.
Upon closing, it will have played 14 preview performances and 121 regular performances. When Eclipsed opened its doors to critics, it received an excellent response. The press was unanimous in its praise of this play, which tells the story of a group of women who are held captive during the Liberian war.
"Eclipsed" Nominated For Tony Awards
Perhaps the biggest press item going into the production was the Broadway debut of Lupita Nyong'o, the Yale Drama-trained actress who became a global phenomenon after winning the 2013 Academy Award for Best Supporting Actress for her performance in the film 12 Years a Slave. For her role in Eclipsed, she received a Tony nomination for Best Performance by a Leading Actress in a Play, but she did not win.
Two other actresses – Saycon Sengbloh and Pascale Armand – received Tony nominations for the award for Best Performance by a Featured Actress in a Play, and they did not win either. The play was also nominated for Best Play, and Liesl Tommy was nominated for Best Direction of a Play; neither award was won. The only Tony Award the show did receive was for Best Costume Design, for which Clint Ramos took home the award.
An Entirely Female Production, A Story Of Survival And Resilience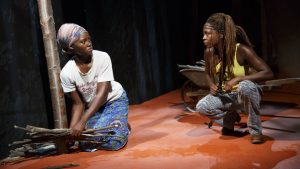 Eclipsed is a historic production on Broadway for many reasons, one of which is that it was the first time the entire cast, director, and playwright on Broadway were entirely female. As the story chronicles the lives of very resilient women, it is a fitting show to earn that honor.
The women play the captive wives of a rebel officer, who does not appear onstage himself but is nevertheless a foreboding presence throughout the play. When a new Girl arrives (Lupita Nyong'o), the tender balance of their fragile community is thrown into question.
"The Public Theater" With A History Of Originating Great New Works
The writer, Danai Gurira, made her Broadway debut as a playwright with this work, although she appeared onstage as an actress in the 2009 Broadway production of August Wilson's Joe Turner's Come and Gone. Her play Eclipsed first premiered Off-Broadway at the Public Theater, the same venue that originated last year's Tony winner Fun Home, as well as this year's Tony winner Hamilton.
The Public has long been an amazing institution for originating vibrant new works and original voices, but it is definitely experiencing somewhat of a heyday.
A Difficult Sell At The Box Office
Despite being an intriguing drama with a household name – Nyong'o – on the marquee, Eclipsed had a difficult time selling out its tickets. In the last reported week of box office figures, the week ending June 12, 2016, Eclipsed brought in $387,767, which represents 49.18% of its gross potential.
On average throughout the run, the percentage reached of gross potential was 41.24%. With a top ticket price of $198.00, the average paid admission was generally around $73.23, and the audience was filled up to an average of 71.08%.
Straight Plays Struggle To Compete On Broadway
This is further evidence that it is increasingly difficult for straight plays to compete for attention on Broadway, amongst the large-scale musicals and spectacle-based shows, and that even a true star in the cast and unanimously excellent reviews, along with awards recognition, can still be not enough to make a play a financial hit.
Still, Eclipsed will go down in history for being an excellent production, and is sure to be the beginning of a long and fruitful career for the artists involved.