Like Your Thrill Rides Nausea-Inducing? You'll be in Luck at Coney Island
Zamperla Wins The Contract For The Next 10 Years To Add Its Wares To New York'S Coney Island While The Park Undergoes Major Renovations
---
Major Renovations For New York's Coney Island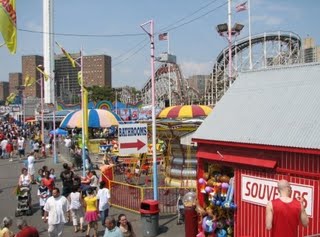 If you live for over-the-top thrill rides, daring drops, nauseating spins, and stomach-churning twists, then New York's Coney Island is the place for you this coming summer.
As part of the amusement park's major renovation, Zamperla USA has won the right to bring their wares to a 7-acre parcel of land; it includes the now-defunct Astroland. Zamperla USA runs the very popular Victorian Gardens Amusement Park in Manhattan's Central Park each summer.
Zamperla Wins The Rights For 10 Years
They were competing with other vendors such as Ripley's Believe It Or Not and Steel Pier. Zamperla could have the rights for the next 10 years; after that, a permanent developer is expected to turn Coney Island into a year-round entertainment and retail spot.
The city hopes that at least some of the rides will be ready by Memorial Day weekend, but a final agreement has not yet been reached. Proposals were submitted by all the competing companies, which had to put forward plans for the development of at least one of the three available areas of land. Zamperla's proposal covered all three areas.
Roller Coasters And Giant Pendulums
The company won't reveal which rides will be unveiled this summer, but a list of their most popular attractions includes The Disk-O-Coaster, a mix of a spinning ride and roller coaster that spins in circles while going over tracks (why not just pump riders' stomachs while they're at it?); and The Vertical Swing, a swing ride 125 feet in the air that moves at dizzying speeds.
Also a hit with riders: The Giant Discovery, which flips riders from a giant pendulum and turns them upside down; and The Flash Tower, offering freefalls from 120 feet. Please--no hot dogs beforehand.
Discount Broadway Tickets
---
---