"Hand to God" Opens to Rave Reviews on Broadway
Hand To God Opened At The Booth Theatre On April 7, 2015 Starring Steven Boyer, To Rave Reviews, Having Secured Five Tony Award Nominations And Improving Box Office.
---
Irreverent Puppet Comedy Up For Best Play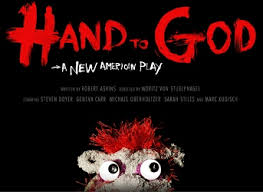 On April 7, 2015, Robert Askins' Hand to God officially opened at the Booth Theatre. It had been playing in previews since March 14, 2015. This new play has traveled a long and untraditional journey to make it to Broadway, where both the playwright and director, as well as several actors, are making their Broadway debuts.
The show first premiered Off-Broadway (arguably Off-Off-Broadway) at the Ensemble Studio Theatre in October 2011. This small theatre on the west side of midtown shepherds new writing and acting talent through a variety of productions, community building, and education initiatives, but never before has it sent a show all the way to Broadway.
"Hand To God" Arrives On Broadway After Long Journey
After the play received such positive response, it returned to EST for a continued engagement in February 2012. After repeated extensions, the show then transferred to a more prestigious Off-Broadway venue, the Lucille Lortel Theatre, where it was mounted in March 2014 in a co-production with MCC Theatre, run by the renowned casting agent Bernard Telsey.
Like at EST, the show was directed by Moritz von Stuelpnagel, and several of the cast members returned, including the lead actor Steven Boyer. Finally, in spring 2015, the show made it to Broadway, and it has now been nominated for the prestigious Tony Award for Best Play.
All Around Rave Reviews For This Unlikely Broadway Show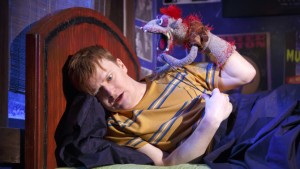 Upon its opening, critics left and right praised the play for its wit, humor, and excellent production. Charles Isherwood in The New York Times found the play darkly delightful, deeming it a very welcome misfit among the Broadway fare out there this season.
Jesse Green in Vulture magazine loved what he called Broadway's unlikeliest new must-see play, comparing the antihero of this play, the sock puppet Tyrone, among the infamous historical antiheroes in such works as Sweeney Todd.
Bold and Fresh
David Rooney in The Hollywood Reporter compared the sock puppet to the Bad Idea Bears in Avenue Q, praising this play both for being commercially risky and bold, as well as for being a welcome breath of fresh air.
Joe Dziemianowicz in the New York Daily News found the play ridiculously raunchy and funny, proclaiming that is bound to leave the audience sore from laughing. In addition, Matt Windman in AM New York found the play both dark and smart, congratulating it on being one hell of a success story, resulting in making Broadway a more exciting place.
Five Tony Award Nominations And Steadily Increasing Box Office
Hand to God was nominated for five Tony Awards. These are Best New Play, Best Director for Moritz von Stuelpnagel, Best Performance by an Actor in a Leading Role in a Play for Steven Boyer, Best Performance by an Actress in a Leading Role in a Play for Geneva Carr, and Best Performance by an Actress in a Featured Role in a Play for Sarah Stiles.
This is a major achievement for a play that never expected to be compared to such timeless shows as the others that have made it to Broadway. Whether or not the play wins any or all of these awards, this is sure to have increased to notoriety for this play which was surely a risky commercial bet.
Risky Advertising Campaign Pays Off
In fact, the producers were so aware that the play was a risk that the advertising campaign made light of it, pointing directly to the fact that the play had no major stars, was not based off of a movie, nor did it transfer from London. The plea: Pray for Us. It seems that America's prayers have worked, as not only is the show recognized for awards, but the box office has been creeping up steadily because of it.
In the last reported week of box office figures, the week ending May 10, 2015, the show brought in a weekly gross of $400,886. Though this is still only 59.33% of its gross potential, that is a significant jump from its first full week of performances, when the show brought in only $217,974.