Forbidden Broadway To Close Off-Broadway in April
The Long-Running Off-Broadway Hit Forbidden Broadway Concludes Its Run After Featuring Various Gifted Impressionists And Playing In Different Theatres
---
Long-Running Off-Broadway Hit "Forbidden Broadway" Concludes Its Run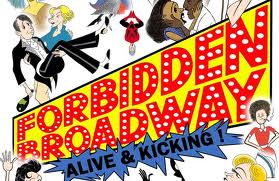 The long-running Off-Broadway staple Forbidden Broadway has announced that it will be concluding its Off-Broadway run at the 47th Street Theatre on April 28. Ironically named Forbidden Broadway: Alive and Kicking!, this edition of the show has to end due to the theater's commitment to The Puerto Rican Traveling Theatre, which will be presenting its new season there.
This current incarnation of Forbidden Broadway, which can be heard on a cast recording produced by DRG Records, spoofs current Broadway hits like The Book of Mormon and Spiderman, as well as recent successes such as Evita, Anything Goes, and Porgy and Bess.
Featured Gifted Impressionists
Naturally the Les Miserables film musical also gets skewered, along with famed Broadway personalities like Patti Lupone and Mandy Patinkin. Created by Gerard Alessandrini, Forbidden Broadway originally opened in 1982, but has played on and off in different theaters and updated editions since then. The show has often featured some of the musical theater world's most gifted impressionists and comedians as they lovingly make fun of all-things-Broadway.