Broadway Show Ticket Analysis Chart w/e 09/15/19
Broadway Show Ticket Analysis Chart w/e 09/15/19 Plus Fall Ticket Sales Say Bye-Bye To Broadway Week
---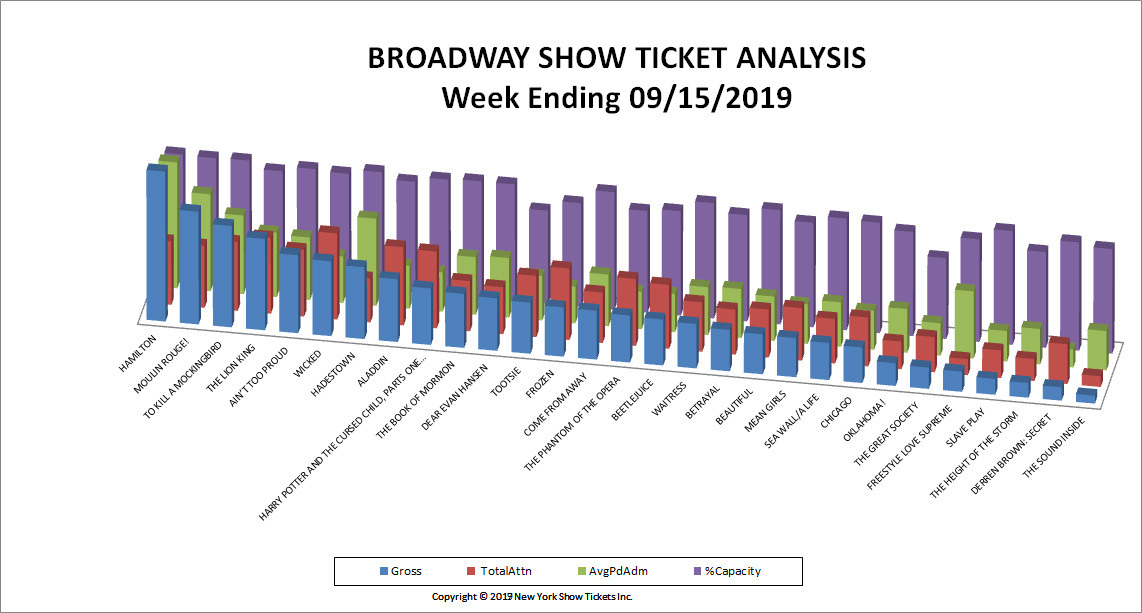 | | | | | | |
| --- | --- | --- | --- | --- | --- |
| # | Show Name | Gross | TotalAttn | %Capacity | AvgPdAdm |
| 6 | AIN'T TOO PROUD | $1,512,149 | 11,273 | 98.96% | $134.14 |
| 9 | ALADDIN | $1,216,334 | 13,201 | 95.55% | $92.14 |
| 20 | BEAUTIFUL | $774,698 | 8,117 | 98.89% | $95.44 |
| 17 | BEETLEJUICE | $889,158 | 10,800 | 90.42% | $82.33 |
| 19 | BETRAYAL | $803,113 | 7,631 | 92.07% | $105.24 |
| 23 | CHICAGO | $689,306 | 8,264 | 95.65% | $83.41 |
| 15 | COME FROM AWAY | $946,966 | 8,518 | 101.79% | $111.17 |
| 12 | DEAR EVAN HANSEN | $1,015,726 | 7,941 | 100.88% | $127.91 |
| 29 | DERREN BROWN: SECRET | $258,349 | 6,725 | 93.82% | $38.42 |
| 26 | FREESTYLE LOVE SUPREME | $392,121 | 2,718 | 88.82% | $144.27 |
| 14 | FROZEN | $954,081 | 12,080 | 89.67% | $78.98 |
| 8 | HADESTOWN | $1,392,020 | 7,447 | 101.40% | $186.92 |
| 2 | HAMILTON | $2,904,447 | 10,753 | 101.52% | $270.11 |
| 10 | HARRY POTTER AND THE CURSED CHILD, PARTS ONE AND TWO | $1,095,481 | 12,976 | 100.00% | $84.42 |
| 21 | MEAN GIRLS | $756,268 | 8,871 | 90.52% | $85.25 |
| 3 | MOULIN ROUGE! | $2,184,142 | 10,495 | 100.76% | $208.11 |
| 24 | OKLAHOMA! | $440,186 | 4,697 | 90.19% | $93.72 |
| 22 | SEA WALL/A LIFE | $719,375 | 7,531 | 96.75% | $95.52 |
| 27 | SLAVE PLAY | $306,668 | 4,690 | 98.57% | $65.39 |
| 11 | THE BOOK OF MORMON | $1,044,748 | 8,464 | 101.05% | $123.43 |
| 25 | THE GREAT SOCIETY | $413,430 | 5,936 | 70.00% | $69.65 |
| 28 | THE HEIGHT OF THE STORM | $284,161 | 3,733 | 82.94% | $76.12 |
| 5 | THE LION KING | $1,771,473 | 12,832 | 94.58% | $138.05 |
| 16 | THE PHANTOM OF THE OPERA | $910,181 | 11,305 | 88.05% | $80.51 |
| 30 | THE SOUND INSIDE | $152,426 | 1,808 | 90.58% | $84.31 |
| 4 | TO KILL A MOCKINGBIRD | $1,964,200 | 11,628 | 101.29% | $168.92 |
| 13 | TOOTSIE | $990,229 | 10,351 | 80.77% | $95.67 |
| 18 | WAITRESS | $860,045 | 8,351 | 99.89% | $102.99 |
| 7 | WICKED | $1,451,092 | 14,549 | 97.44% | $99.74 |
| | TOTALS | $29,092,571 | $253,685 | | |
This Week On Broadway: Fall Ticket Sales

Now that the back-to-school September lull is over and Broadway Week is thankfully behind us. The real focus can turn to Fall ticket sales. This week Freestyle Love Supreme debuted on Broadway, but started with pretty low sales as the show began midweek and that skews its numbers. Other new shows on the boards this week included The Height of the Storm, and The Sound Inside.
All three of these new shows began in preview performances. Broadway Week's 2-for-1 promotion clobbered the sales numbers and burned up any goodwill they had coming last week, but next week should see better numbers all around. This week was an increase of just $320K (1.1%) over this time last year, so it is a bit of a wash.

The Music Man Slow To Build Momentum
Ticket sales for The Music Man starring Hugh Jackman went on sale this week on September 14, but the show does not open until a full calendar year from now so ticket sales are not so brisk right now, but this will change as the 2019 holidays approach and momentum on this big show revs up.


Discount Broadway Tickets
---
---