Broadway Shows Performed at Grand Central's Summer Send-Off
Grand Central Hosted The Summer Send-Off On August 24 - 26, 2016, Three Broadway Shows Performed – Kinky Boots, Something Rotten!, And Wicked.
---
Casts Of "Wicked," "Kinky Boots," And "Something Rotten!" Performed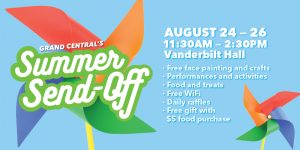 From August 24 to 26, 2016, Grand Central Terminal held a three day Summer Send-Off event. This event took place from 11:30am to 2:30pm in Vanderbilt Hall, featuring fun events for the whole family such as face painting and crafts, raffles, and food and treats.
On August 25, 2016, from 1:30 to 2:30pm, the cast of Wicked gathered for what they called "Broadway Hour," in which some cast members performed musical numbers from the show.
"School Of Rock" Hosts Photo Booth
The following day, on August 26, 2016, three other shows had events. There were performances from the hit shows Something Rotten! and Kinky Boots, as well as a photo booth set up for School of Rock – the Musical.
These are all shows that have some appeal for children as well as their parents, and the Broadway singing was a special treat amongst all of the commuting and scrambling that normally takes place in Grand Central Terminal. In addition, the Brooklyn Children's Museum held another hour of "jamming" to music with the children in attendance. All in all, the event was a fun but bittersweet series of weekday afternoons, as the event was meant to mark the end of summer.
Marketing Efforts For Struggling Shows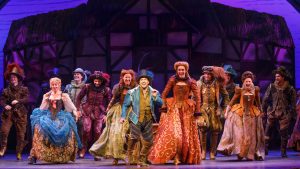 There are tiers of marketing efforts that Broadway shows attempt in order to woo more ticketbuyers to their shows. The Grand Central Summer Send-Off, though exciting and unusual in the architecturally gorgeous halls of the midtown train station, is not exactly top-tier marketing material.
For instance, you wouldn't see the cast of Hamilton performing at Grand Central, as they don't need to go that far out of their way in order to attract theatregoers. Hamilton's marketing efforts are more in the line of inviting President Barack Obama and First Lady Michelle Obama to attend the show, and then releasing a slew of press about it.
Constant Effort To Remain Fresh And Relevant
Therefore, the shows that chose to participate in the Grand Central send-off were of two varieties. One is Wicked, which is certainly not struggling, but has also been a hit for so long that it really doesn't have much to lose in terms of the class level of their marketing efforts.
Rather, it is indeed a constant effort to remain fresh and relevant, and for Wicked, that means continually promoting themselves to the young children each year. Although Wicked is not exactly a children's show, it is certainly family-friendly, and children represent a major part of their demographic.
Decreases In The Box Office For Strong Shows
On the other hand, Something Rotten! and Kinky Boots are both more recent musicals that are not in their best box office days. Kinky Boots, which won the Tony Award for Best Musical just a few years ago, is not performing at the top of their game as of late.
Therefore, marketing efforts such as Grand Central's Summer Send-Off are meant to attract a new crop of theatregoers – tourists and commuters alike – who may like to see this show for the first time, or to refresh their memory of how much they enjoyed it, so they might return again.