"A View From The Bridge" Begins Previews at the Lyceum Theatre on Broadway
Previews Began For A View From The Bridge At The Lyceum Theatre On Broadway In A Daring New Production Directed By Ivo Van Hove In A Show Transferred From London's Young Vic Theatre
---
Acclaimed Transfer from London's Young Vic Theatre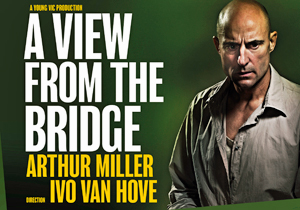 In a landmark collaboration between two of the greatest tastemakers in New York theatre – Scott Rudin and Lincoln Center Theatre – comes a transfer from a hip London theatrical institution, the Young Vic Theatre. This revival of Arthur Miller's A View From The Bridge, is so unlike any of the previous Broadway productions that the producers decided to bring it to the Lyceum Theatre, even though the last Broadway revival – starring Scarlett Johansson and Live Scheiber – was only five years prior. However, this production, directed by Ivo van Hove (The Crucible), is so unique in its staging and approach that Scott Rudin and Lincoln Center, two theatrical producers with an excellent track record for making quality and commercially successful productions, decided that New York audiences would be eager to see it.
The revival stars many London actors who are making their Broadway debuts. The role of Eddie is played by Mark Strong, the role of Beatrice is played by Nicola Walker, Catherine is played by Phoebe Fox, Alfieri is played by Michael Gould, Louis is played by Richard Hansell, and Marco is played by Michael Zegen. Only two actors have been on Broadway before: Russell Tovey, who plays Rodolpho, was in The History Boys in 2006, and Thomas Michael Hammond, who plays the Officer, has been in four Broadway shows before including A Raisin in the Sun and Lucky Guy.
A Limited Engagement of Unlimited Appeal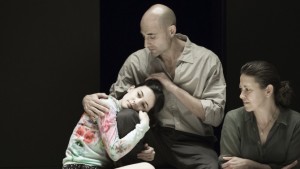 The show began previews on October 21, 2015, and will officially open on November 12, 2015. It is presently scheduled for a limited engagement to run until February 21, 2016. This show is certainly going to be a treat for audiences, as director Ivo van Hove has a signature bold, experimental style that will make this A View From The Bridge different from any seen on the New York stage before. Whereas Arthur Miller is renowned for his specific stage directions written in the script of the play, here van Hove dispenses with these words from the source, which many directors would be reluctant to do.
Instead of opening up on a tenement building in Red Hook, Brooklyn, as the original script describes, here the stage opens to reveal a black box with a bare stage in the thrust. Or at least, that's how it was designed at the Young Vic. To accommodate the Broadway proscenium, Ivo van Hove and his scenic designer Jan Versweyveld must have adapted their vision, but with nonetheless stark modernity. Therefore, in deciding to paint the stage in a more minimalist fashion, the production succeeds in emphasizing the universal qualities of the material, rather than situating them in a specific time and place.
May Be A Tough Sell at the Broadway Box Office
Without a bona fide Hollywood star on the marquee, this production of A View From The Bridge may be more difficult to sell than, say, the production five years ago starring Scarlett Johansson and Liev Schreiber. Nevertheless, the genius producioral minds that are Scott Rudin and the Lincoln Center Theatre will surely come up with a marketing scheme that demonstrates the unparalleled nature of this production.
The show will benefit from the Lincoln Center built in audience, both the subscribers and the general clientele who are aware of the offerings by Lincoln Center. Even though this production is off their normal campus and instead plays at the Lyceum Theatre, that is Lincoln Center's go-to Broadway venue and a beautiful space indeed. It will therefore be interesting to see how the box office response turns out for this production.