Top 10 Ways to Get Broadway Show Tickets Tonight
Top Ten List On The Best Ways To Get Broadway Show Tickets Tonight. The List Ranks All The Ticket Buying Options Available To Broadway Ticket Buyers

---
Best Ways to Get Broadway Show Tickets For Tonight's Show
This list ranks the top ten best ways to get Broadway show tickets for shows that are performing tonight. Our ranking takes into account the ease of getting tickets for tonight, reliability of the seller, the guarantee of getting real tickets, as well as how good the theatre seats are and the price of each Broadway tickets buying option.

Very Last Minute Reduces Options
While this list has all the best ways to find Broadway show tickets for tonight, it is not recommended that buyers wait to buy Broadway show tickets to the very last minute because there will be fewer tickets available as the performance time approaches. It is a popular misconception that Broadway shows will sell great seats at discount prices at the very last minute, but this is almost never the case. It is best practice to buy Broadway tickets days, or even weeks in advance.
Planning In Advance
Planning in advance will ensure that better seats, better tickets and better discounts will usually be available for theatre-goers. It is often tough to find good Broadway show tickets, especially for the top rated Broadway shows. The Broadway show ticket choices that are left for tonight's show will be limited and the ticket prices may also be higher than normal. That being said, it is possible to find Broadway show tickets for shows tonight and below is a ranked guide listing of all the best ways.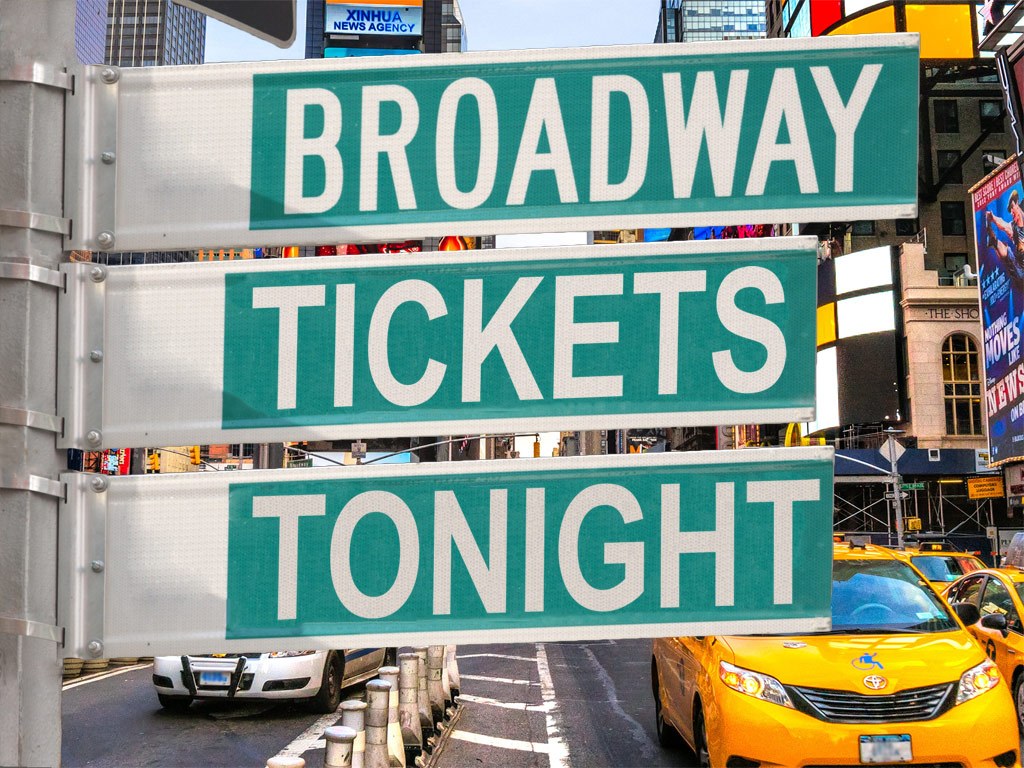 Visit the TKTS Ticket Booths
Use Online Broadway Ticket Websites

Enter Broadway Ticket Lotteries

Become a TDF Member

Buy Broadway Rush Tickets

Get Broadway SRO Tickets

Visit the Broadway Secondary Market Websites

Get on the Cancelled Seats Line

Talk to Broadway Ticket Scalpers

Look for Other Broadway Shows

1. Go to One of the TKTS Booths Around NYC
The most popular way to get Broadway show tickets tonight is at the TKTS ticket booth. There are three TKTS ticket booths located around New York City and while there is usually a line at each of the booths, it is worth the wait because no other Broadway ticket seller offers the same variety of show tickets that the TKTS ticket booths currently offer with such a good discount. The TKTS ticket booths, sell discount Broadway show tickets at between 10% and 50% off the standard price for tonight's Broadway shows.

There are a few downsides of using the TKTS ticket booth to buy tickets for Broadway shows tonight. Show and seat selections are typically limited at the booth because they do not offer tickets to any of the "hot" Broadway shows that are currently playing. All the show tickets for tonight at the TKTS booth are for Broadway shows that are on the wane. Ticket buyers cannot select which seats they want in the theatre, as the TKTS clerks sell whatever tickets they have at the top of their stack. There are typically long lines at each of the booths and they only offer tickets to in-person buyers as none of these tickets can be bought online. Most of the booths are located outside, which means that weather can be a factor if the waiting time on the lines are over 2 hours long. The TKTS booth only offers tickets for the same day and are a good choice for buying tickets for tonight.

For Broadway performances on Mondays, Tuesdays, Wednesdays or Thursdays, shows typically start at 7:00 p.m. For those night's performances, it is best to show up at the ticket booth between 3:00 pm and 3:30 pm as this is typically when the best inventory is available. The shortest lines will be between 5:30 pm and 6 pm.

Here are links to New York City's TKTS ticket booths. These links have information as well as live updates for all of the discount Broadway show tickets they offer:
https://www.nytix.com/tkts/tkts-times-square
https://www.nytix.com/tkts/tkts-lincoln-square

2. Use Online Broadway Ticket Websites
To get Broadway show tickets for tonight buyers can use an online Broadway ticket website like Nytix, Playbill, TodayTix and Broadwaybox. All have websites that act as a middleman for Broadway shows and help them sell the show's tickets. They each offer a wide selection of discount tickets for upcoming performances and for Broadway shows tonight. Using these online services, theatre-goers can find what show deals work best for them. Buyers can choose the show they want to see, what seats are still available as well as compare and contrast the different deals they find. Many of these websites also offer Broadway news and write interesting articles about what is the next up-and-coming Broadway show. While this is a good way to get tickets for shows tonight, there are some downsides to using an online Broadway website. These services often require a small fee for the tickets they provide and buyers will need to have internet access to use the websites. This option may be difficult to use on a mobile device and not all tickets for tonight are allowed to be shown on these websites. per the theatre box office policies.
Click here for a Broadway ticket website:
https://www.nytix.com/discount-broadway-tickets


3. Enter Broadway Show Ticket Lotteries
Broadway ticket lotteries can be one of the best ways to get tickets for a Broadway shows tonight, but the odds of winning are often against the entrants. Broadway shows that offer lotteries usually seat the winners in the first two rows of the theatre and charge them a fraction of what the regular ticket prices are. The problem with the Broadway lottery idea is that there is no guarantee that entrants will get any show tickets at all. The odds of winning a Broadway lottery are very low, because thousands of fans enter themselves into the lotteries every day. The Broadway lotteries are free to enter and it never hurts to keep trying them, to increase the odds of winning. Some Broadway ticket lotteries offer a way of increasing the entrant's odds by allowing them to link their social media accounts to the lottery websites. While this does get them more inputs in to the drawing, it takes a significant amount of private information away from the entrants social media page and in some instances it actually make automatic posts on their account. If an entrant is selected, they will be notified in the morning of the day of the show. They must also accept and pay for the winning tickets within the allotted time or lose them. This is typically within four hours from the time they were notified. Not all Broadway shows offer a ticket lottery for tonight's production, so this limits the selection of shows available via this method.
Information and links to all the biggest Broadway lottery websites can be found here:
https://www.nytix.com/articles/broadway-ticket-lottery
Check this link for a list of all the Broadway shows that offer ticket lotteries to their performances:
https://www.nytix.com/lottery


4. Visit TDF Website and Become a Member
According to the TDF's director of marketing, David LeShay, The Theatre Development Fund is "the best kept secret of affordable ticket-buying", and he is not far wrong. TDF is a membership program that charges $40 a year that offers many deals for discount Broadway show tickets tonight. Discounts start at 10% off and can go up to 50% off the face value. They also have discounts to off-Broadway performances as well as discount tickets for tonight's concert performances. Unfortunately, not everyone can sign up for a TDF membership as members must be in low paying jobs, or unemployed, to qualify. This means that this service is perfect for full-time students, teachers, freelance workers and retirees. While most people do not fit this criteria, the secret is that most people who use the TDF service do not actually qualify. Many people who use the TDF program use friends or family member's accounts to get discount tickets for Broadway shows tonight. It is advantageous to check around to see who may qualify to be a TDF member. The TDF site can also be difficult to navigate, especially on a mobile device and it can take up to two weeks for TDF to confirm and approve new members. The TDF member must show ID to pick up the tickets no earlier than 30 minutes before tonight's curtain time.
Here is the link to the TDF webpage:
https://www.tdf.org/
Here is the link to sign up and become a member:
https://my.tdf.org/account/create


5. Buy Rush Theatre Tickets in Person
RUSH tickets are last minute tickets for shows performing tonight. They are typically sold for $20 to $40 each and are usually for seats in the first couple of rows of the theatre. RUSH Broadway tickets started off for students only, but now they are available for anyone to buy. The intent of these tickets is to give New York's less well-off individuals an opportunity to see a Broadway show tonight for cheap. To get RUSH Broadway tickets, ticket buyers should show up at the theatre box office a couple of hours before the opening curtain to have the best odds of getting the tickets for tonight's show. RUSH tickets are sold first come, first serve and supply is always limited. It is preferred by the theatre Box office that RUSH ticket customers pay for tickets in cash to keep the line moving fast, so buyers of RUSH tickets should be sure to bring cash with them. Not all Broadway shows will offer RUSH tickets to tonight's show.
Check here to see which Broadway shows have RUSH tickets available tonight:
https://www.nytix.com/lottery


6. Get Standing Room Only Tickets
Standing Room Only (SRO) show tickets are just as the name says, a way to see a Broadway show where fans are admitted into the theatre to stand and watch a Broadway show tonight for very little money. SRO Broadway show tickets, are not for the faint of heart, as most Broadway show performances run for more than two hours long, and standing that long can be hard for many. These tickets are typically for the youngest and most enthusiastic of Broadway show fans and are in high demand. They are usually sold for just $25 a ticket for shows playing tonight. The viewing experience may be a bit poor, as the standing room section is often crammed with other audience members and the stage view may be obstructed. Theatres only sell SRO tickets from their ticket box office for their show performing tonight. SRO Tickets are sold first come, first serve and it is best to get to the theatre an hour and a half before the show begins, to increase the odds of getting these sought-after tickets for tonight.
Not all Broadway shows offer SRO tickets for their performances. Check here to see which shows have SRO tickets available:
https://www.nytix.com/discount-broadway-tickets
More information about standing room only tickets can be found here:
https://www.nytix.com/articles/standing-room-only-sro-broadway-tickets-discounts


7. Visit Secondary Market Websites
Secondary Market tickets are the best way to guarantee tickets for a Broadway show tonight, as ticket brokers will always have ticket inventory for tonight's show when everyone else has run out. Secondary markets are people or companies who buy broadway tickets in bulk, and sell them to ticket buyers for a higher price than their face value, in order to make a profit. The secondary market tends to sell tickets for the most expensive shows on Broadway. As tonight's show approaches, prices that the ticket brokers are asking can come down. With this method of buying Broadway tickets, seat choices may be limited and tickets may be more expensive than other options. At least with the secondary market, theatre-goers who are in a rush to buy tickets now, are guaranteed to get show tickets for Broadway tonight, but they will be paying a premium for that luxury.
All Broadway shows with secondary market tickets can be found here:
https://www.nytix.com/discount-broadway-tickets
More information about the Broadway secondary market can be found here:
https://www.nytix.com/articles/third-party-broadway-ticket-resellers


8. Get on the Cancelled Seats Line at the Theatre
Cancelled seat tickets are a decent option to get Broadway show tickets tonight, if buyers are lucky enough to find these elusive deals. Often theatre-goers will buy Broadway show tickets in advance and for one reason or another, are not able to make it to their scheduled performance. For this reason alone, it is worth checking with the theatre box office right before the opening curtain call to see if there were any no-shows for tonight's Broadway performance. While this method has pretty low odds of actually getting tickets to a Broadway show tonight, it is definitely worth a shot, as the theatre box office will not know if they have any no-shows until right before the performance begins. Buyers of cancelled seat tickets will not have a selection of seats to choose from but, these tickets are usually sold at a discount or at face value in the case of the super-hot shows.


9. Talk to the Ticket Scalpers Outside the Theatre
Sometimes ticket scalpers are lurking around outside Broadway theatres and they could potentially be holding a great ticket for tonight's Broadway show. Scalpers (AKA ticket touts) are people who happen to have Broadway show tickets for tonight's show from a variety of different sources. They are usually seen walking around the Broadway theatre, looking to sell their tickets, for a "deal". All Broadway theatre-goers who want to get Broadway show tickets for tonight from a tout, should be wary of purchasing fake Broadway tickets for tonight's show from these people. Buyers should also remember that ticket sales from a scalper are usually final and there may not be an opportunity to get their money back, especially if the ticket was a counterfeit Broadway ticket.


10. Look for Different Broadway Show
If none of the options above worked to get Broadway show tickets tonight, try checking through them again as things can change throughout the day. Information about tonight's show's can be hard to get from the Broadway theatre box offices and some Broadway ticket websites can be difficult to navigate as sometimes key information can be missed. If, after checking again, none of these ticket options were offered for Broadway shows tonight, buyers should start looking for other Broadway shows to see, or look for Broadway tickets for another night, maybe tomorrow's shows will have better tickets available, as there are only a finite number of Broadway shows and tickets.