You Can Still Reach for the Brass Ring: Trump Saves the Day
Donald Trump Has Stepped In To Rescue New York'S Beloved Central Park Carousel, Which Faced Closure Due To Maintenance Issues, He Will Cover The Monthly Fee For The Next Six Months
---
Donald Trump Steps In to Save Iconic Carousel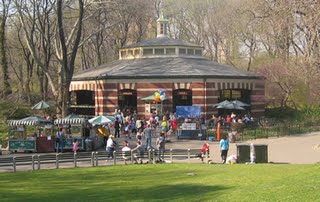 New York's Central Park Carousel, one of the most iconic and best-loved children's attractions in the city, will continue to twirl for the foreseeable future: Donald Trump has stepped in to save the famous ride. New York One LLC was recently forced out as the operator by the Parks Department when they couldn't resolve maintenance issues; Trump stepped in and will pay the fee of $7,500 a month for the next six months to keep the carousel in motion.
Trump already oversees some of the city's ice skating rinks; keep your eye on anything else that can be tied down, folks. The carousel, located near the middle of Central Park around 64th Street, hosts almost 250,000 riders every year. Believe it or not, in its original incarnation, in 1871, a mule and horse walking on a sort of treadmill in an underground pit powered it. No, thankfully, they're not still there.
A Closer Look at the Must-See NYC Attraction
The carousel was replaced around the beginning of the century by a steam-powered model, which burned down in 1924, as did the next model in the 1950s (Um...fire safety prevention, anyone?) The current carousel is the fourth one to exist on this site. It features 58 whimsical, hand-carved horses and two chariots, which were made by Solomon Stein and Harry Goldstein in 1908. It's still one of the best bargains in the city: $2 for a 3½ minute ride. The carousel opens daily for the season starting in April; until then, visitors can head over on weekends, weather permitting. Fun fact: Visitors should examine the iron fence that surrounds the open sides of the carousel; a band of small, bright horses decorates it.
Discount Broadway Tickets
---
---