"Wicked" Hits One Billion Dollars Cumulative Gross at Record Speed
Wicked Reached One Billion Dollar Cumulative Box Office Gross Mark After 12.5 Years, Faster Than Any Other Show In Broadway History.
---
Twelve And A Half Years To Reach One Billion Dollars In The Broadway Box Office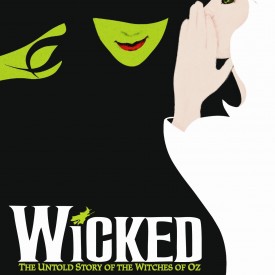 Last week, the producers of Wicked announced that their smash-hit musical has reached the impressive cumulative gross of one billion dollars. This honor has only been achieved by two other musicals in the course of history, and Wicked set the record for reaching the milestone in the shortest amount of time.
The other two are The Lion King, which reached this mark in 2013 after running for 16 years, and The Phantom of the Opera, which reached one billion dollars in 2015, after having been running for 27 years.
"Wicked" Brings In Over One Million Dollars Almost Every Week
Since Wicked began performances on October 8, 2003, it has brought in over one million dollars every week for the vast majority of weeks, and often has brought in over two million dollars per week.
The show's weekly gross record took place in the week ending December 29, 2013, when Wicked brought in an outstanding gross of $3,201,333 over the course of 9 performances, which represented 120.74% of its gross potential. While this is incredibly impressive, Hamilton is regularly bringing in around 130% of its gross potential, although in a much smaller theatre. Nevertheless, Wicked has the honor of reaching the one billion dollar mark faster than any show in history, which will be a difficult feat to surpass anytime soon.
Global Success On Tour And In Several Foreign Language Productions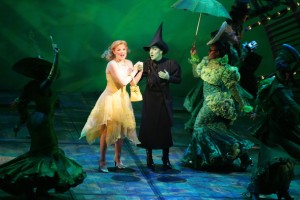 The Broadway one billion dollar gross represents approximately one quarter of the property's overall gross to date. Taking into account U.S. national tours, international productions, and other long-running U.S. productions, the total cumulative gross for the Wicked property is about $4 billion to date.
This includes sit-down productions in San Francisco, Los Angeles, Chicago, and London, as well as tours throughout the world. The show has been translated into six languages for professional productions, and has played to over 50 million people in 14 countries, including Australia, Mexico, and Japan.
An Intriguing Phenomenon For Film Producers
Needless to say, the show has been an enormous success for its creative team as well as its producers, who include film producer Marc Platt, studio backer Universal Pictures, The Araca Group, Jon B. Platt, and David Stone. In particular, the phenomenon is interesting for the film producers among them, as this production is proof that theatre can be just as, and sometimes significantly more, profitable than movies.
In the case of Universal Pictures, Wicked represents one of the most profitable properties in the studio's entire catalogue. Meanwhile, The Lion King has reached a cumulative worldwide gross of $6.2 billion, which makes it the highest grossing title across all media. Interestingly, a Wicked film has never been seriously set into motion, most likely because the producers feel no need to dilute the consistently healthy theatre box office sales.
It's Not Always About The Tony
With this success, one may suppose that Wicked took home the Tony Award for Best Musical in its first years. While it was nominated for ten Tony Awards in 2004, it lost the coveted top award for Best Musical to Avenue Q, which has since downgraded to a still profitable but less prestigious Off-Broadway run.
It also lost its nominations for Best Book (by Winnie Holzman, based on the novel by Gregory Maguire), Best Original Score (by Stephen Schwartz), Best Choreography (by Wayne Cilento), Best Orchestrations (by William David Brohn), Best Lighting Design (by Kenneth Posner), and one of its two Best Actress nominations (for Kristin Chenoweth in the role of Glinda), only taking home three Tonys: those for Best Actress (for Idina Menzel in the role of Elphaba), as well as Best Scenic Design (for Eugene Lee), and Best Costume Design (for Susan Hilferty).
Audience Buzz Overwhelms The Press
Therefore, it goes to show that Tony Awards aren't everything, as a production can be so popular with audience members that the buzz can overwhelm the official press.