"Violet" Opens at the American Airlines Theatre
---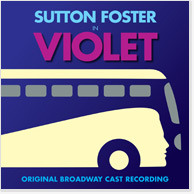 Sutton Foster has long been considered to have the potential to become one of the great musical theatre performers of our time. Her big break occurred in 2002, when she was cast as the last minute replacement star of Thoroughly Modern Millie. When the show transferred to Broadway, the consistently laudatory reviews and 2002 Tony Award for Best Performance by a Leading Actress in a Musical proved that she had begun to pave her way to theatrical stardom. Her most recent Broadway star turn was in the Roundabout Theatre Company's 2011 revival of Cole Porter's Anything Goes, where Sutton played Reno Sweeney and took home her second Tony Award for Best Actress in a Musical. Despite this success, however, Sutton had yet not proven her invincibility as a surefire star – until now, with the recently opened Roundabout Theatre Company production of Violet.
Violet
is the story of a young disfigured woman who travels from North Carolina to Oklahoma in search of healing treatment. Based on the short story "The Ugliest Pilgrim" by Doris Betts, it has music by Jeanine Tesori (
Thoroughly Modern Millie
,
Caroline or Change
) and libretto by Brian Crawley (
A Little Princess
).
Violet
first premiered Off-Broadway at Playwrights Horizons in 1997, receiving seven Drama Desk nominations and winning the Drama Critics' Circle Award for Best Musical. On July 17, 2013, the Encores! Off-Center Series at New York City Center mounted a one-night production of
Violet
, this time starring Sutton Foster in the title role. The creative team at Roundabout must have been impressed by her performance, for they decided to bring the show to one of their Broadway houses, the American Airlines Theatre, for a run this spring to summer 2014. The production is directed by Leigh Silverman (
Chinglish
,
Well
) and choreographed by Jeffrey Page (
Fela!
). When the musical opened on April 20, 2014, it received unanimously positive reviews. Charles Isherwood at
The New York Times
remarked that this was a "career-redefining performance." Whereas Sutton has often appeared in light-hearted musicals such as
Thoroughly Modern Millie
,
The Drowsy Chaperone
, and
Anything Goes
, here she takes a darker turn and embraces issues of self-delusion and in security.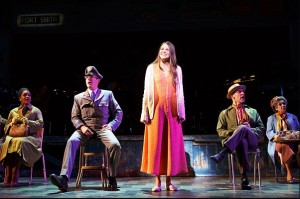 Similarly,
Time Out New York
stated that this was the "darkest and richest" part that Sutton has ever played, congratulating her on her seamless ability to portray both the optimistic and bitterly anguished elements of her character.
NBC New York
also observed that this performance of Sutton's is "a star being reborn." Despite the low-key sets and less than elaborate spectacles involved with the production, critics far and wide praised the ambition and the seriousness of the storyline. The musical is slated to run until August 10, 2014. Although this is the first time the show has appeared on Broadway, it is still considered a "revival" for the purposes of Tony Award consideration. This is not the only show this season to premiere on Broadway after having had an Off-Broadway production years ago;
Hedwig and the Angry Inch
is similarly considered a "revival" though this is the first time it has been on Broadway.