Tony Winner "A Gentleman's Guide to Love and Murder" Closes on Broadway
A Gentleman'S Guide To Love And Murder Concludes Its Successful Broadway Run With Strong Profits, Multiple Tony Award Nominations, And Widespread Critical Acclaim, Starring Jefferson Mays
---
Jefferson Mays Concludes Run As All Eight Members of the D'Ysquith Family
This past week, after 935 performances on Broadway, A Gentleman's Guide to Love and Murder closed at the Walter Kerr Theatre. A surprising commercial hit, A Gentleman's Guide won audiences over with its madcap comedy and impressive versatility in the performance of its lead actor, Jefferson Mays, who played all eight members of the same family, known as the D'Ysquiths. Even more impressive, as one member of the D'Ysquith family, Mays murders all the rest, and then dies himself, therefore dying eight times over the course of each show, or 64 times each week. Upon the 750th performance on Broadway, A Gentleman's Guide held a specific funeral event to commemorate Mays having died 6,000 times on stage of this show.
Many actors die for their craft, the press materials explained, but Mays goes above and beyond, dying 64 times a week. A Gentleman's Guide defied expectations by rising to the top of a crowded and competitive season when it began performances in the fall of 2013, having transferred from well-received regional runs in Hartford, Connecticut and San Diego. Despite good notices, such a small-scale musical without brand name recognition or an A-list star seemed doomed to remain in the realm of underappreciated musicals. Nevertheless, it wowed critics and the Tony committee alike, ultimately recouping its capitalization and developing an ardent fanbase.
Tony Success and a National Tour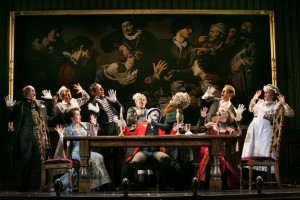 In the 2014 Tony Awards, A Gentleman's Guide earned 10 nominations, the most of any musical that season. It took home four of them, included the coveted award for Best Musical, in addition to Best Book of a Musical for Robert L. Freedman. The score by Steven Lutvak and lyrics by Lutvak and Freedman were also nominated, as were Jefferson Mays and Bryce Pinkham both for Best Performance by a Leading Actor in a Musical. The additional wins were for Darko Tresnjak for Best Direction of a Musical, and for Linda Cho for Best Costume Design, surely due to her ingenuity in disguising Jefferson Mays as eight different members of the same family, of different ages, demeanors, and genders.
A few months ago, A Gentleman's Guide hit the road, embarking on a U.S. national tour. The tour launched in Schenectady, New York in September 2015, and then played Chicago, Durham, Tampa, Cleveland, Pittsburgh, San Francisco, Minneapolis, and Washington, D.C., where it wraps up this weekend. From here, the tour will continue to Des Moines, Memphis, Denver, Salt Lake City, Las Vegas, Tempe, Los Angeles, Houston, Toronto, and Seattle. For the tour, the role played by Jefferson Mays is embodied by John Rapson, who recently made his Broadway debut in Les Misérables, and the other lead role of Monty Navarro is played by Kevin Massey, who understudied the role on Broadway.
A Commercial Success for the Little Musical that Could on Broadway
Despite all odds, A Gentleman's Guide to Love and Murder recouped its initial capitalization during its Broadway run. Its odds were certainly helped by the fact that it took home the 2014 Tony Award for Best Musical, as well as by the small size of the musical to begin with; it had a comparatively low capitalization of $7.5 million. The producers announced recoupment in April 2015. Beginning its run with mediocre box office performance, ticket sales surged after the Tony Awards in summer 2014, with the show bringing in over 100% of its gross potential, and weekly grosses of around $900,000 regularly for weeks on end.
As the winter approached, the box office began to dwindle, hitting a new low after the holiday season at the end of 2014. Nevertheless, with relatively low running costs, the show hung on, and closed with a final weekly gross of $677,178, or 70.62% of its gross potential. All in all, the producers will be making a fair amount of money, between the Broadway run and the ongoing national tour, as well as future licensing opportunities.
Discount Broadway Tickets
---
---