Ticketmaster Sets A New Broadway Surcharge Record
---
$23 Per Ticket "Convenience Charge" For Cirque du Soleil's Zarkana Tickets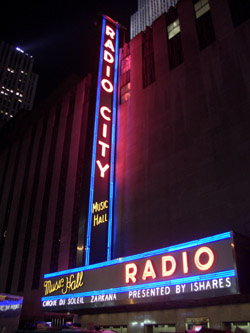 Ticketmaster has set a new Broadway record for their "Convenience Charge" surcharge for
Cirque du Soleil's Zarkana
tickets at the Radio City Music Hall. The surcharge fees jumped dramatically from last year's $8 -$16 to this year's $13-$23, setting a new Broadway record. The amount of the surcharge is no longer a flat fee and is now directly connected to the price of the ticket; this year the $158 prime orchestra tickets are attracting the $23 surcharge. The surcharges are only applied to patrons purchasing tickets online or over the telephone from Ticketmaster. The "in person" sales at the Radio City Music Hall Box Office, on the other hand, are not charged this additional fee. The prior two purchasing methods are often the only options for Broadway and other New York City theater patrons that cannot make it physically to the theater to purchase their
Cirque du Soleil Zarkana
tickets.
Fees Getting Higher, Service Reducing
This means that a family of four would pay just under a hundred dollars in Ticketmaster fees, without including the price of the tickets. Noting the unhappiness directed towards Ticketmaster over these inflated fees, they recently adopted a
more transparent ticket sales model
in the hopes of diffusing customer anger. Needless to say they didn't accomplish this by actually lowering their fees, but they at least stopped hiding them. Now, when you select a Broadway ticket on Ticketmaster, you immediately see the total cost, so that the surcharge doesn't come as such an unwelcome surprise just as you're about to confirm your purchase. Despite the carping by ticket buyers at the time that Ticketmaster announced this 'innovation', it was actually a pretty wise move, since customers generally react better to knowing the total cost upfront--even if the surcharges are still outrageously high.
Ticketmaster Penalizes Out-Of-Towners
This price increase by Ticketmaster essentially penalizes out-of-towners, as local New Yorkers are wise to cutting out Ticketmaster and going directly to the box office to purchase tickets. It has been said that Ticketmaster was also trying to claw back some profit from ticket brokers, who resell their tickets at a profit. But with 5,931 seats and 3 shows a day,
Zarkana
at the Radio City Musical Hall doesn't suffer the same abuse and manipulation from ticket brokers that a "one-off" concert or a hit Broadway show does.