"Thérèse Raquin" Begins Previews on Broadway
Thérèse Raquin Begins Previews At The Roundabout Theatre Company Venue Studio 54 On October 1, 2015, Starring The Remarkable Keira Knightly In The Lead Role Of Her Anticipated Broadway Debut
---
Roundabout Theatre Company Production Starring Keira Knightley
On October 1, 2015, Thérèse Raquin began previews at Studio 54, one of the Roundabout Theatre Company's two Broadway venues. This is a new adaptation of the play written by Helen Edmundson, based off of Émile Zola's 1867 novel and subsequent play of the same name. Many stage and screen adaptations have been written of this work since that time, but this new production is of an adaptation commissioned directly by Roundabout Theatre Company. Helen Edmundson has previously had one production on Broadway of a play she adapted from a book; that was the 2007 production of Coram Boy.
The show is directed by Evan Cabnet, who has directed many Off Broadway shows to great acclaim and previously directed The Performers on Broadway in 2012. Thérèse Raquin deals with a young woman named Thérèse, played by Keira Knightley, who is stuck in a loveless marriage to a man named Camille Raquin, played by Gabriel Ebert who won a Tony Award for his performance in Matilda the Musical. Her mother-in-law, Madame Raquin, is played by Tony Award winner Judith Light. When she meets her husband's childhood friend Laurent, played by Matt Ryan, a craze of passion overwhelms her.
Keira Knightley's Broadway Debut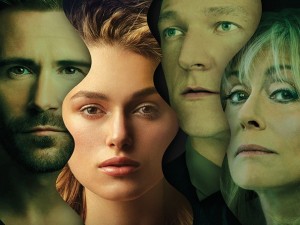 There is much anticipation for the Broadway debut of Keira Knightley, who is very well known for her screen performances in such works as the Pirates of the Caribbean franchise, the 2005 adaptation of Pride and Prejudice, for which she received an Academy Award nomination for Best Actress, the highly acclaimed 2007 film Atonement, and more recently the 2015 film The Imitation Game for which she also received an Academy Award nomination, but this time for Best Supporting Actress. Her recognizable screen credits are in fact too many to list, and yet she has also had her stage outings, though not on Broadway until now.
In 2009, she played Jennifer in the West End production of The Misanthrope, for which she was nominated for the Olivier Award for Best Performance in a Supporting Role. In 2011, she returned to the West End to star in The Children's Hour by Lillian Hellman, where she played opposite Elisabeth Moss as school mistresses falsely accused of being in a lesbian relationship in the 1930s. Thérèse Raquin is therefore her third professional stage performance on this major scale. Nevertheless, this production demonstrates Knightley's genuine interest in classical works, not just in glitzy Hollywood roles, as she plays alongside tried and true theatre names such as Gabriel Ebert and Judith Light.
The Exploration of a Group of Caged Animals
Keira Knightley has said that this play is about a bunch of caged animals. In fact, the story of Thérèse Raquin has historically been understood in this way. In his novel, Zola refers to both Thérèse and Laurent as "human brutes," and there are also references to the "mechanical man," who acts in an unthinking way, even lesser than an animal but closer to a machine.
Thérèse owns a shop that is compared to a tomb, and she watches corpses walk by her each day. All in all, this is a study of the temperaments of those forced to remain in captivity, and it is fascinating to see how passion springs forth so strongly after a period of repression.