The Triple Crown At The Tony Awards®
The Triple Crown Is An Achievement In Acting Where Recipients Receive An Emmy, Oscar, And Tony Awards. The Only Accolade Higher Is The EGOT.
---
Broadway Honors Triple Crown Winners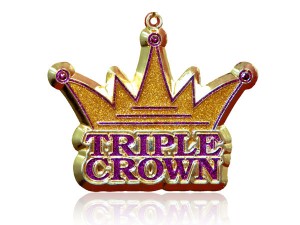 The term "Triple Crown" is often used to describe the winning of three significant top honors in a given competition – for example, horse racing, motor racing, wrestling, and many other sports use this term to denote a particular string of accomplishments.
In the world of entertainment, this term is most commonly employed when referring to the "Triple Crown of Acting." This is a variant of the EGOT (one who has earned at least one each of Emmy, Grammy, Oscar, and Tony Awards), ascribed to those individuals who have won a singular (non-group/ensemble) Acting award in each of the Emmy, Oscar, and Tony Awards.
17 Individuals Have Attained This Title
Over the course of history, only seventeen individuals have earned this prestigious title. Those are: Jack Albertson, Anne Bancroft, Ingrid Bergman, Shirley Booth, Ellen Burstyn, Melvyn Douglas, Jeremy Irons, Thomas Mitchell, Al Pacino, Christopher Plummer, Vanessa Redgrave, Jason Robards, Geoffrey Rush, Paul Scofield, Maggie Smith, Maureen Stapleton, and Jessica Tandy.
Thomas Mitchell Was The First
In 1953, Thomas Mitchell became the first of these honorees, and in 2012, Christopher Plummer became the most recent to join their ranks. Plummer also has the honor of being the oldest to do so, at age 82 with his Oscar win for Best Actor in a Supporting Role for Beginners.
A theatre-specific, and also quite timely, version of the term "Triple Crown" is also sometimes utilized: that is, the "Tony Triple Crown." Referring to those musicals that win the Tony Awards for Best Musical, Best Score, and Best Book, this Triple Crown truly shows far and wide appreciation from the Tony voters.
The Tony Triple Crown
The most recent musical to earn this honor was, surprise surprise, The Book of Mormon, which earned all three honors in 2011. Other titles to achieve this include Memphis (2010), Spring Awakening (2007), Avenue Q (2004), Hairspray (2003),and The Producers (2001). Many musicals come close but not all the way.
In 2012, Once won the Award for Best Musical and Best Book, but not Best Score. The same happened with Billy Elliot in 2009. Last year, in 2013, Kinky Boots won for Best Musical and Best Score (with Cyndi Lauper becoming the first woman ever to win this award), but it did not win for Best Book. The same occurred with In the Heights in 2008.
Top Musicals With Potential To Earn The Title
In 2002, Thoroughly Modern Millie won for Best Musical, but it earned neither award for Score or Book, though it did win for Best Actress for Sutton Foster, as well as Best Choreography and Best Orchestrations.
This year, the four nominees for Best Musical are After Midnight, Aladdin, Beautiful: The Carole King Musical, and A Gentleman's Guide to Love and Murder. Of these, only A Gentleman's Guide and Aladdin have the potential to earn the title of Triple Crown.
"A Gentleman's Guide" Leads The Pack

After Midnight was not nominated for Best Score or Best Book, which makes one wonder what the Tony committee was thinking in nominating it for Best Musical. Beautiful was nominated for Best Musical and Best Book, but not Best Score, but it was not eligible as the score was created prior to the conception of the show.
As A Gentleman's Guide is leading the pack with ten nominations overall, it appears to be the best contender, if any, for this prestigious honor in 2014.