The Book of Mormon Recently Crossed The Great Ticket Price Divide of $500
The Book Of Mormon Becomes Broadway's Most Expensive Ticket In History Surpassing Wicked's Ticket Price In 2002 Over $100, As The Next Best Thing
---
"Book Of Mormon" Regular Tickets Price Blows By Broadway's $150 Ticket Milestone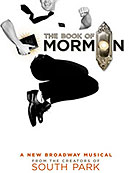 Trey Parker and Matt Stone's The Book of Mormon recently crossed the great ticket price divide by increasing its regular-priced orchestra and front mezzanine tickets to $155. The Premium ticket prices remain unchanged at $300 - $350. This now makes Book Of Mormon the most expensive ticket on Broadway in history.
Clearly this move is a response to the strong ticket sales and the continued love-fest of ticket broker speculation towards the sold-out show. The last time a milestone like this was broken was back in 2002 when Wicked blew by the $100 mark and never went back, much to the chagrin of Broadway fans.
National Exuberance

The Book of Mormon may be suffering from irrational exuberance and may run the risk of overselling its position and with over 40% of all its tickets being sold to ticket brokers, Book of Mormon could suffer a painful crash in ticket sales if ticket speculation cools abruptly when 'the next big thing' materializes, since ticket brokers and speculators are notoriously fickle and have no brand loyalty other than to what is 'hot' and selling well.
Regional Tour Of "The Book Of Mormon"
The scheduled regional tour of The Book of Mormon could dilute the aftermarket ticket value of the show and become a catalyst to force the ticket brokers to 'short' their ticket inventory and flood the market, possibly resulting in empty seats in the theater -- giving the appearance that the show is on the wane, even though 100% of the tickets have actually been sold.
Once the public's "perception" is that a show is on the wane, it could change the Book of Mormon ticket ticket landscape dramatically - All Broadway shows like a soft landing in sales, ticket crashes are bad for business, affecting audience, producers and ticket brokers. Historically speaking, there are many other Broadway show examples that have suffered through this process of over-hyped ticket speculation by brokers, only to crash out quickly.
Broadway Shows Benefit From Live Performances
But more recent examples like Jersey Boys didn't quite dampen to the extent anticipated and the show sales buoyed after the other major city fixed shows opened and the regional tour began. The higher ticket cost for The Book of Mormon does, however, provide the Broadway show producers more of the profit, reduces the ticket brokers' profit, and allows the show to break even more quickly.
Having said that, Broadway shows still provide a great value proposition when compared with other entertainment choices in NYC. With a 3D movie now costing $20 person, the live entertainment of a Broadway show is like having a live performance up close and personal, with a noteworthy Broadway (or Hollywood) actor in your living room, for around $100.