British Invasion: Beatles Come To Broadway Summer 2013
Broadway Is Increasingly Becoming A Hit Destination For Concert Productions With Let It Be By The Beatles Celebrating Their 50th Anniversary On The West End
---
Broadway Is Attracting Concert Productions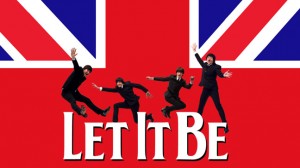 With the recent successes of Barry Manilow and The Rascals on Broadway, Broadway is becoming an increasingly attractive venue for concert productions. The latest in the series is Let It Be, a concert show that features the greatest hits of one of the greatest rock bands of all time, The Beatles.
Originating as a 50th Anniversary celebration for The Beatles on the West End, Let It Be charts the Liverpool band's rise to international fame utilizing projection technology and 3D sound.
The Beatles "Let It Be" Concert Event
The show includes live performances of songs such as "Twist and Shout," "She Loves You," "Hey Jude," "Yesterday," "Come Together," and of course the title song, "Let It Be". Let It Be will begin performances at the St. James Theatre on July 16, with an opening date set for July 24. The production is scheduled to run through December 29.
Discount Broadway Tickets
---
---