The 39 Steps To Re-Open Off-Broadway in March
The 39 Steps Enjoyed A Successful Two-Year Run At The Helen Hayes Theatre On Broadway And Will Soon Open At New World Stages Off-Broadway
---
After A Two Year Run On Broadway, The 39 Steps Will Open Off-Broadway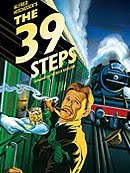 What was only speculated a couple of months ago is now final: The 39 Steps, which recently enjoyed a two-year run on Broadway before closing at the Helen Hayes Theatre on January 10, will re-open Off-Broadway at New World Stages. The new production, which has yet to be cast, will start performances on March 25.
In making this move, The 39 Steps has copied the route recently taken by Avenue Q, the popular musical that had a long Broadway run and then, very shortly after closing its Broadway production, moved to New World Stages Off-Broadway.
Prolong Production With Lower Costs
The theory is that shows like these, which have relatively low production costs (because of small casts and simple sets) and still have some selling power (just not enough to fill an entire Broadway theater), can prolong their New York life by transferring to a smaller Off-Broadway theater where running costs are lower.
When Avenue Q made the move, it appeared to be a fluke. But now that The 39 Steps is attempting the same strategy, Broadway wags think it could be a trend.