"Sylvia" by A.R. Gurney Opens at the Cort Theatre on Broadway
Sylvia By A.R. Gurney Premiered At The Cort Theatre On Broadway, Starring The Immensely Talented Matthew Broderick And Annaleigh Ashford In The Leading Rolls And Directed By Daniel Sullivan
---
Annaleigh Ashford and Matthew Broderick Star in A.R. Gurney Play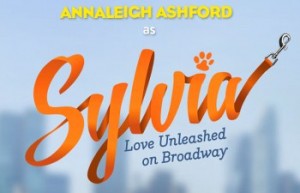 This past week, Sylvia had its official opening night on Broadway at the Cort Theatre. It had been running in previews for 27 performances prior to opening, and it is scheduled to run for a limited engagement until January 24, 2015. The play was written by A.R. Gurney in 1995, when it premiered Off-Broadway at the Manhattan Theatre Club. At the time, it was considered controversial and difficult to convince a theatre to produce it, as it equated a woman with a dog, in asking a woman to play the role of a dog named Sylvia.
Once the play was mounted, it received a strong reception due to the comedic nature of the play as well as the profound look at a marriage in New York City. The production currently running at the Cort Theatre is the first time Sylvia has been on Broadway. A.R. Gurney has had several of his plays produced on Broadway before, including last season's Love Letters, which was also produced in 1989 to 1990, as well as earlier productions of Sweet Sue and The Golden Age. This production of Sylvia is directed by Daniel Sullivan, and stars Annaleigh Ashford, Matthew Broderick, Julie White, and Robert Sella.
Mixed Critical Response with Some Positive Reviews in the Mix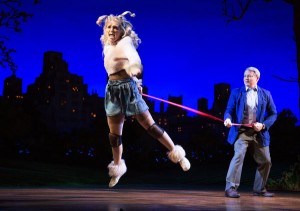 Charles Isherwood of The New York Times was on the fence about Sylvia, jolly in his outspoken criticism that he deemed Broderick's character to be a psychopath with a touch of bestiality. He also admitted he is more of a cat person, and referred to a city dwelling dog owner's need to pick up after his pet a disgusting act, thereby admitting he was biased. David Cote from Time Out New York was more positive in his response, finding the show perfectly charming and praising it for the decision to keep it set in 1995 rather than the present day, when he believes it would not fit it very well due to the advancement of feminism.
Marc Snetiker from Entertainment Weekly was less effusive, enjoying Annaleigh Ashford's performance but acknowledged that cynical audiences would find it difficult to relate to an 125 minute long play about a man who loves his dog. Mark Kennedy from the Associated Press was more positive in his response, deeming Daniel Sullivan's direction to be a howling success, and enjoying Ashford as the perfect casting for the role of Sylvia.
Struggling at the Broadway Box Office
In the last reported week of box office figures, which include performances after the reviews came out, Sylvia brought in a weekly gross of $295,650, which represents just 31.85% of its gross potential. Part of the reason this number is so low is that the week including the opening night performance, in which most tickets are generally given away for free. However, the play has not been doing extraordinarily well at the box office since it began previews on October 2, 2015.
Its highest weekly gross to date took place in the week ending October 25, 2015, when it brought in $411,079, representing 44.72% of the show's gross potential. The only time this was beat was in the first two performances, constituting a partial week of performances, when the show brought in $124,200 or 52.03% of its gross potential. Nevertheless, the overall box office performance does not seem to bode well for the play's chances to recoup on Broadway.