Sting Joins the Cast of "The Last Ship"
Sting Takes Over For Jimmy Nail In The Role Of Jackie White In The Last Ship On Broadway In An Effort To Pick Up Ticket Sales After Weeks Of Dreadful Sales.
---
Hoping To Prevent "The Last Ship" From Sinking On Broadway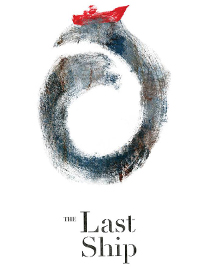 The sexiest thing about the production of the floundering new musical The Last Ship has always been its composer and lyricist, Sting – who has been nominated for the Grammy Awards 38 times, and has won for 11 of them.
He has been inducted into the Hollywood Walk of Fame, has also won 25 American Music Awards, and has also acted in films ranging from Quadrophenia in 1979 to The Adventures of Baron Munchausen in 1988, and 20 Feet from Stardom in 2013.
A Last-Ditch Effort
However, since it began previews on September 29, 2014, The Last Ship has not been performing well at the box office. It has never earned more than $575,155 in one week, and it has never made more than 51.62% of its weekly gross potential.

Starting December 9, 2014, however, Sting decided to make a last-ditch effort to save his beloved musical tale of the last ship built by an English seafaring town. He entered the cast in the role of Jackie White, a foreman of the shipyard.
Sting Performs Fan Favorite "Island Of Souls"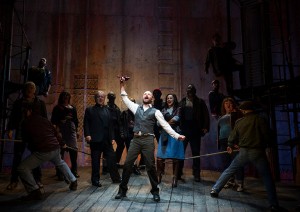 Though he is not the main role, he is on stage about 40% of the time, and he sings tunes such as one that has been particularly beloved with fans "Island of Souls." The show takes place in his hometown and is semi-autobiographical.
It is unclear whether the role of Jackie White is the autobiographical part, but it is most likely that Sting's personal experience overlaps more with the protagonist Gideon Fletcher played by Michael Esper, but that at this age it was more appropriate for Sting to take on the role of White.
An Extension To Six Weeks
Though it was first announced that Sting would be in the show for four weeks only, from December 9, 2014 to January 10, 2015, it has recently been announced that Sting will stay on an additional two weeks until January 24, 2015. Perhaps he was just getting into his groove, and wanted to stick around for a bit longer, or perhaps the replacement they found had a scheduling conflict.
Sting stepped in to replace Jimmy Nail as Jackie White; Nail is a British actor for whom this is his Broadway debut. It is most likely that Nail will come back in following Sting's departure, allowing Nail to still be paid as an understudy, but Sting performing the role with an endnote that is somewhat flexible.