Steve Martin and Edie Brickell's Musical "Bright Star" Begins Previews
Bright Star Began Previews At The Cort Theatre On Broadway, Written By Steve Martin And Edie Brickell, In A World War Ii Era Story In The Mountains Of North Carolina
---
A Grammy Award Winning Album Spawns a Bluegrass Musical on Broadway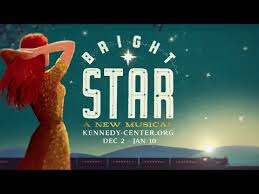 This past week, Bright Star began previews at the Cort Theatre. With an official opening night scheduled for March 24, 2016, the musical is presently set for an open-ended run. Bright Star is a new musical with the story and music by Steve Martin and Edie Brickell, and lyrics written by Brickell. It originated in San Diego, California at the Old Globe Theatre, with a world premiere in the fall of 2014. Then in this past December, it ran at the Kennedy Center in Washington, D.C., prior to its Broadway transfer.
Steve Martin and Edie Brickell have been collaborating for some time, most notably on a bluegrass music album called "Love Has Come For You," which reached the peak position on the U.S. Billboard Top Bluegrass Albums list in 2013, and the title song on the album won a Grammy Award in 2014 for Best American Roots Song. This album is said to have inspired the musical Bright Star, which is set in North Carolina, similar to a song on their album, "When You Get to Asheville." Martin and Brickell then collaborated on a second album called So Familiar, which features some music from Bright Star and came out in fall 2015.
In the Blue Ridge Mountains of North Carolina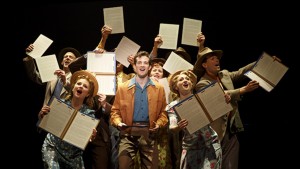 Taking place in the Blue Ridge Mountains of North Carolina, Bright Star tells the story of a Southern literary editor named Alice Murphy, who falls in love with a young soldier named Billy Cane, who has recently returned home from World War II. Taking place in two time periods, the 1920s and the 1940s, the show is derived from a real-life incident that takes place in 1904, which in the story becomes a major plot point that Alice must confront from her past. In investigating this long-buried secret, the couple's lives are transformed.
Bright Star is directed by Walter Bobbie (Venus in Fur, Irving Berlin's White Christmas, High Fidelity) and choreographed by Josh Rhodes (It Shoulda Been You, First Date, Rodgers + Hammerstein's Cinderella). The role of Alice is played by Carmen Cusack making her Broadway debut; she originated the role in San Diego, and the creative team are buzzing with excitement for having discovered her. The part of Billy Cane is played by A.J. Shively (La Cage aux Folles), and other performers include Paul Alexander Nolan, Stephen Lee Anderson, Jeff Blumenkrantz, Stephen Bogardus, Hannah Elless, Dee Hoty, Michael Mulheren, and Emily Padgett, along with an ensemble.
A Tip-Toeing Entrance onto the Broadway Scene
In terms of box office, Bright Star has not yet made any sort of commotion. In its first week of 4 previews, the show brought in $206,573, which represents 44.34% of its gross potential. With a top ticket price of $248.00, the average paid ticket was $63.80, and the average audience capacity was filled up to 77.2%. The biggest name associated with this production is Steve Martin, who is best known as an actor and comedian, but in this case is the writer and composer.
His collaboration with Grammy Award winner Edie Brickell is sure to cause some excitement, especially after their success in the music industry with their bluegrass albums. Therefore, although the cast is not full of A-list names, the show has a few interesting tidbits to attract attention, independent of its quality. Nevertheless, the show was well-received in its earlier incarnations, and chances are that Bright Star may have a fighting chance in awards season.