Stephen King / John Mellencamp Musical To Be Released on CD
The New Musical Ghost Brothers Of Darkland County Are Set To Release A New Studio Recording CD This June Featuring Star-Studded Performances
---
"Ghost Brothers Of Darkland County" CD To Be Released In June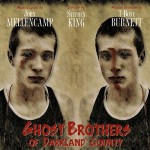 Ghost Brothers of Darkland County, the new musical by novelist Stephen King and rock singer/songwriter John Mellencamp, will be available this June on CD. The studio cast recording will be released in two formats, a single-disc version and a two-disc version that features extras like deluxe artwork, a libretto, and a "Making of Ghost Brothers" documentary DVD.
The music and movie star-studded Ghost Brothers of Darkland County recording boasts performances by Kris Kristofferson, Roseanne Cash, Neko Case, Elvis Costello, Sheryl Crow, Matthew McConaughey, Meg Ryan, Samantha Mathis, and even boxing legend Joe Frazier.
Star-Studded Performances
The show's authors, Stephen King and Johh Mellencamp, also appear on the recording. Ghost Brothers of Darkland County premiered at the Alliance Theatre in 2012 in a production starring Justin Guarini, Emily Skinner, and Shuler Hensley. There aren't yet any plans for the bluesy musical to come to Broadway.