Spider-Man Swings Out of New York City
Spider-Man The Musical Closes On Broadway After Approximately Three Years Making It The 16Th Highest-Grossing Show In Broadway History
---
"Spider-Man" The Musical Concludes Its Run on Broadway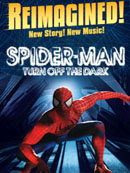 The saga of comic book hero Spider-Man on Broadway has come to an end, with Spider-Man: Turn Off the Dark finishing its run at the Foxwoods Theatre today. The musical concludes having played 1,058 regular performances, plus a record-breaking 182 preview performances.
Initially helmed by The Lion King's visionary director Julie Taymor, Spider-man suffered from technical and creative problems and an exploding budget during its development phase and preview period. Eventually a new director and bookwriter came in to get the production under control, and, once it opened, the show enjoyed brisk sales.
Three Years on Broadway With Las Vegas Up Next
After roughly three years, Spider-man closes as the 16th highest-grossing Broadway show in history. However, Spider-man's multi-million dollar costs were so high that it likely would have needed to run at a profit for several years more in order to earn back its investment. While the musical was no longer able to make money on Broadway, the show's producers intend to try their luck with it next in Las Vegas.