"Six Degrees of Separation" Opens on Broadway
Six Degrees Of Separation Has Opened At The Ethel Barrymore Theatre On Broadway To Excellent Reviews. And Stars Corey Hawkins, John Benjamin Hickey, And Allison Janney
---
Corey Hawkins, John Benjamin Hickey, and Allison Janney Star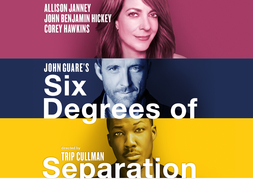 Six Degrees of Separation is presently in performances at the Ethel Barrymore Theatre, where it has been running since it began previews on April 5, 2017. This revival of a play by John Guare is directed by Trip Cullman, and stars Corey Hawkins, John Benjamin Hickey, and Allison Janney, in addition to a large ensemble of supporting actors. The play explores the concept that everyone in the world is related to one another by a maximum of six degrees of separation, specifically with a story concerning a young black man, Paul (Hawkins), who shows up on the doorstop of a wealthy, white Upper West Side couple, Flan (Hickey) and Ouisa (Janney).
Paul tells them that he has just been mugged and needs help; he also explains that he is friends with their son at Harvard University. His story seems consistent, so the couple proceeds to help him, only to uncover that Paul is not who he claims to be. When this play first premiered on Broadway in 1990, it won the Pulitzer Prize for Drama, and was nominated for the Tony Award for Best Play. The current revival has been nominated for two Tony Awards: those for Best Revival of a Play, and Best Performance by a Leading Actor in a Play for Corey Hawkins.
Positive Reviews from All but the New York Times
Upon the show's opening night, the majority of critics gave it a positive review. However, Ben Brantley from the New York Times was more tepid in his response. He calls John Guare's play "beautiful," but also refers to the production as "less than ideal." Meanwhile, Linda Winer from Newsday was enthusiastic about the show, calling it a "scintillating tragic-comedy" and compliments Trip Cullman's direction as compassionate and mercilessly hilarious.
Matt Windman from AM New York loved the "sharp-edged" play, calling the revival "terrific" and declaring it one of the finest contemporary American plays out there. Melissa Rose Bernardo of Entertainment Weekly called the revival beautifully unsettling, especially enjoying the piece of historical trivia that Guare offered them all parts in Cats. Jeremy Gerard from Deadline called the revival "spectacular," remarking that the show may have appeared to perfectly capture American culture at the time it premiered in 1990, but that the revival proves the timelessness and universality of the themes explored in the play.
A Difficult Sell at the Broadway Box Office
Nevertheless, despite this almost unanimous round of praise from the major theatre critics, theatergoers are not flocking to see Six Degrees of Separation. While the cast – in particular Allison Janney and John Benjamin Hickey – are well known in certain circles, they are not comparable in terms of fame to, say, Bette Midler or Glenn Close, who are also appearing on Broadway this season. And although the reviews say this revival is necessary, it may be difficult to convince theatergoers who are aware this play premiered on Broadway as recently as 1990. In the last week of reported box office figures, the week ending May 21, 2017, Six Degrees of Separation brought in a weekly gross of $341,437, which represents 33.45% of its gross potential.
With a top ticket price of $197.00, the average paid admission was $77.49, and the audience was filled up to an average capacity of 52.4%. Over the course of the 7 week that the show has been running thus far, the weekly grosses have represented an average of 35.09% of gross potential. Therefore, this may be a good show to attend if you are looking for a deal on a quality play with an excellent critical reception, as discount tickets may readily be available. The show is scheduled to close on July 16, 2017.