"Significant Other" Closes Due to Poor Box Office
Significant Other Closed Before Tony Award Nominations Due To Factors Like A Poor Title That Lead To Weak Broadway Box Office Response, Even Though The Reviews Were Fairly Positive
---
Despite Positive Reviews, the Play Struggled to Find an Audience on Broadway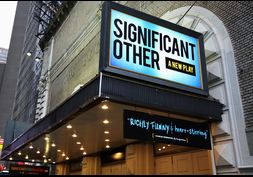 When Significant Other opened on March 2, 2017 at the Booth Theatre, a closing date had not yet been announced. An open-ended run is often a vote of confidence from a show's producers, particularly in the case of musicals which may end up running for many years and reaping great profits. In the case of a straight play like Significant Other, however, the decision to hold off on announcing a closing date may have had more to do with trepidation.
While the play by Joshua Harmon received excellent reviews in its extended, sold-out Off-Broadway run in 2015, the jump to Broadway is not so simple. Harmon became well-known for the surprising success of his play Bad Jews, which became the third most produced play of the 2014 to 2015 season, but that play never made the leap to Broadway. Therefore, when Harmon penned his next play, Significant Other, which went on to receive rave reviews as well, the Roundabout Theatre Company decided to give Harmon his Broadway debut as playwright.
Significant Other Receives Positive Response from Critics
When the show opened to critical reviews, the response was positive. Joe Dziemianowicz from the New York Daily News loved Gideon Glick's "stellar" performance, and Matt Windman from AM New York called the play "a sweet and sour comedic drama." Furthermore, David Rooney from The Hollywood Reporter described the play as "a lovely, bittersweet comedy," and Linda Winer of Newsday called it a "slick, well-made, funny-sad" comedy. Unfortunately, with a no-name cast, an unmemorable title, and a hardly mouthwatering premise, Significant Other never surpassed even mediocre levels at the box office.
Play Ran for 79 Performances, Including Previews
Upon closing, Significant Other played 61 regular performances on top of its 18 preview performances. This is nothing to write home about, and the show certainly did not make a dent in making any returns on its initial capitalization of $3.4 million, plus weekly running costs. Over the course of the 10-week run, the total gross was $1,707,469, which averages to around $170,000 per week.
On average across the run, the play brought in only 22.94% of its gross potential. With a top ticket price of $223.00, the average paid admission across the run was $50.36, and even with such heavy discounting, the audience was only filled up to an average of 58.55% of its capacity. The best performance week at the box office was actually the first week of previews, which brought in $226,779 over 7 performances, representing 33.44% of the show's gross potential.
Broadway Show Closes Before Nominations
The show also failed to earn any Tony Award nominations, not even for the highly praised performance of the lead actor, Gideon Glick. That award was particularly contentious, with the five nominations going to Denis Arndt for Heisenberg, Chris Cooper for A Doll's House, Part 2, Corey Hawkins for Six Degrees of Separation, Kevin Kline for Present Laughter, and Jefferson Mays for Oslo. As for the nominations for Best New Play, those went to A Doll's House, Part 2, Indecent, Oslo, and Sweat. As such, Significant Other was one of the many snubs of this year's Tony Awards season.
The show closed even before the Tony Award nominations were announced, which means the box office was so poor that the producers could not even afford to keep it open long enough to see if the awards season might give it a boost. Nevertheless, especially due to the success of Bad Jews, we can expect to see Significant Other popping up in the seasons of many regional theatres around the country in the coming months.
Discount Broadway Tickets
---
---