Seating Options Abound For Book of Mormon Tickets, But Few Are Actually Available
After One Year On The Stage, The Book Of Mormon Continues To Sell Out Months In Advance, Telecharge Made Matters Worse With Complicated Ticket System
---
"The Book Of Mormon" Selling Out On Broadway Months In Advance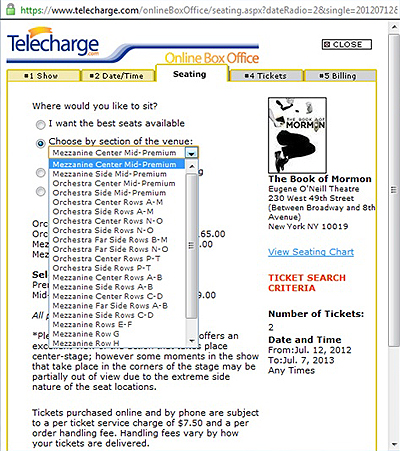 More than a year after it won its Tony Award for Best Musical, The Book of Mormon remains Broadway's monster hit, completely selling out performances several months in advance.
The recent departure of original cast members Josh Gad and Andrew Rannells (soon to appear on TV shows 1600 Penn and The New Normal, respectively) hasn't made a dent in sales either, since The Book of Mormon is the rare Broadway musical where members of the behind-the-scenes creative team (i.e. South Park creators Trey Parker and Matt Stone) are more famous than the people onstage.
Surprisingly Complicated Seating
Needless to say, The Book of Mormon tickets continue to be challenging to purchase. If you want The Book of Mormon tickets, you better be prepared to make your theater-going plans way in advance (are you free in the summer of 2013 by any chance?).
Making matters more complicated is that The Book of Mormon's official ticket seller, Telecharge, is now utilizing a surprisingly complicated seating structure.
The Illusion of Choice For "The Book Of Mormon" Tickets
When searching for The Book of Mormon tickets on Telecharge.com, you have the option to search by section (see image on the left). In the past, these drop-down menus might show 6-8 sections to choose from, but now The Book of Mormon is an example of a Broadway show that offers roughly two dozen options. While this lengthy seating breakdown creates the illusion of choice, the reality is that the pricing options for The Book of Mormon tickets are extremely limited.
The available regular ticket prices for The Book of Mormon are $69 rear mezzanine, partial view for $145-$165, and everything else in the $155-$175 ticket range. On that entire list of seating choices, only the Mezzanine Rows J-L gets you the $69 tickets. (By the way, the premium seats on that list will run you $250-$477 each.) Another popular Broadway musical, Jersey Boys, has a similar set-up, with numerous seating choices but limited price points.
Broadway Ticket Prices At All-Time High
Meanwhile, a show like End of the Rainbow, which is struggling to fill seats, shows far fewer seating choices, but a slightly wider variety of pricing options. One possible reason for the increasingly detailed seat offerings for popular Broadway shows is customer demand. When searching for The Book of Mormon tickets on Telecharge, you can just leave it on the default 'Best Available' setting to be given whatever Telecharge has determined are the best seats.
But with Broadway ticket prices at all-time highs (especially for hit musicals like The Book of Mormon and Jersey Boys), buyers feel that if they are paying $155 for a ticket, they should at least be able to choose what row they want to sit in. The incredibly high demand for tickets, though, gives The Book of Mormon producers little reason to charge anything less than an arm and a leg -- except for throwing ticket buyers a little bone by offering a few rear mezzanine rows at $69 (which of course sell out very quickly).
A Major Problem With Telecharge's Online Ticketing System
The complex seating breakdown for The Book of Mormon tickets also highlights the problem with Telecharge's online ticketing system. Unlike Ticketmaster, which now lets you easily view and select the precise seats that you want from a seating chart, Telecharge leaves ticket buyers flailing in the dark, attempting to get the system to pull up desirable seats.
Having a detailed list of seat row ranges at least allows buyers to choose their preferred seating sections with greater accuracy. Then again, with a sell-out show like The Book of Mormon, customers often find that there isn't anything available in their selected row anyway. The truth of the matter is that, for big Broadway hits, you often have to settle for whatever is available -- or else pay the premium ticket prices.