"School of Rock" Heading to Broadway
School Of Rock, The 2003 Film About A Struggling Rock Musician Turned Inspirational Music Teacher, Is Being Adapted For Stage By London-Based Really Useful Group.
---
"School Of Rock", Inspired By The 2003 Film, In Development For Broadway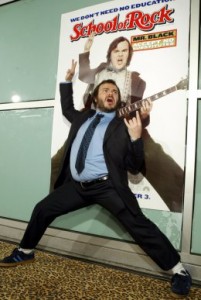 The film School of Rock was released in 2003 to impressive critical acclaim and stupendous box office success. Starring Jack Black as Dewey Finn, a struggling rock guitarist who unwittingly becomes an inspiring children's rock music teacher, School of Rock opened at #1 at the box office, earning $19,622,714 in its first weekend, and it eventually reached a total box office gross of $131,282,949.
Directed by Richard Linklater (Dazed and Confused, Before Sunrise trilogy) and produced by Scott Rudin, the film was beloved by a wide demographic audience, earning an impressive 92% on Rotten Tomatoes, as well as a high rating of "universal acclaim" on Metacritic, which amasses the critical response to films.
Andrew Lloyd Webber's Really Useful Group Behind The Adaptation

In addition, the movie spurred a string of small town rock n roll schools to teach music to children that borrowed the name "School of Rock." Last year, it was announced that School of Rock has its sights set on the stage.
Even more interestingly, the producing mind behind this adaptation is none other than Andrew Lloyd Webber, the composer of such classic musicals as Jesus Christ Superstar, The Phantom of the Opera, and Cats. In addition to being a musical creative genius, Webber founded a London-based producing entity in 1977 called the Really Useful Group.
RUG Expands Their Productions
RUG has since expanded to be concerned with not only stage productions, but also film, television, video, and concert productions. Furthermore, the company owns and operates six theatres in the West End of London: the Adelphi Theatre, the Cambridge Theatre, the New London Theatre, the London Palladium, the Theatre Royal Drury Lane, and Her Majesty's Theatre, where The Phantom of the Opera has been playing since 1986.
Issues In Adaptation From Movie To Broadway
Though School of Rock may seem a far cry from The Phantom of the Opera, it is clear that Webber is less concerned with genre than with quality, and both may boast excellence in those terms. In an interview last year with CBS Radio, Webber made an off-hand comment that he is "very excited" about the development of the stage production of this successful movie.
One question is that of the score: the movie already has a substantial number of songs included, encompassing both a range of classic rock tunes as well as new songs written for the film. Webber mentioned that there is the possibility of his composing additional songs for the stage musical version, but that an attempt would be made to bridge the already existing score with anything new required for the live medium.
Will Jack Black Reprise His Role?
Another question is that of casting. It is possible that Jack Black could reprise his role for the stage, as he has a huge following, both in terms of his screen acting, as well as through his rock music group Tenacious D. However, he has never played a role on stage, neither on Broadway nor in London, where this musical might premiere.
Though Webber has made no insinuation that Black may be the one to play Dewey Finn onstage, it is very possible that Black could be tempted to make this his stage debut. As of now, the only solid piece of news is that the Really Useful Group, under the leadership of Andrew Lloyd Webber, has bought the rights to turn this movie into a stage show. We will hopefully soon be told more information, including cast, creative team, and schedule of when to expect this show to premiere.